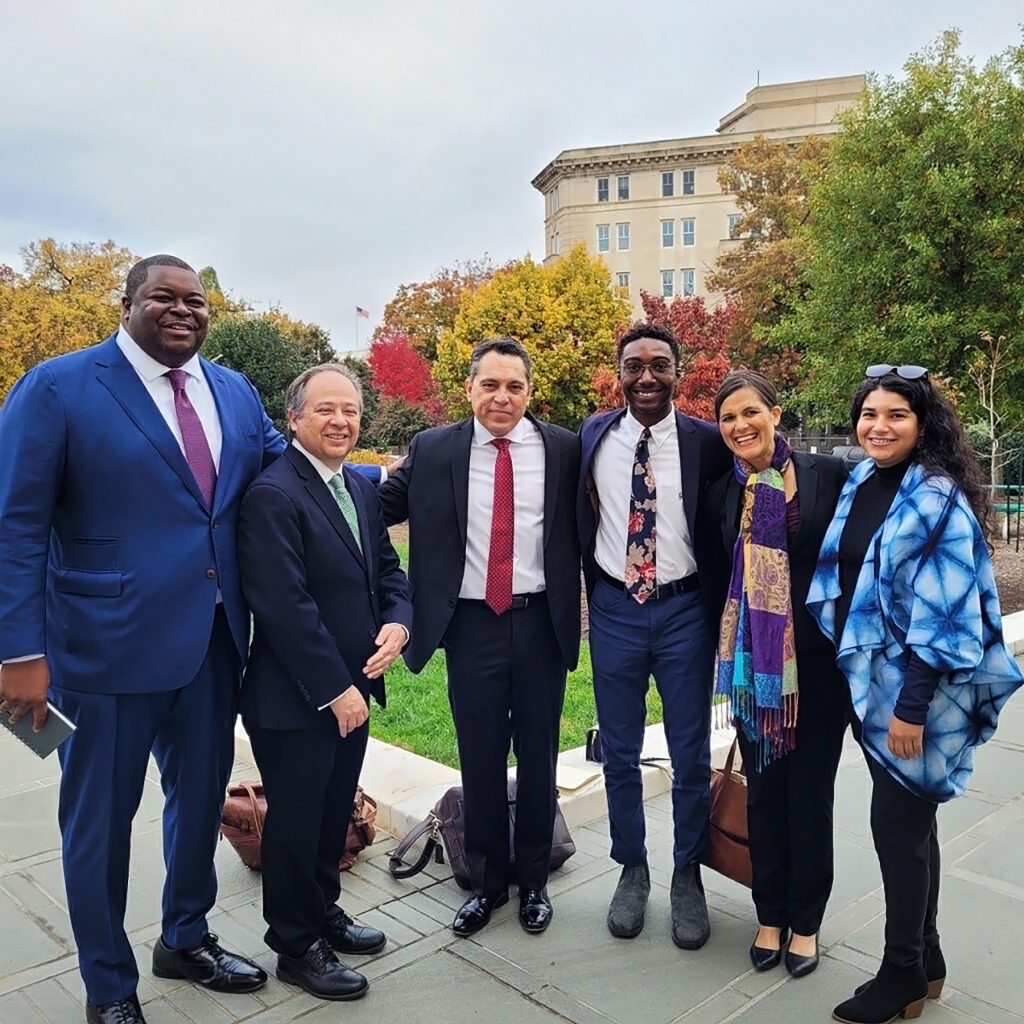 These Black and Asian American Affirmative Action Advocates Won't Be Divided
Last month, when the Supreme Court ruled that Harvard University and the University of North Carolina violated the Constitution by considering applicants' race in the admissions process — thereby ending affirmative action programs nationwide — Scripps News brought on two people for a heavily-moderated debate on the issue. One was Andrew Brennen, a 2019 graduate of UNC-Chapel Hill and a Kentucky native. As a student at UNC, Brennen defended the school's race-conscious admissions in a lower court with a group of other students of color.
"We were wanting to speak to the racial isolation in the classroom and racial hostility outside of the classroom that many of us had experienced during our time at UNC," Brennen tells Rolling Stone. His time on campus included three white supremacist rallies there. His cohort thought that their stories and more testimony to the school's broader history of racism and exclusion would compel the court to see how critical measures to diversify UNC through admissions are. Those measures held up in the district court, but when the petitioners — a group called Students for Fair Admissions (SFFA) founded by white conservative agitator Ed Blum explicitly to fight affirmative action at UNC and Harvard — appealed, the case moved up to SCOTUS.
Brennen is Black. Alex Shieh, a Brown University undergraduate and Boston Globe contributor, was placed opposite of him on Scripps that night. Shieh is Asian American, identified as Korean and Taiwanese in his growing scroll of anti-affirmative-action commentary. The optics and experience of their race is at the center of Students for Fair Admissions' success. Blum has long argued that white applicants were disadvantaged at colleges, but added Asian applicants to the complaint against UNC and made the claim of anti-Asian discrimination the crux of the case against Harvard. "It makes me uncomfortable that the Brown admissions office, when they were deciding that they wanted to take me, that they were considering my race," Shieh said on the show. "I want them to consider Alex, how I am, and what I've done, and how I can contribute. Frankly I think that the color of my skin, the way that I look, that's by far the least important way that I can contribute to the Brown community." 
However at UNC and Harvard, activists — primarily Asian American and Black students — fought what they'd see as Shieh's obscuring of the admissions process and the importance of race within it. Black students were barred from many predominately white places of higher education for much of their history; de jure school segregation wasn't made illegal until 1954. To mitigate the type of racial discrimination which segregation and slavery have institutionalized in the United States, large-scale affirmative action policies began in the 1960s to ensure that people of color, women, and others with marginalized identities had equal opportunity to schools, employers, and other sites of social mobility. 
For colleges, that has meant making active efforts to recruit Black students, as well as to develop admission processes in which everything that could make the student valuable and successful at the school be considered — beyond their academics and achievements, their race, character, and perspectives. This is especially pertinent as Black students systematically have less access to quality K-12 education, from qualified teachers to school funding. In places that have previously killed affirmative action, Black and Hispanic enrollment, achievement, and opportunities have plummeted. 
People like Ed Blum have claimed to have taken affirmative action measures as an affront to equality, with Blum orchestrating legal action to fight these policies and voting laws that served to rectify the country's history of anti-Black ballot blocking. He's been behind more than two dozen lawsuits, including one that invalidated a cornerstone of the historic Voting Rights Act. Blum began looking for a white, denied applicant to his alma mater University of Texas at Austin with whom to blame their whiteness. He found Abigail Fisher, and she sued on this basis twice, beginning in 2012. She lost in the Supreme Court in 2016. 
He then sourced Asian plaintiffs, saying he "needed" them to make an argument that affirmative action discriminates against non-White people too. In his pursuit of so-called equality, Blum has not targeted legacy admissions, which give a leg up to mostly white students because their parents are alum, nor the recruitment of niche athletes, who are more likely to be white too. However, activists from UNC and Harvard say Blum particularly targeted Asian-Americans to delegitimize the legacy of white supremacy. Researchers agree. "It's really tapping into fear with zero evidence," OiYan Poon, a professor at Colorado State University specializing in race-based admissions, told NPR.  "Predominantly white, conservative political forces are leveraging this experience of being racially marginalized among Asian Americans to say, yeah, and by the way, there's this policy that you're not benefiting from."
At UNC, Harvard and beyond, activists are fighting Blum's efforts, with many Asian Americans leaders in that crusade. "We saw that we were being used as a face for this case," Sally Chen tells Rolling Stone. Chen is a Harvard alum who testified in defense of race- conscious admissions for her school. She continues to work towards racial equity today as the Education Equity Program Manager for the San-Francisco based civil organization Chinese for Affirmative Action. "Many people realized that to be silent was to silently endorse Ed Blums's ability to speak for us, and if we didn't want that, then we needed to get involved," says Chen.
At UNC, three Asian American students co-direct the student group UNC for Affirmative Action. Vietnamese American Harvard alum Thang Diep also testified on Harvard's behalf. At their alma mater, a multiracial group boasting more than 2000 members in solidarity with 24 more student and alumni organizations called Coalition for a Diverse Harvard has rallied around the cause as well. Elysse Martin-Smith — a rising Junior at Harvard and member of the Coalition, as well as the school's Black Student Association as its Political Action Chair — says the interracial conversations happening in the aftermath of SCOTUS' "horrible" decisions are "beautiful." "I think that we're much more unified than people would like to believe," she adds.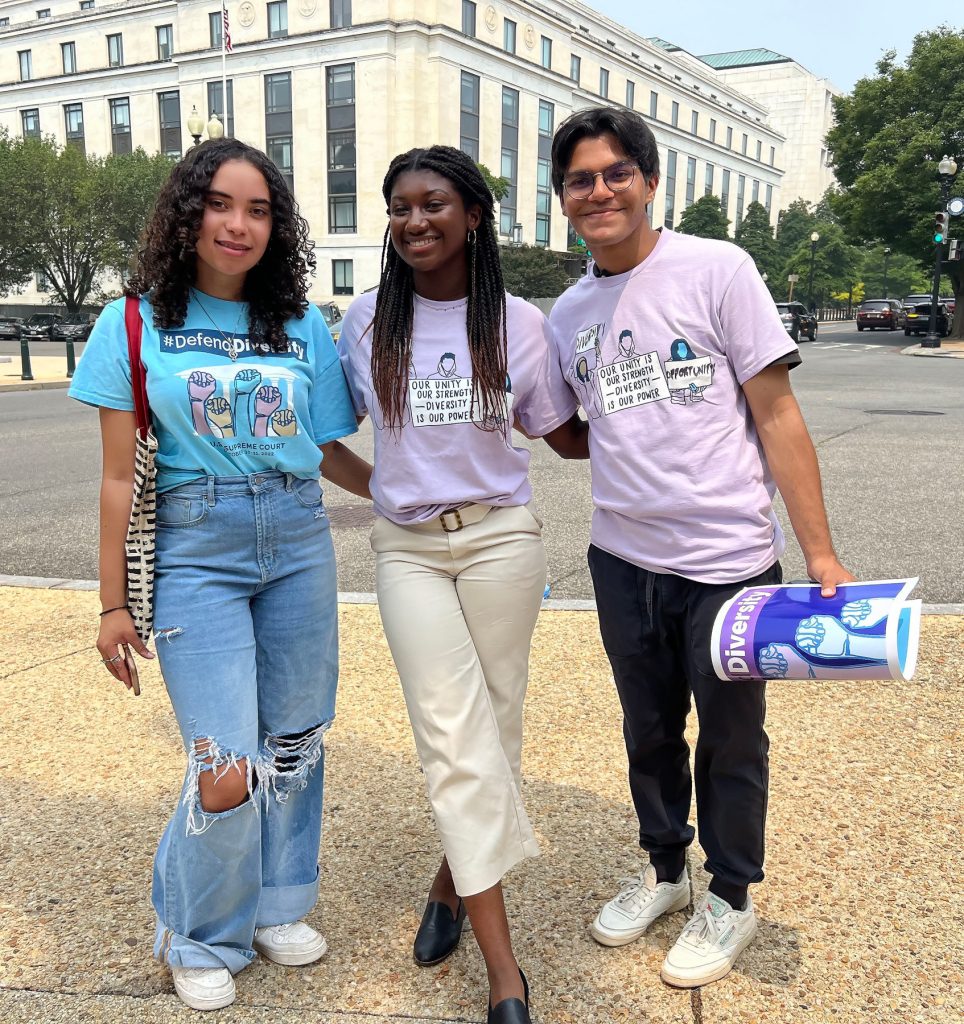 Brennen, Diep, and Chen assert part of the outrage around race-conscious admissions coalesces around a misunderstanding of them. "I think there's this myth that unqualified candidates are getting in ahead of qualified candidates just because of their race," says Brennen. "That's just simply not how this has worked." Diep recalls misinformation swelling at Harvard while he was a student. "I think there was more confusion and lack of understanding of what affirmative action is versus outright opposing," he says. He remembers SFFA organizing a discussion with Asian students on the ground as they began to catch wind of the case. The trio echoes that some people incorrectly believe that race has been the determinant factor in the admissions process. Harvard has repeatedly denied claims that Asian American applicants are discriminated against and that they systematically earn poorer ratings for their personal traits, which Harvard considers for all applicants as a part of a "whole-person admissions process."
"Affirmative action does not harm any students in admission," says Chen. "It does not harm Asian American students in admission. There was no evidence in any of the lower courts that showed that in any way. The logic that the Supreme Court gives [says] college admissions is a zero-sum game. If one person gains, then someone else loses." Not only is that inaccurate, Chen says, it discounts the wide range of attributes like gender, religion, sexuality, and geography that admissions offices may consider. With an admittance rate of about 3.2%, many people — overwhelmingly, most people — are denied admission to Harvard. Calvin Yang, a SFFA spokesperson, was rejected, but went on to the University of California, Berkeley another  selective school and highly regarded school.
At Harvard, Asian Americans are actually overrepresented amongst the admitted compared to their US racial makeup. Since the SCOTUS ruling, Harvard, the purveyor of many American leaders across different fields, has emphasized that "transformative teaching, learning, and research depend upon a community comprising people of many backgrounds, perspectives, and lived experiences."
Sally Chen asserts affirmative action as a reflection and rectification of slavery and segregation that colors the American experience.  "Our society is fundamentally racist and being race neutral does not solve the issue," she says. "To treat people equally is not the same as treating people equitably." This is not to say that there really isn't racial bias in Harvard's admission process, says Diep, who suspects that some officers — or even the people who write students' letters of recommendation, which impact how their personal traits are perceived — may express anti-Asian bias. He doesn't see that as a reason to get rid of race-conscious admissions altogether. "Their staff can be trained on cultural competency," he says. "It doesn't mean you should take away race from all of this."
Martin-Smith concurs, particularly because bias and stereotyping happens across racial minorities. "I have no issue with mentioning that affirmative action was not perfect," she says, "Especially when we think about intersectionality marginalized communities like generational African-American communities. I'm referring to the descendants of enslaved people, who still represent a small portion of the Black population on campus. Thinking about economic privilege and advantage, I would say that that's also something that is not accurately captured in affirmative action. It's all about social mobility."
When he was at Harvard, Diep felt like most students there were for affirmative action. "The criticism that I've heard from other people on why we're all on the same page is that we've gotten in already," he says. However, these Harvard activists don't consider themselves as defenders of their school outright, but of the ways it — and society at large — can be made more equitable. "A lot of the people involved in this case had been involved in advocacy for ethnic studies on campus, for supporting junior faculty of color, for supporting student groups of color on campus in terms of funding, resources, and support," says Chen. "We were fighting for Harvard to do better on so many fronts. When this case came, we knew that race conscious admissions and student diversity were essentially bare minimum. We couldn't be calling for many of these changes if our very existence at these institutions was being threatened."
Martin-Smith carries on the work of campus equity now, advocating for spaces dedicated to culture and Blackness there. When Chen was a student, she stepped up so her Black classmates didn't have to bear the brunt of the advocacy for affirmative action when they were already in other fights to matter. Though white students have consistently made up the largest racial demographic over the past 13 years, Asian American students have outnumbered Black students too. "These attacks on their right to belong on campus — which is honestly what I would summarize the attacks on affirmative action as being about — is such an intense labor for them to continue on in spite of," Chen says of Black students.
White students, Martin-Smith says, have been largely and disappointingly uninvolved in the battle for affirmative action on her campus. "I have not experienced a lot of white folks engaging in this conversation until it became time for media appearances, which is an unfortunate thing to say," she says. "It shouldn't just be on students of color to encourage white people to care. As a predominantly white institution, we will need to leverage the support of everybody." The activists see Asian American identity as a device prop to disadvantage people of color more broadly. "Asian Americans have been used as the model minority — 'they're people of color, but they have achieved success through hard work,'" says Diep. This reduces the diverse stories of people in America with ties to the largest continent in the world to a monolith that puts down those who haven't achieved success.
"I think data disaggregation is so helpful," Diep says. "I think it's helpful then to talk about, if you're, let's say, Chinese American and Korean American or East Asian, who are predominantly getting to these Ivy Leagues, why is that the case? Are there access to certain privileges that maybe you hold that other people don't?" As a Southeast Asian who came to the US when he was young, Diep is most comfortable speaking to his own experience. "A lot of Southeast Asians came to the U.S. because they were refugees," he says. "When they're refugees, they often get placed in Black and brown neighborhoods and I think they get the same access to resources. Southeast Asians benefit a lot from affirmative action." However, he doesn't also want disaggregation to fuel more resentment. "I don't want it to divide Asian communities," he says. 
In her work for Chinese for Affirmative Action, Sally Chen does outreach to engage Asian Americans in conversations and work towards broadening collegiate opportunity. She says she's sometimes met with "healthy disagreement" when it comes to affirmative action in schools, understanding that the deep feelings of unfairness some harbor against it aren't necessarily rooted in reality. "It's hard to shift people's understanding of facts often," she says. "So much of what people believe in as the American Dream and college education as a ticket to stability are no longer the guarantees that they may have once been. That is a scary, scary reality for people to navigate." 
For each advocate, race-conscious admissions translates to valuing prospective students' full lives. "In a world where race can't matter but all these other factors can, you create a situation where some people can't fully tell their story and others can," says Brennen. In their debate, Alex Shieh said, "As Asian Americans, we're told that we shouldn't mention race in essays because it won't be seen favorably," advice Diep has also heard but refutes. "So much advice for Asian students was to not write about being an immigrant, that their parents were immigrants, or learning English. Those, for me, were core, essential experiences that shaped my identity," he says. "I don't think students should just write about race just because that will get them in, but I think if it's a matter of how race is important to them, I think they should be able to talk about it in meaningful ways."
Despite SCOTUS striking affirmative action on campuses, Brennen, Diep, Chen and Martin-Smith are still working towards expanding opportunities for people of color. "Let's say we're starting from scratch to bring people from different communities together to build an education system that is really truly accessible and equitable for all communities," says Diep. "That includes making SAT and ACT optional or even getting rid of these tests, offering more financial aid to students, and investing in public schools. Why are we all fighting for crumbs that white supremacy left us?"
Chen thinks most people, in essence, want the same thing. "They want for their students to not have a sense of isolation, to not be bullied, and to not feel that they are being stereotyped against, that they are being discriminated against, certainly," she says. "If those are the underlying values, then I think it's the role of advocates to point to the correct targets, to give them the alternative vision of what that looks like and what they can be working towards."