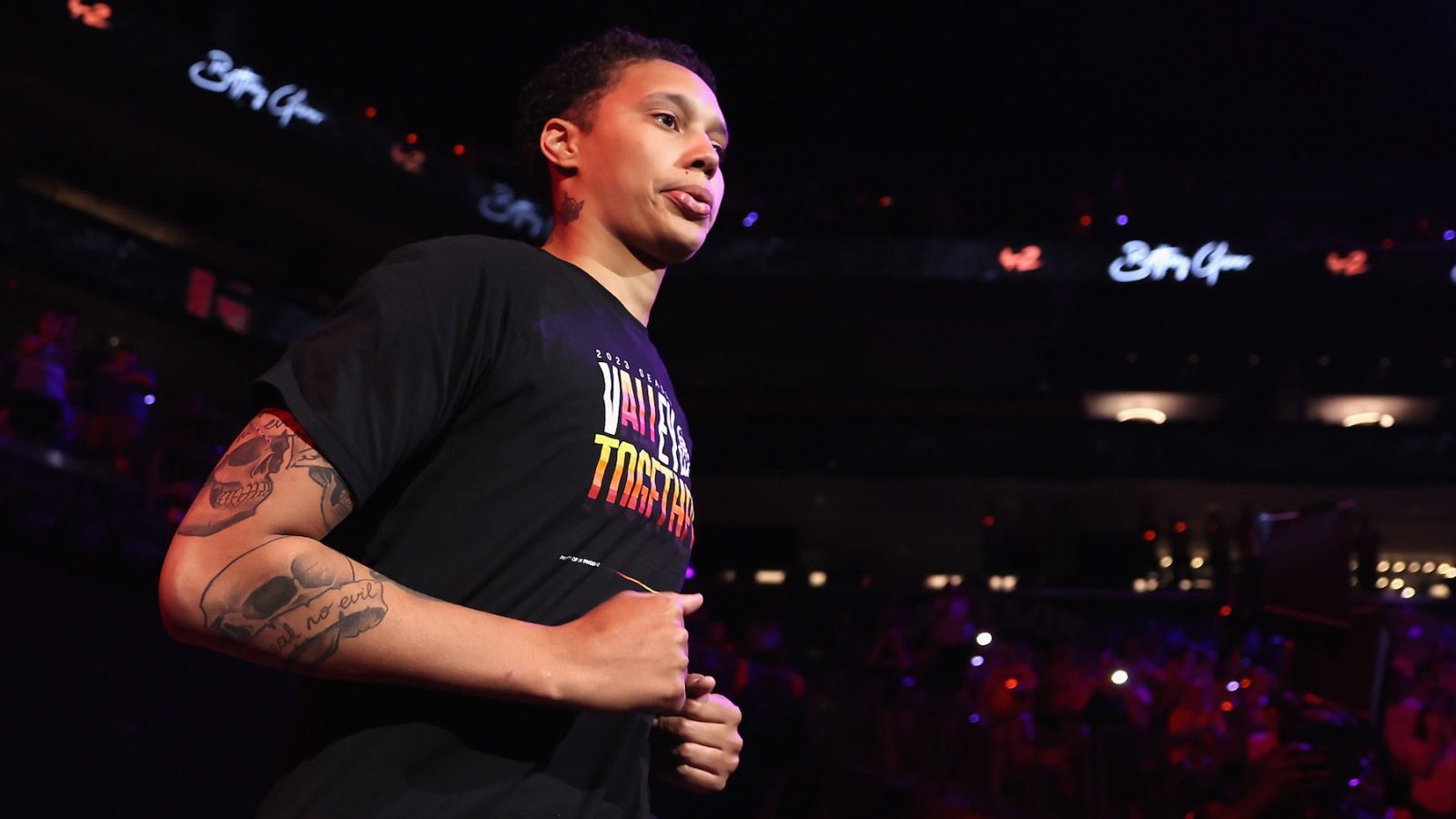 Brittney Griner Targeted in 'Calculated Confrontation' at Dallas Airport
Brittney Griner was targeted in a "calculated confrontation" by a "social media figure and provocateur" Saturday as her WNBA team the Phoenix Mercury traveled through the Dallas Airport. Griner, a Houston native who starred at Baylor University, was back playing in Texas (versus the Dallas Wings) Friday for the first time since her release from Russian detainment in Dec. 2022.
The WNBA released a statement Saturday acknowledging the "incident" without providing any details about what occurred.
"As we gather information about today's incident at the Dallas Airport, it has come to our attention that this was orchestrated by a social media figure and provocateur," the statement read. "His actions were inappropriate and unfortunate."
(While the league didn't specify who the "social media figure" was, someone associated with the right-wing media company The Blaze has already claimed credit on social media.)
Griner has become the focus of online attacks in the aftermath of her Russian imprisonment on drug charges and subsequent release as part of a prisoner exchange for an arms dealer dubbed "The Merchant of Death."
Griner's Mercury teammate Brianna Turner tweeted, "Player safety while traveling should be at the forefront. People following with cameras saying wild remarks is never acceptable. Excessive harassment. Our team nervously huddled in a corner unsure how to move about. We demand better."
Phoenix Mercury also released a statement. "We are committed to our support of BG and advocating for all American hostages abroad. We will continue our support of marginalized communities and fighting the kind of hate that targeted us today," Phoenix Mercury said. "No one, regardless of identity, should ever fear for their safety. We will be coordinating with the WNBA on next steps."
The league continued, "The safety of Brittney Griner and all WNBA players is our top priority. Prior to the season, the WNBA worked together with the Phoenix Mercury and BG's team to ensure her safety during her travel, which included charter flights for WNBA games and assigned security personnel with her at all times. We remain steadfastly committed to the highest standards of security for players."
However, in a statement Saturday, the WNBA Players Association criticized the league for not instituting charter flights for all travel; charter travel is currently deemed by the league as a  "competitive advantage." 
"Every commercial flight forced upon our players is a threat to their health and safety. We implore the league and the teams not to wait another day to change the rule regarding travel," the WNBPA said in a statement.
"What BG and all of her PHX teammates experienced today was a calculated confrontation that left them feeling very unsafe. Everyone who was paying attention knew this would happen. We could have and should have been more proactive."
Griner's agent, Lindsay Kagawa Colas, also advocated for the use of charter flights to protect players.
"Brittney Griner and the @WNBA players are leaders who inspire hope for a better, more inclusive and less divided America. They are celebrated for the ways their activism inspires positive change. In doing that, they also become targets for hate, threats and violence," Colas wrote on Twitter. "And today's incident is a clear reminder of that. We cannot celebrate these women and their leadership without also protecting them. It's past time for charters and enhanced security measures for all players."
This article was updated at 8:23 p.m. ET to include statements from Griner's agent and from Phoenix Mercury.