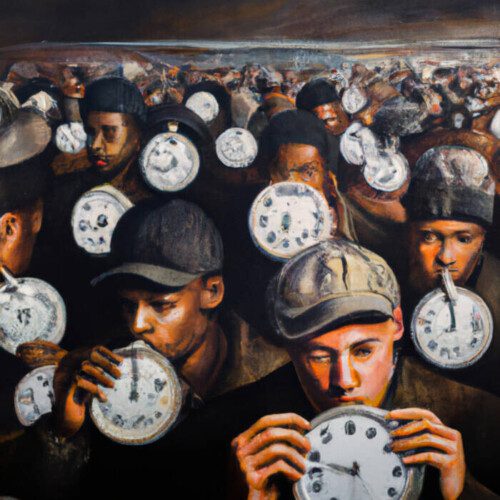 Wale The Sage is 'Running From Time' on Debut Album
Wale The Sage uses his incisive pen and nimble flow to make impressionistic and expressive rap songs about his immigrant story. Seeking a moment's peace in his eternal struggle to answer life's impossible questions, the Atlanta rapper shares Running From Time, his new album with cover artwork that he designed himself. His first-ever full-length after a series of well-received singles, Running From Time explores the beauty and chaos of life, and how the two aspects are inextricable from one another. Though it delves into heavy subjects, Running From Time is grounded by Wale's relatable anecdotes and palpable dedication to improving the lives of his family.
The 24-year-old artist crafts an immersive soundscape with the help of producers like Versus Beatz, pk beatz, NayZ, and NXMERCY. The pensive, yet propulsive "Stuck In The Middle" finds Wale gliding along atop atmospheric organ blasts and a dancefloor-friendly percussion, while the haunting "Everybody Dies" hits hard with the rapper's clipped cadences atop creaking violins, and the soul-baring "Men Don't Cry" sparkles like a city at twilight. Home to Wale's breakout single "Bleue," which has over 19 million streams on Spotify to date, and the previously released "2.22" (1.4 million streams), Running From Time is available everywhere via Pick Six Records.
Along with the new album, Wale The Sage shares the new video for "Don't Remind Me," a highlight from the album. Produced by docent and pk beatz, "Don't Remind Me" is a laid back and emotional song that takes advantage of Wale's skill with easy melody and cathartic confession. Over an expansive soundscape that recalls the widescreen soul music of the early '70s, Wale laments the inevitable passage of time, impatiently waiting for his chance to show the world what he can do: "How many nights till we living out dreams/Been a minute it seems/Couple years when I blink/How many words till the moment is real," he intones. Directed by Wale himself and shot by Chris Ingram of N | A Productions, the video for "Don't Remind Me" is as inventive as Wale's wordplay, incorporating animated interludes, black-and-white photography, and unconventional framing to help Wale tell his story.
Born and raised in Nigeria, Wale became the first member of his family to come to America when he left for college at Western Kentucky University. Wale's life changed forever when he turned 19 and his mom fell ill, causing financial circumstances that forced Wale to drop out of college. During this time of crisis, music was Wale's avenue of comfort and creative expression. He moved to Atlanta to pursue his dream and released his first song in 2019, "Family Ties," which candidly discussed growing up without a father and other family issues. After "Family Ties" set the tone, Wale dropped a series of increasingly dexterous, and increasingly popular, singles over the next year, including 2020's "This Thing Called Life" and 2021's "Do You Love You," which surpassed 2 million streams on Spotify. Wale had his biggest moment yet with "Bleue," a soulful slapper that caught fire on TikTok.
Now signed to Pick Six Records, Wale The Sage plans to follow his muse to the top of the rap game. With a book full of bars, a bottomless arsenal of flows, and his debut album in the books, don't be surprised if the sagacious spitter reshapes the rap game in his own image.
© 2023, Seth "Digital Crates" Barmash. All rights reserved.