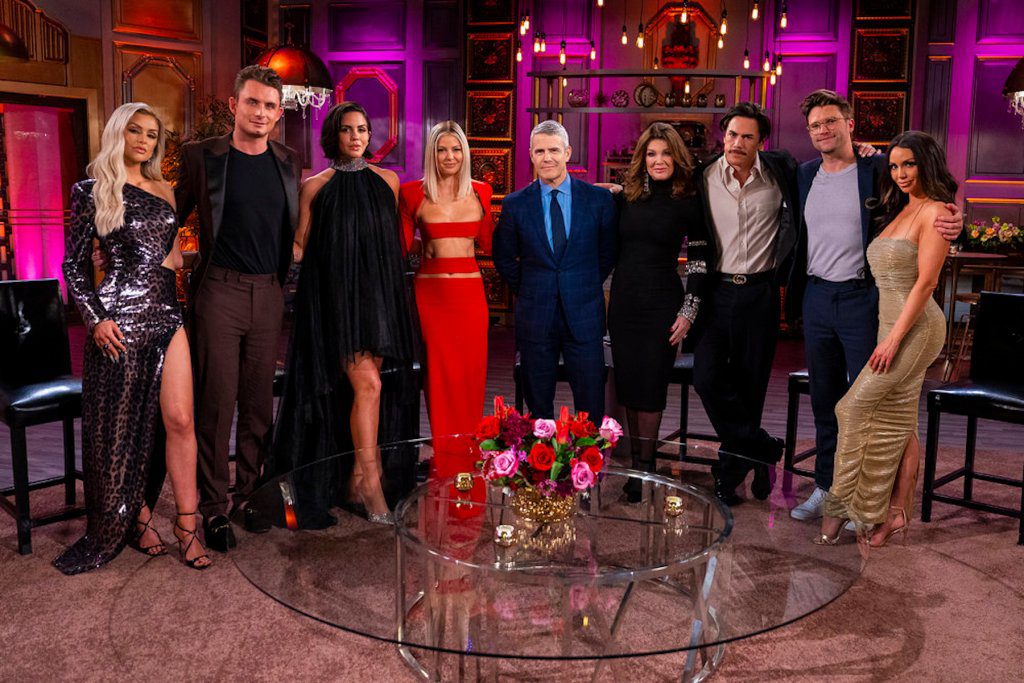 'Vanderpump Rules' Is Filming Season 11 and Entering a Strange New Era
Cameras have officially picked up for Vanderpump Rules Season 11, following a monthslong news cycle around Scandoval and the highest-rated episodes in the Bravo series' history.
Last Thursday, TMZ reported that Ariana Madix and Katie Maloney filmed at a Los Angeles thrift store shopping for items for their sandwich shop, Something About Her, which is set to open this summer a stone's throw from SUR in West Hollywood, California. Days later, most of the cast gathered together to film at TomTom and fans swarmed the bar and posted photos and videos of Ariana, Katie, Lala Kent, Scheana Shay, DJ James Kennedy, Ally Lewber, Tom Schwartz, and Lisa Vanderpump. TomTom was packed with fans holding their camera phones as James played music in the DJ booth and Ariana danced and full on body-rolled to chants of "Ari! Ari!" There's even a video of Lala, Scheana, and Lisa facing the crowd and dancing to the version of "Good as Gold" that the women performed in a recent Uber Eats commercial. Scheana and Schwartz were also photographed having a seemingly intense conversation at the bar. The cast members have also been sharing their own behind-the-scenes content on their social media accounts. 
Sandoval was conspicuously missing during the last week of VPR filming while reports that he was participating in Fox's reality-competition series Special Forces circulated, but he was finally spotted in public with Schwartz. In a video posted by a fan, Sandoval and Schwartz are at a restaurant and seem to be having an intense conversation about the future of their bar, Schwartz & Sandy's. Sandoval was also photographed by paparazzi meeting up with Lisa Vanderpump at her recently closed PUMP restaurant, with flowers in hand.
Even though the cast has only been filming for about a week, we already know a range of details about what they've been up to so far — thanks to paparazzi, fan accounts, and people who happen to be moseying around West Hollywood with their phones at the ready to capture fleeting moments. TMZ has been reporting on the cast members' updates and whereabouts, fans are clocking their every move, Bravo fan accounts are sharing updates, and the VPR stars themselves are posting on Instagram. The fourth wall seems to be permanently broken when it comes to making this upcoming season; there's no hiding the Vanderpump Rules cast from their fans in public, nor do they seem to want any privacy while filming around Los Angeles.
Vanderpump Rules, its cast, and fans are ushering in a new and unprecedented era of the show where public interest is at an all-time high.
For the last few months, Vanderpump Rules has dominated pop culture news. Once people learned that Tom Sandoval was cheating on his longtime partner, Ariana Madix, with their friend and fellow cast member, Raquel Leviss, the trajectory of public interest in Vanderpump Rules shifted in a major way. Fans want to know every tidbit of information surrounding the cast. If there was any question whether public interest in the show and the cast might die down after any and all topics related to Scandoval have been filmed, aired, and exhausted in the media, the commencement of filming Season 11 has confirmed that Vanderpump Rules has reached new heights of popularity and the fandom around the show is only growing, not waning. 
"The engagement is still there. We're so thirsty for information about what's going to happen next," the person behind the Queens of Bravo fan account (177.6K followers), who preferred to remain anonymous and not reveal their identity, tells Rolling Stone. "The show is completely revitalized to a different level. You can see people's excitement by the ratings, which were huge for any Bravo show, the advertisements, and all of these big media companies just funneling money into the cast. It's a cash grab for everybody involved. This show is the moment."
According to the person behind the fan account, they're continuing to post VPR content as filming has picked up because they noticed people online can't get enough. They say over the course of Scandoval, their account grew by 45,000 followers and even now when they post about shows that are currently airing like Real Housewives of Orange County, people still view, share, and like more VPR content than any other show. 
"People are still hungry for any morsel of information about the next season," they say.
As far as fan accounts and paparazzi "spoiling" what viewers will eventually see on screen next season by posting about the cast filming this summer, the person who runs Queens of Bravo doesn't think revealing these details are a big deal in the long run.
"We're literally living in the age of Gossip Girl where there are cameras everywhere, you cannot not see something," they say. "You don't necessarily know what they're talking about and you don't know how the show is going to be edited. Yes, you might be able to see these interactions with the cast, but you don't know how the puzzle pieces are going to come together. 
Vanderpump Rules is certainly not filming its upcoming and highly anticipated season in a bubble and has arguably evolved into more than a reality series; it's become a cultural phenomenon bordering on obsession for both longtime and newfound Bravo fans. Last weekend, James and Schwartz were also photographed having a sit-down conversation in which James seems pissed and Schwartz is holding his head in his hands. After a decade, Lisa Vanderpump closed down PUMP restaurant and on the last night it was open, she was filmed having dinner with Ariana, Lala, Katie, and possibly some other cast members. Schwartz was also seen on the premises. 
There hasn't been any official news about Raquel's return; she reportedly still hasn't left the mental health facility she voluntarily checked into and is also negotiating her contract with Bravo for the upcoming season, though a source tells Rolling Stone that she's likely to come back. 
With heightened fame comes an increasing demand and interest in every little thing involving the cast. Beyond fans' obsessions with the Vanderpump cast and wanting to absorb every detail of them filming in public, excitement and interest around the show has also parlayed into wide-ranging brand deals. Ariana alone has raked in quite a sum of money after working with companies like Bloomingdales, BIC, Duracell, SoFi, Lay's, and Uber Eats. Not to mention, old and new cast members put out their own lines of merchandise and collected earnings on their individual podcasts, where they mostly shifted to talking about Scandoval and all-things VPR. Ariana and Katie have reportedly raked in over $500,000 for Something About Her merch before the sandwicherie even opens. The business around Vanderpump has also entered into a whole new phase with countless sponsorships, events, and even a new spinoff that's in the works reportedly starring former cast members Jax Taylor, Brittany Cartwright, and Kristen Doute.
Vanderpump's path from reality stardom into a cultural phenomenon by way of brand deals, spinoffs, and incessant news updates mirrors the heyday of Keeping Up With the Kardashians. Longtime reality TV producer and Keeping Up executive producer Farnaz Farjam told Rolling Stone in her experience, that kind of lightning-in-a-bottle sensation can only really happen organically because of how unpredictable unscripted TV is.
"I think the characters have to be compelling and something big enough needs to happen that grabs the masses, everybody wants to talk about it, and everybody has a perspective and a point of view," Farjam says. "If people really want to be on a reality show, the number one rule is just be raw, be authentic, and be real. Don't be afraid to be vulnerable and if something terrible happens, that's life and it's OK to share it."
Farjam says she's paying attention to the drama around VPR because it was impossible to turn away from once Scandoval took over the zeitgeist. Much like every other viewer, she's tuning in to find out what happens next. She also understands firsthand what it's like to produce a TV show turned cultural phenomenon. When Keeping Up With the Kardashians started filming Season Four, Farjam says she remembers feeling a shift in the popularity of the Kardashian and Jenner sisters. 
"The crowds kept getting bigger and more people were screaming out our cast members' names," Farjam says. "People [on the show] have been through heartbreak and scandal and when something big breaks out, you just want to immerse yourself and be a part of that journey with them. I feel like when the audience starts connecting to the people on camera, it just creates a big fandemonium."
That's also when Farjam says it grew increasingly important to film with security guards to help protect not only the cast and crew but also other people in the general spaces they filmed in. When a show accumulates as much public interest as Keeping Up or Vanderpump, she says it's important to try to create space between fans and production to "make sure that everybody is safe."
"Sometimes the fandom creates chaos and chaos is not always the most secure for anyone, not just the people on camera but for everybody," Farjam says. "Because people are pulling and tugging and trying to storm in, so you just have to take extra security measures."
The fact that people are now following the Vanderpump Rules cast members' every move in public as they're filming the upcoming season is a great thing for the show, Farjam says, because "it shows that there's a huge appetite" for more content. Even if viewers are sharing behind-the-scenes moments during production, we're still not seeing major spoilers about the context of these moments.
"The professional team has the cast miced, so you could pull your cell phones out and grab video from a distance — again, that's why you have security, so they can't get so close and into all the actual depth of the conversation," Farjam says. "But you're not going to ever get the real conversation and the real back and forth until you actually tune into the show."
Vanderpump's tremendous rise in popularity will only benefit the rest of the reality-TV landscape, Farjam says, because it shows people what could be possible in the space of unscripted television. She also thinks the future of the show is bright, considering they're engaging new and old audiences and "getting more people hooked, which could mean their careers in the reality-series genre could last a very long time." In terms of what she thinks people want to see in the upcoming season, Farjam says people want to watch the bread and butter of what's always worked on this type of reality-TV programming: How the cast members' lives evolve, who moves on, who becomes close, who doesn't, and filming everyone in one space together.
"In my experience people will say, 'I'll never talk to this person, I will never film with them again,' but that's not always true," she says. "Time passes, people forgive, people remember the good times, and not that I ever think [Ariana and Sandoval] are going to be a couple again, but who knows what could happen in general. It's unscripted so it's kind of unpredictable and that's the beauty of it."