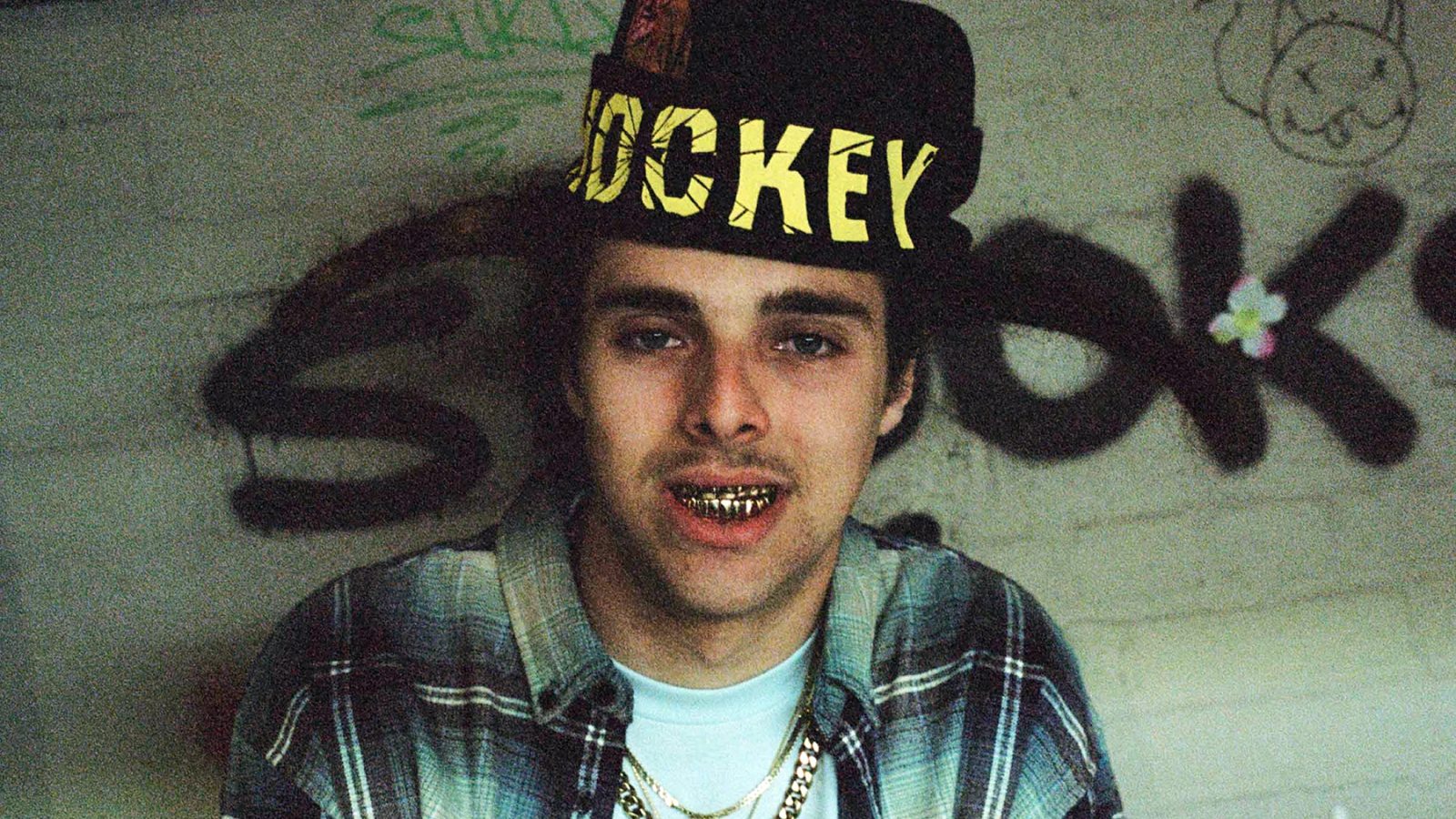 The Viral Jewish Rapper BLP Kosher is More Than a Gimmick
Rapper BLP Kosher, born Benjamin Landy Pavlon, is from Broward County, Florida, the same area as Kodak Black. Growing up, he was raised in the Jewish faith and still practices. Even though he says he practices mostly on Sabbath, he makes an effort to keep a relationship with the religion and more importantly, with God. "I would pray randomly at a bus stop, or when I'm doing something like jaywalking, I'll start praying," Kosher explains via Zoom. "I would live a non-religious lifestyle but still pray."
Kosher experienced two ends of the spectrum possible in South Florida. As a kid, he spent time with his family in Boca. The sunny destination where mafia characters go for their vacations proved fruitful for the youngster. Then, he moved to Deerfield in Broward County (it is unclear what prompted this), and he found himself around more people he didn't know. "It was a melting pot down in Deerfield. I'm kind of a hybrid. I've experienced the good and the bad," he says. Right now, he's leaning into his upbringing and incorporating it into his public persona. An openly Jewish rapper with an elaborate hairdo – he has two locs on the side of his head, as to combine the Hasidic style with the Haitian style – BLP Kosher is also armed with some dynamically deadpan flows and self-aware raps about his faith. 
Learning how to rap took a while for Kosher. He didn't wake up one day thinking that he was going to become the subject of the internet's eye. It was his friends, fellow rappers Gary, and Jew Shiesty, that encouraged him to start making music. This was right around the start of COVID, and Kosher was depressed. Skateboarding, his first passion, stopped being a goal of his, and he couldn't figure out what he wanted to do. "COVID was a weird time. I was kind of skateboarding but was falling further away from that. I got to a point where it was like: 'What can I really do?' I had to be a bigger person and realize that this isn't it,"  Kosher explained. "I'm not gonna get specific, but I was doing things that I was not meant to be doing."
So, what do teens do when they are at a crossroads in life? Nowadays, they go to the studio to exercise their intrepid demons. As a rapper, Kosher is not elite yet, although it isn't for a lack of trying. He's also genuinely funny. Aside from his physical appearance, which is like if Mad TV was doing a skit on Hasidic people rapping, he is also adept at poking fun at himself in the booth. If BabyTron started the style of racially ambiguous boys rapping in a deadpan tone, then Kosher is here to put some Jewishness on that platter. 
Sometimes he and his friend and fellow rapper Mofwea would go to Office Depot or Mo's house and create flyers of Kosher's face on it with ink. "We went to rich neighborhoods, like Coral Gables in Miami," Kosher tells me with a smirk. "We would take them to gas pumps and people would be amazed, like: 'What the fuck? There's a Jewish rapper?'" 
His 2022 album BLP Kosher and the Magic Dreidel contains a flurry of dazzling wordplay sure to scare your bubbie at Pesach. "The Nac" is the best example: "Simultaneous, that's how I tune up, watch that ass melt / I'm sharing shells cause I ain't selfish, you could keep all that lil' gelt." The song is packed with references to Newton's Law of Motion, Komodo Dragons, and being bullied for being Jewish. At one point, Kosher addresses the elephant in the room. "They're gonna ask me where I stand, but all I smoke is neo nazis," he quips. 
Speaking of bigots: Growing up, anti-semitism, or "anti-dreidel" as Kosher calls it, was luckily seldom, but it happened enough for him to still vividly remember. "There's people who would crack little jokes and say some Nazi shit. I tried to laugh at them because, at the end of the day, that shit is fluff. The goal is to change minds and views," he says. But there was one time where he had to deliver a dose of righteous justice. Kosher was called a slur — the  "k" word — by a bully on the bus to school and proceeded to beat on the kid quite viciously; eventually, the bully's nose began to bleed profusely. "I was crying because I hurt him. I didn't mean to. I didn't want to do that. The kid was evil but it hurt me to hurt him. I couldn't sleep after knowing that I really injured someone," Kosher recalls.
When it comes to anti-semitism in hip-hop, the answer is more complicated. But rappers have taken enough photos with Mr. Farrakhan and spit enough bars equating Jewish people with financial or political power that it's always been a conversation. In the wake of basketball star Kyrie Irving sharing an Amazon link to an anti-semitic documentary and Kanye West villainously deciding that he wanted to share some cyanide poison with Hitler, BLP Kosher's viral rise can be a step towards a conversation in both the hip-hop community that he wishes to be a part of and the Jewish community that he is already a part of. 
On Kanye, Kosher is diplomatic: "I'd love to talk to bro. He is a legend in the culture. An icon. I won't make any moves unless it can be beneficial to both my community and his," he says. "Exposing certain things and debunking things is important. But I feel like real change is important too." The rapper manages to broach the subject with a well-articulated sense of humor, like on his track, "Jew On the Canoe," where he cheekily raps: "They told me I should make a Yeezy diss / But I don't fucking play / I served the cracka corn starch cause I don't fuck with Ye." 
Still, it is hard not to be weary of Kosher, especially in the wake of white rappers like the yuppie Lil Mabu capitalizing off of hip-hop as a genre for their own gain. With the increasingly blurred space between online creator and musician, one could wonder whether Kosher will forget about hip-hop and pivot to full-time entertainment in a few years. The infamous viral video maestro Cole Bennett of Lyrical Lemonade directed the music video of "Mazel Tron," the song Kosher has with BabyTron. And Kosher recently traveled around New York with pastrami-sandwich chronicler @newyorkico. 

He's set to make his live debut in New York this summer, and his experience in the city so far might offer an answer to whether or not there's any chance of him selling out. He went to the famous Katz's Delicatessen in the Lower East Side and tells me he wasn't that impressed. "I don't think it was kosher to be real, but it was still cool because I got pickles and some drinks," he says.