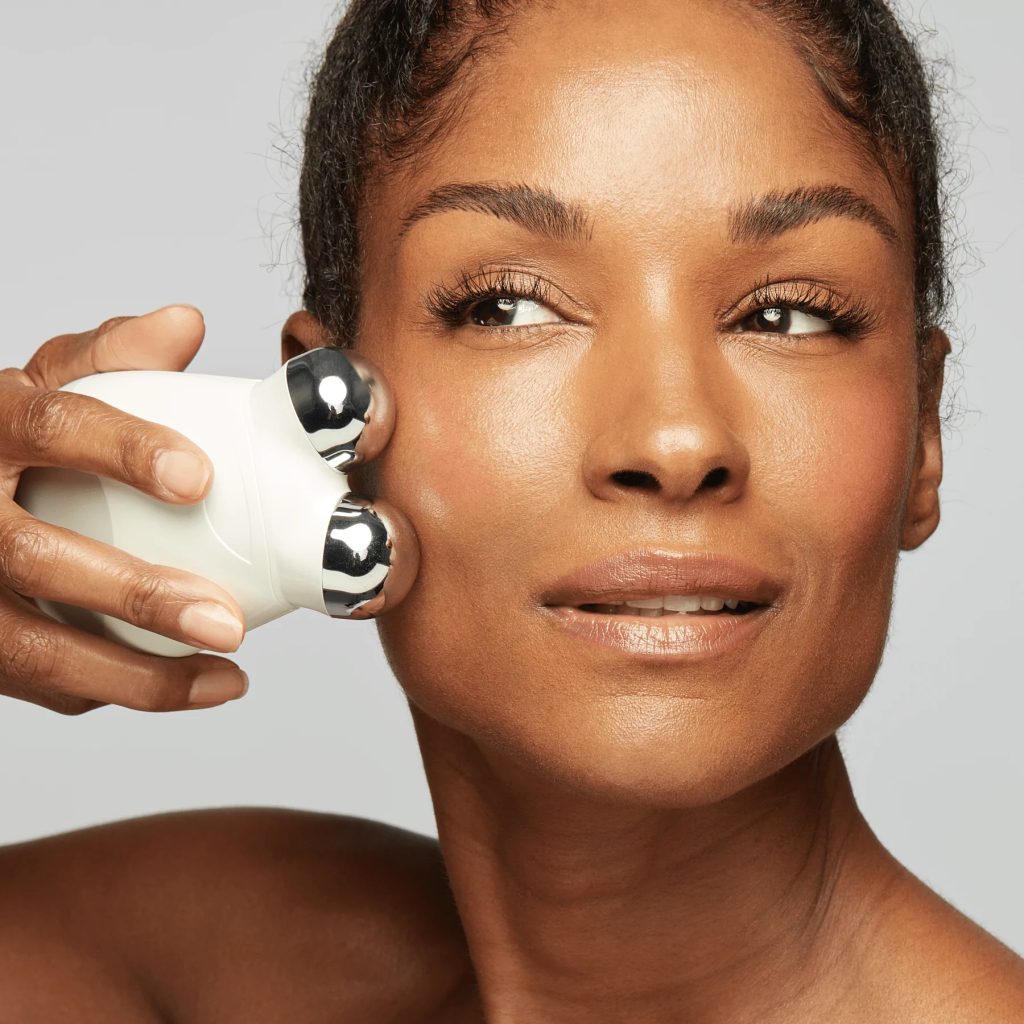 Here's How a Microcurrent Facial Device Can Help Boost Your Skincare Results
If you purchase an independently reviewed product or service through a link on our website, Rolling Stone may receive an affiliate commission.
Aging is something that is inevitable, yet unfortunately frowned upon in our society. People will do whatever they can to hold onto the vestiges of youth, from using filters and apps like Facetune, to undergoing more involved procedures like Botox injections or facelifts.
The market is perfectly positioned to seize upon this universal desire to remain as youthful looking as possible; in fact, it was recently reported that the anti-aging industry was valued at $60 billion in 2021, with that number expected to jump to $120 billion by 2030.
While you can't actually turn back the clock or stop time from marching upon your face, you can transition into old age more gracefully by developing a strong skin care routine, including wearing a trusted moisturizer and sunscreen each day as well as experimenting with a red light therapy device. Another option is trying out a microcurrent device for your face.
In This Article
What Are the Best Microcurrent Devices for Your Face?
How Do Microcurrent Devices Work?
Are Microcurrent Devices Safe?
When Should You Use A Microcurrent Device?
What Are the Best Microcurrent Facial Devices?
Below is our round up of the best at-home microcurrent facial devices, featuring highly-rated and affordable options that you can buy online right now.
BEST OVERALL: NuFace Trinity
EDITOR'S CHOICE: Foreo Bear Smart Microcurrent Facial Tool
BEST PORTABLE SKINCARE DEVICE: SolaWave 4-in-1 Facial Wand
BEST VALUE: GESS Microcurrent Facial Device
1. NuFACE Trinity Starter Kit
This award-winning starter kit by NuFACE has everything you need to get started if you're new to microcurrent devices, guaranteed to tone, lift and contour your face's muscles. By applying their Aqua Gel Activator and using the Trinity device for just five minutes a day (one reviewer wrote that they use it while watching TV; it's that simple), the brand says you can help reduce the appearance of fine lines and wrinkles as well as improve your face's contour and tone.
To get the most out of your experience, pair your Trinity with the interchangeable lip and eye wrinkle reducer (sold separately) for a holistic facial treatment. Who says you need to go to the spa to look rejuvenated? This is a must-have in your skincare kit.
Buy NuFACE Trinity® Starter Kit $339.00
2. Foreo Bear Smart Microcurrent Facial Tool
There's a lot to love about the Foreo Bear. For starters, it automatically adjusts the microcurrent to your skin's resistance so you don't feel uncomfortable. You can pair the Bear with the Foreo app on your smartphone or tablet to set up your unique preferences and even access a guided facial routine. The microcurrent facial device can support up to 90 uses before it needs a charge, with a sleek, ergonomic design that allows it to fit comfortably both in your hands, and to your face's curves.
Just sit back and relax as the pulsations work to tone and train the muscles in your face and neck. Available in mint and fuchsia colors, this is an easy-to-use device that you'll reach for time and time again.
Buy Bear Smart Microcurrent Facial Firming $329.00
3. Bear Mini Facial Toning Device
The Bear Mini has everything you love about the standard Bear, except packed in a more petite (and portable) design. The other difference is that instead of five intensity levels to choose from, the mini offers three. Thanks to its more compact size, it's more adept at toning and refining smaller areas on your face, with the same efficiency as its larger counterpart. Available in pearl pink and lavender colors.
Buy Bear Mini Facial Toning Device $219.00
4. SolaWave 4-in-1 Facial Wand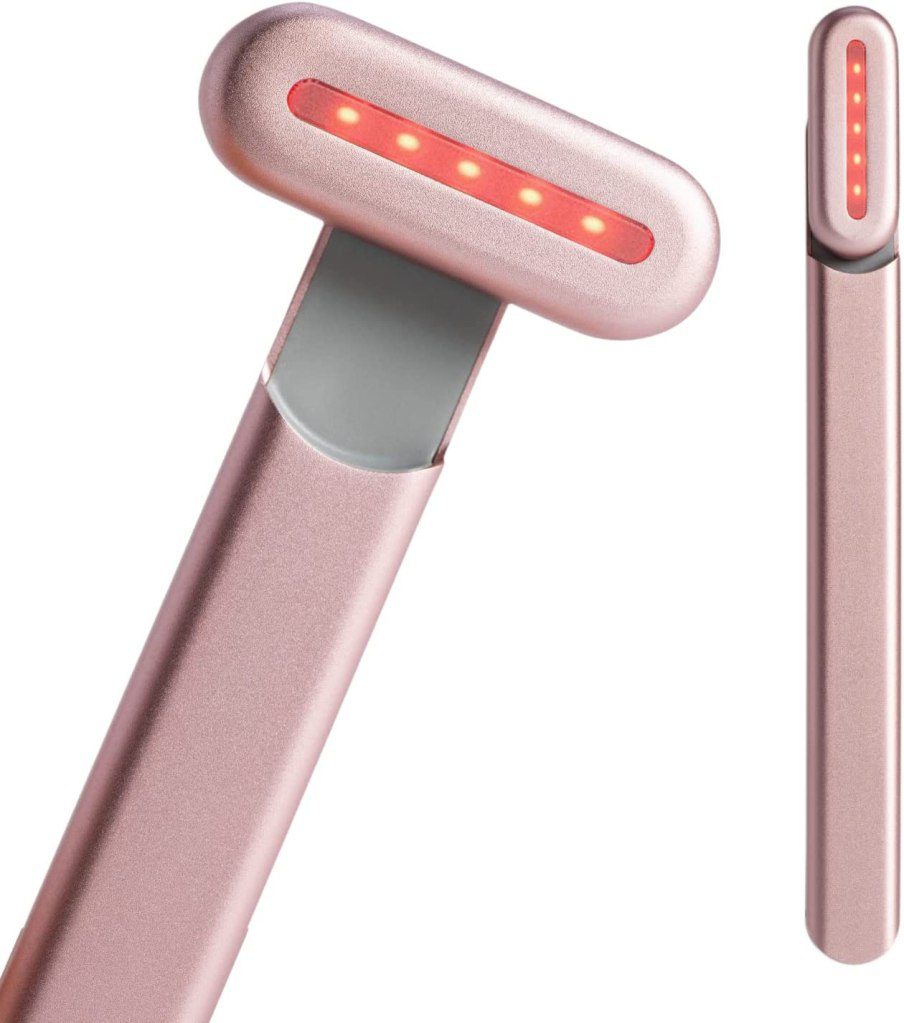 Get the best of four worlds with the SolaWave Facial Wand, one of our favorite skincare tools. This wand functions not only as a microcurrent device, but a red light therapy, face massage and therapeutic warmth wand as well. Few things that look so good make you feel so good too.
LED red lights work to penetrate the skin for deep rejuvenation while the microcurrents tones, tightens and lifts the skin. After all of that stimulation, your skin needs to relax; the facial massager calms your facial muscles to prevent any redness or puffiness. For the finale, the therapeutic warmth feature works to promote increased absorption of the skincare products you'll follow up with in your routine for maximized results, while also tackling any dark circles or puffiness under your eyes.
In short: the SolaWave works — and it works wonders.
Buy SolaWave 4-in-1 Facial Wand | Red Light… $114.99
5. GESS Microcurrent Facial Device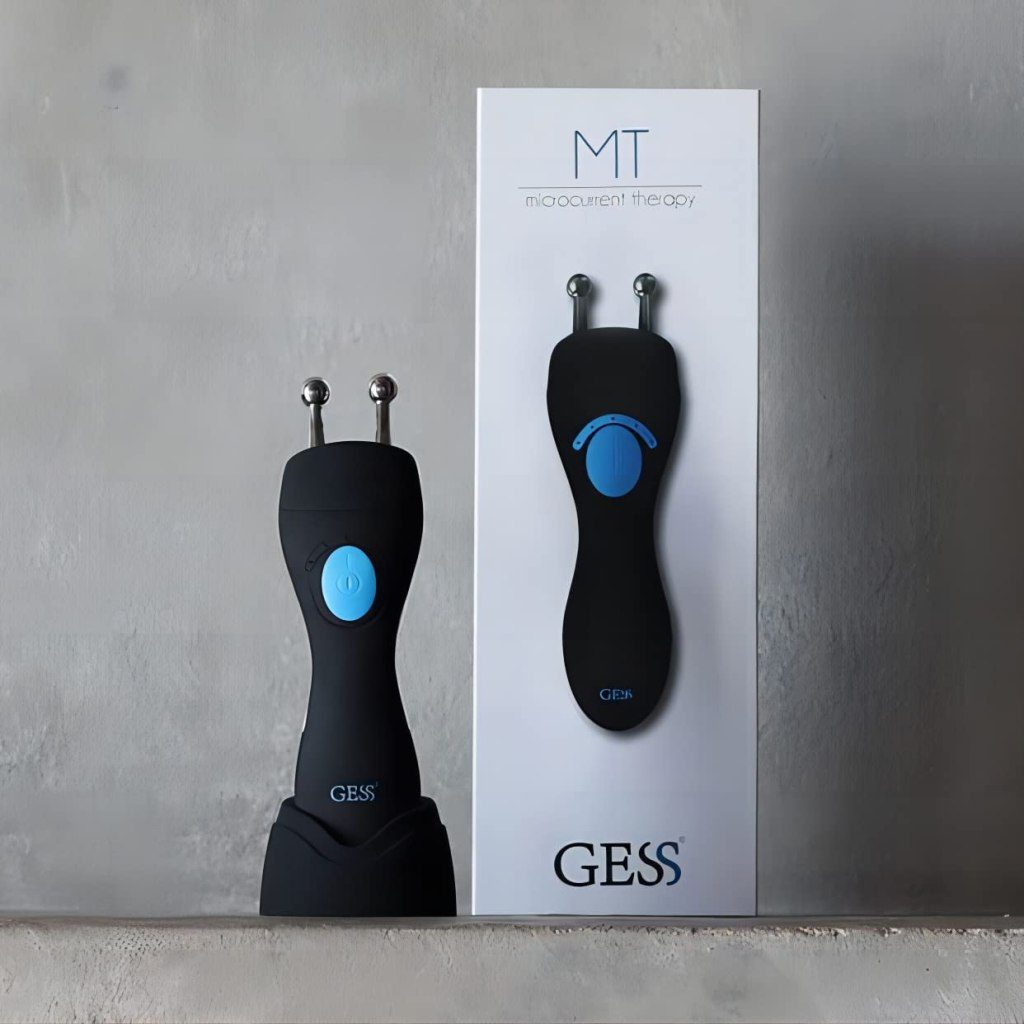 Swelling, frown lines and wrinkles beware; with five different vibration settings, GESS' microcurrent device helps your skin retain its elasticity and youthful sheen; it has as much to offer as the Foreo Bear for a fraction of the cost. Start off by applying the gel to your face and then gently massage the device on your skin; marvel at the way the microcurrents rejuvenate your appearance. While this option isn't rechargeable (a small price to pay if you're looking for a budget-friendly option) there's also a nifty auto-shut off feature that will power off the device after 15 minutes of inactivity.
Buy GESS Microcurrent Facial Device, Face… $59.99
How Do Microcurrent Devices Work?
The best microcurrent facial devices are a noninvasive, safe, anti-aging option to implement to your skincare routine. These handheld devices work to deliver a low current of electricity to the muscles and skin cells located in your face to increase the collagen production, which in turn makes your skin stronger and more durable against the signs of aging.
Over time, your skin can retain its elasticity, which keeps it tighter and smoother as opposed to sagging or developing fine lines and/or wrinkles. In no way can these devices totally prevent the signs of aging, but when paired with a strong skincare routine you can slow these effects down and also maintain a healthy, luminous sheen to your skin's appearance.
While microcurrent facial devices are safe for at home use, there are a couple of things to keep in mind. If you're someone who is currently suffering acne breakouts you may want to limit your use; because of how these devices stimulate your skin, you could potentially be doing more harm in this situation than good considering that your skin's metabolism is already pretty active (hence the production of acne). Those who see occasional breakouts will be fine — the main thing is that you never want to use the device directly on any blemishes or pimples.
Additionally, if you have extremely sensitive skin you may want to make sure the device is turned on to the lowest-possible setting to avoid your skin from becoming red or appearing irritated.
Those who have epilepsy, active cancers, pacemakers a history of seizures or who are pregnant or breastfeed are strongly advised not to use a microcurrent facial device.
Are Microcurrent Devices Safe?
Whereas you once had to go to a spa or clinic to receive a microcurrent treatment, all of the microcurrent devices on our list are completely safe for at-home use. They are FDA-cleared and approved for sale online.
Of course, like with any new skincare regime, you may want to consult your dermatologist if you are prone to breakouts or have sensitive or inflamed skin.
When Should You Use a Microcurrent Device?
It's actually just as simple to implement a microcurrent device into an existing, or new, routine. A good skincare routine always starts with cleansing your face both in the morning after you wake up and at night before bedtime. After that, you'll want to apply a water-based conductive primer to your face prior to using your device. If you don't, you'll notice that the process is noticeably uncomfortable; while it won't hurt, it's not something you want to experience. The easiest way to find a primer is to consult the brand/developer of your microcurrent device; typically they carry their own options, though it's not necessary to have the same primer and device.
Once you've applied your primer and used your device you can then wash off the residue and continue with the rest of your routine, starting with a toner and ending with a sunscreen or night cream depending on what time of day you find yourself in.