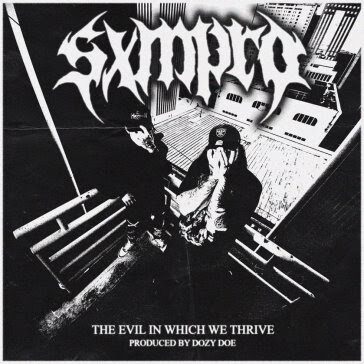 SXMPRA DROPS THRILLING DEBUT EP
Today, the enigmatic rapper has shared his first EP to date, THE EVIL IN WHICH WE THRIVE featuring the energetic new single "JDM DRIFT EDIT VERY TRENDY HOUSE PHONK!" via 10K Projects.
Produced by close friend and collaborator Dozy Doe, THE EVIL IN WHICH WE THRIVE is SXMPRA's first large body of work. With a wide range of phonk and deep hip-hop tracks, he is demonstrating his lyrical prowess as well as his diversity in sound.  Blending gritty underground rap and hardcore nu-metal, SXMPRA's prolific phonk identity is heard through a series of dizzying raps, fast and furious flows, and raw and unspoken storytelling. With over 4 million monthly Spotify listeners and his breakout hit, "COWBELL WARRIOR!" amassing over 71 million streams, the New Zealand-based, phonk rapper has become a fast force in the underground rap world.
Kicking off the release of the EP,  SXMPRA will be joining New Zealand based rapper Lil Bubblegum for "Holy Guap!" a 10 day North American tour starting February 7th at The Echoplex. The tour will continue to travel through major North American cities and will finish at Elsewhere Zone One in New York City on February 17th. Tickets are on sale HERE.
SXMPRA's latest offering, released via independent L.A. record label 10K Projects, marks a thrilling new era for the breakout rap sensation. A frontrunner of the internet phenomenon phonk scene – a rap subgenre derived from dark 90's Memphis rap soundscapes – SXMPRA continues to innovate the genre for the new generation while paying homage to its trailblazers and carving out his own path to underground rap glory.
FOLLOW SXMPRA
WEBSITE | INSTAGRAM | YOUTUBE | TIKTOK
© 2023, Seth "Digital Crates" Barmash. All rights reserved.