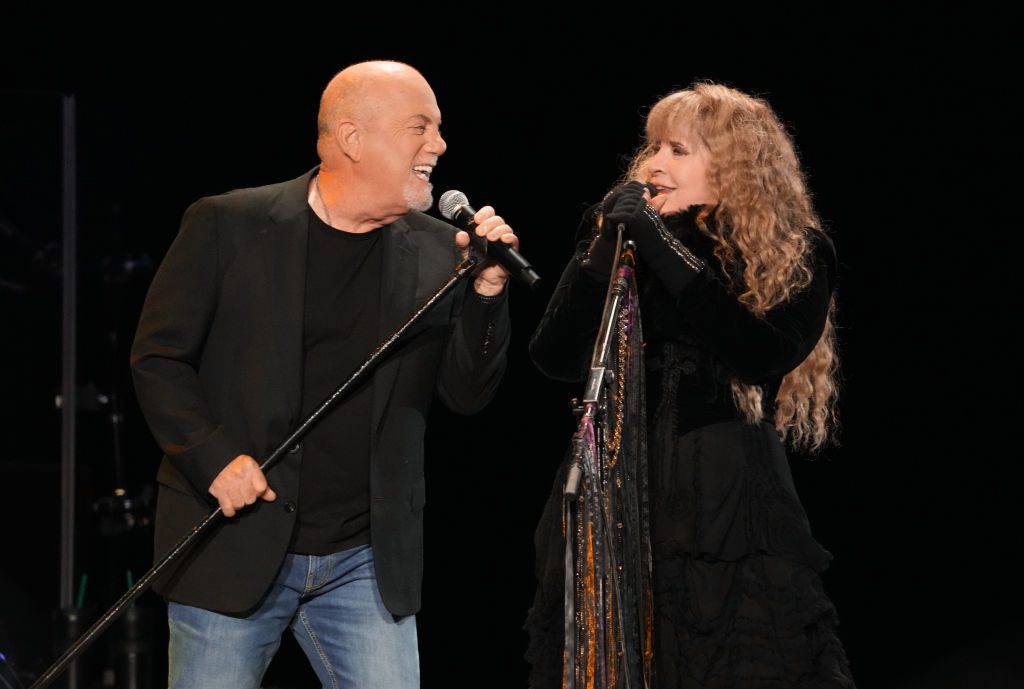 See Stevie Nicks and Billy Joel Perform 'Stop Draggin' My Heart Around' at Co-Headlining Tour Kickoff
Nicks also joins Joel's set for "And So It Goes" and pays emotional tribute to Christine McVie at her first concert since Fleetwood Mac member's death
Stevie Nicks and Billy Joel kicked off their much-anticipated co-headlining tour Friday night at Inglewood's SoFi Stadium, and while both artists delivered their own concerts' worth of music, they each appeared for a song during the other's set.
Early in Nicks' set, Joel shuffled onstage to contribute the Tom Petty part on the classic "Stop Draggin' My Heart Around." Midway through Joel's 21-song set, Nicks appeared to sing his ballad "And So It Goes."
While Joel's set was an abridged version of his monthly Madison Square Garden concerts, Nicks had some surprises in store for the first night of the Two Icons – One Night tour: She performed her "Fall From Grace" for the first time in over a decade, and sang Fleetwood Mac's "Sara" as a solo artist for the first time since 2008.
Friday's concert was also Nicks' first time onstage since the death of her Fleetwood Mac band mate Christine McVie, and Nicks paid tribute to her late friend during the encore with an emotional rendition of "Landslide." "I have to imagine she's still here. It's all I can do," Nicks told the audience.
Joel and Nicks' tour resumes April 8 in Arlington, Texas, followed by sporadic dates until November: Nashville on May 19, Philadelphia on June 16, Columbus on August 5, Kansas City on August 19, Foxborough on Sept. 23, Baltimore on Oct. 7 and finally, for now, Minneapolis on Nov. 10.