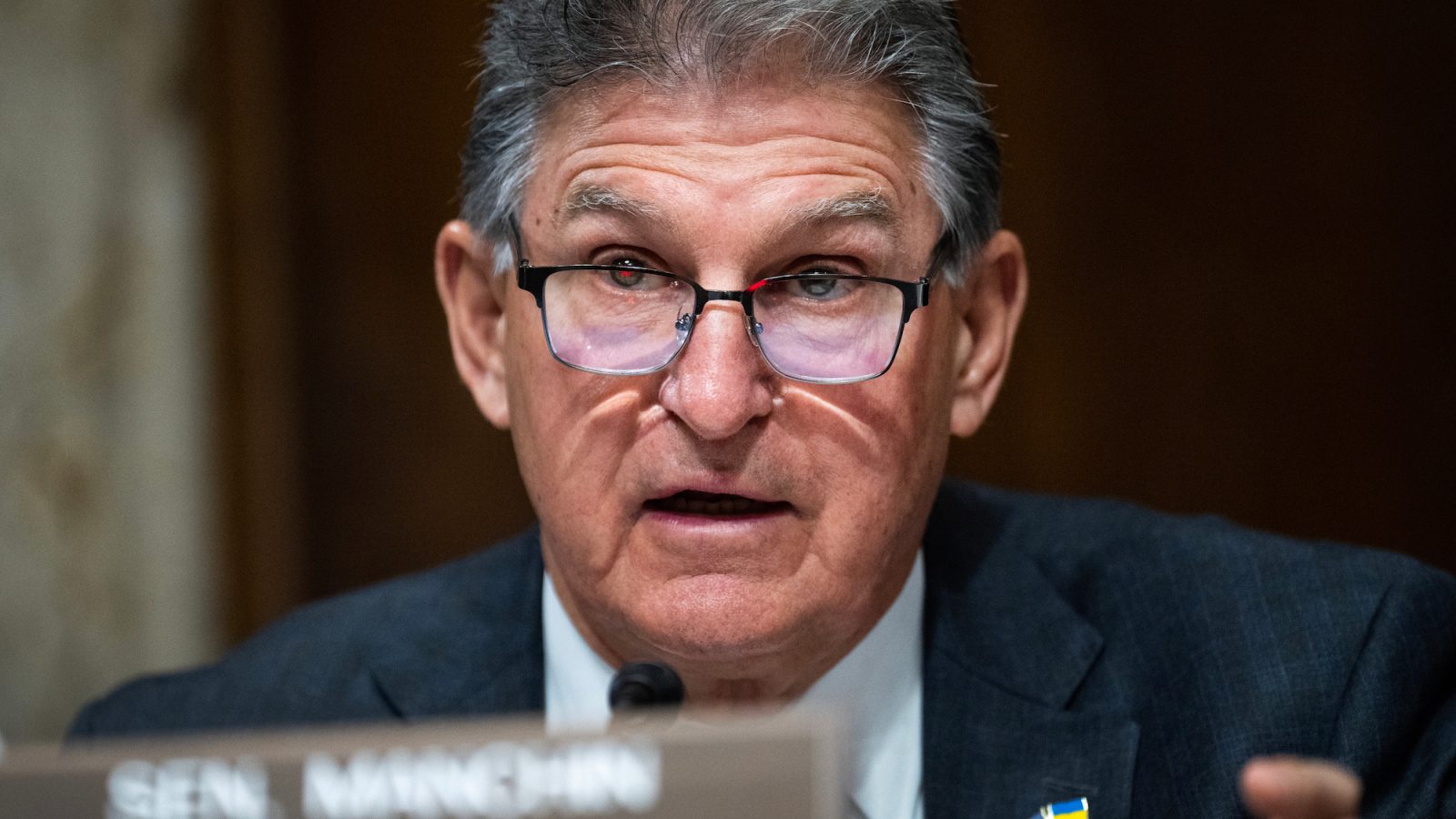 Manchin Dodges Questions About Potential Third-Party Presidential Run
A centrist political group, No Labels, has been pushing for a third-party presidential candidate, and Senator Joe Manchin is one of their dream nominees. But when pressed by Fox News' Shannon Bream about the possibility of a third party run, the centrist Democrat refused to answer definitively.
"Not ruling anything in, not ruling anything out," the senator said.
Manchin has been a crucial swing vote on many pressing issues, including climate and voting rights. He refused to support a Democratic bill that would have shored up voter protections, and he held up President Joe Biden's climate legislation until he could secure protections for his state's coal industry. A supporter of and investor in coal, Manchin has butted heads with members of his party on the issue of fossil fuels. He has also joked with Republicans about switching parties and at times refused to identify himself as a Democrat.
"The No Labels political group continues to fund and organize," Bream said while interviewing Manchin on Fox News Sunday. "They're trying to get in all 50 states. They want to be on the ballot to run a third-party ticket. The New York Times says that's got Democrats very upset and worried it's gonna re-elect President Trump. And they say this: 'At the top of the list of potential candidates is Senator Joe Manchin III, the conservative West Virginia Democrat who has been a headache to his party and could bleed support from President Biden in areas crucial to his re-election.' I always ask you, you have not… taken it off the table. Is a third-party run still in the realm of possibilities?"
Manchin dodged the question but praised No Labels and centrism. "No Labels has been moving and pushing very hard on the centrist middle, making common sense decisions, people that basically expect us to do our job and not put the political party ahead of policy in our great country. That's what we've seen happening, and there's more noise and more extremism coming from the far left and far right. They've been pushing this middle. If the middle is pushed, what we just saw happen [with the bipartisan debt ceiling deal] — that was the middle pushing, so that's basically a movement where No Labels has been proposing for a long time — 10, 11, 12 years."
Bream noted that the No Labels philosophy "sounds like what Joe Manchin says, too."
Manchin replied, "It's always what I've believed. I believe that basically that's where you make the decisions. You listen to the left and the right, you make sure you leave nobody behind, and you listen to the different persuasions that they might have, and concerns, but when it comes, you've gotta make common sense.
"I think there's… you better have plan B because if plan A shows that we're going to the far reaches of either side, the far left and the far right, and the people don't want to go to the far left and the far right, they want to be governed from the middle, I think there is, you'd better have that plan B available and ready to go," he added.
"And you're saying, it possibly could include Joe Manchin," Bream pressed.
But Manchin once again played coy. "I'm not saying who it's gonna include or exclude. I'm saying you better have plan B ready because that's what it's going to take for this country to remain a superpower of the world to give confidence to people around the world that the reserve currency should be the U.S. dollar. The support for freedom and democracy should be the U.S. government and U.S. Defense Department. We can do that. You can't do it on the extremes."
Bream's final question and attempt to get the senator to commit asked: "Ruling it out? Not ruling it out?"
"Not ruling anything in, not ruling anything out," Manchin said.