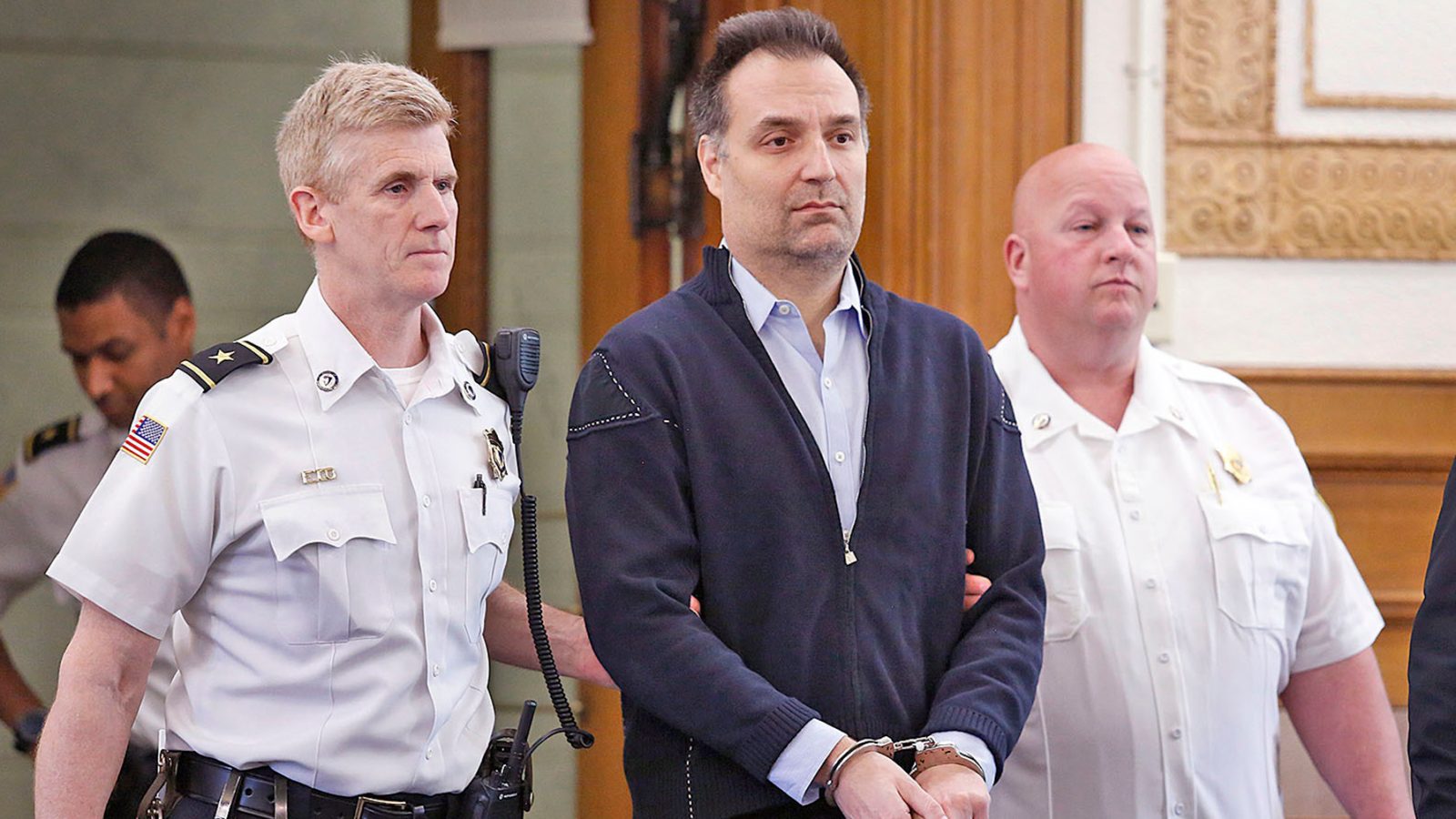 'It Is Easy for a Person to Disappear': Accused Murderer Suggests Missing Wife Ran Away
Brian Walshe, who following his wife's disappearance went on a cleaning-supplies shopping spree and reportedly Googled "how to dispose of a 115-pound woman's body," has again pleaded not guilty to the murder of Ana Walshe. 
At the Thursday arraignment on a set of grand jury indictments, prosecutors said Walshe suspected Ana of having an affair and that she was considering leaving her husband, both of which they said could have motivated him to kill her. They also laid out the most detailed timeline of the alleged murder to date. Walshe's team, meanwhile, previewed their defense strategy for the first time. The plan appears to be: present Ana as an absent mother and unfaithful wife who ran away of her own accord. 
Ana disappeared on Jan. 1, and her body has not been found. Walshe was initially charged with her murder in January and pleaded not guilty in Quincy District Court. At the end of March, a Norfolk County grand jury issued indictments against Walshe, moving the case to Norfolk Superior Court. Walshe was indicted for the murder of Ana, for obstructing justice by misleading police in an investigation, and for improper conveyance of a human body. In Massachusetts, a murder conviction carries a mandatory sentence of life in prison without the possibility of parole.
Walshe appeared in court in person on Thursday with a fresh haircut and wearing a blue shirt, a sweater, and handcuffs. Standing beside his attorney Tracy Minder, he shook his head as the murder charge was read: that "on or about January 1," Walshe "did assault and beat Ana Walshe with intent to murder her," and succeeded in murdering her. "Not guilty," he said. He repeated the plea for the other two charges: misleading a police officer and conveying human body.
Walshe looked around, wide-eyed, as prosecutor Greg Connor ran through the timeline of the investigation, laying out their evidence against him in their argument to deny him bail. Jan. 4, Connor said, was the first time Walshe contacted Ana's employer following her disappearance Jan 1. Walshe told them Ana had left New Year's Day out of Logan Airport. "This was a lie," Connor said. "By this time he had killed her, dismembered her, and disposed of her body." 
The prosecution acknowledged that at the time of her alleged murder, Ana was commuting for work at a real estate firm in Washington, D.C., living there during the week and going home to Cohasset, Massachusetts, on weekends. The plan, the prosecution said, was for the entire family to move to D.C. — once Walshe was off house arrest for selling fake Andy Warhol paintings. 
For the first time in the case, counsel for both sides mentioned evidence of infidelity. Last December, Connor said, Walshe began to suspect that his wife was having an affair. He repeatedly visited the Instagram page of one of Ana's male friends, and his mother hired a private investigator to surveil Ana in D.C. On Dec. 27, someone used Walshe's son's iPad to search for the best and worst states to get divorced in. Around that same time, Connor said, Ana had dinner with a friend where she appeared "upset," and expressed concern that Walshe could be sent to prison for the art forgery case. She said she was prepared to take the children and move to D.C. without him. 
The prosecution also mentioned Ana had two life insurance policies, valued at approximately $2.7 million combined. Walshe was the sole beneficiary. 
According to the prosecution, a family friend who came over to the family's Cohasset house for New Year's Eve dinner was the last person to see Ana alive. Walshe cooked dinner for the three adults that night, after the children had gone to bed. They'd all toasted to 2023 before the guest left around 1:30 am. 
Before the new year had even dawned, starting at 4:58 a.m., Connor said, someone in the Walshe house was using the oldest child's iPad to search how long it takes for a body to start smelling and how long before a missing person is declared dead. 
Walshe had errands to run. That afternoon, according to the prosecution, he left his kids with a babysitter and went to several places in the greater Boston area. He hit a liquor store and stopped by the dumpster area at his mom's apartment complex about an hour from Cohasset. According to surveillance footage at several different stores, he purchased a huge amount of cleaning supplies and other items, including towels, disposable rags, a Tyvek suit, Murphy oil soap, 13 different kinds of hydrogen peroxide, and jugs of ammonia. He also bought a hammer and a hacksaw. 
Overnight, someone using his son's iPad searched how to clean blood and DNA off of objects, how to remove sim cards from phones, and how to mix ammonia. The next day, Jan. 2, Walshe went shopping again, this time hitting up Homegoods for three new area rugs and some scented candles. The kids' babysitter noticed sometime after that he'd replaced the downstairs rugs and had gotten a new trash can for the kitchen. 
That afternoon, the iPad searches included queries about how long Lowes maintained surveillance videos, apartment surveillance systems, and numerous articles on dismembering a human body. After that, Walshe went out again, buying buckets, plastic sheeting, baking soda, a second Tyvek suit — and a hatchet. He picked up some takeout and went home.
In the Walshe house, someone was up all night again into Jan. 3. From 1 a.m. to 7 a.m. Connor said the iPad history showed searches for removing the odor of decomposing bodies, how blood is detected using fluorescein (a compound, similar to luminol, used to reveal latent blood on surfaces), visits to crime scene cleanup company Aftermath's website, and searches on how to remove blood stains from concrete. Meanwhile, the prosecution said, the concrete-floored basement remained closed with a security lock to keep the children from going downstairs.
After the sun rose Jan. 3, at 8:30 a.m., Walshe called his wife's cell phone for the first time in more than two days. That afternoon, he drove to three different dumpsters. A camera at one location captured him pulling items from his SUV. A different camera showed him disposing of something — it appeared to be heavy, the prosecution said.
The next day, Jan. 4, Walshe called Ana's employer in Washington, D.C., looking for her. He told them she'd left for a work trip Jan. 1, but she wasn't there. The firm called hospitals, visited Ana's D.C. residence and alerted the police in D.C. and Cohasset, launching the investigation. 
By noon that day, police were at Walshe's door. He told them she'd left early the morning of New Year's Day, and that she probably took a rideshare car to the airport. He said she'd been wearing a short black coat, blue-gray Hunter boots, and carrying a black Prada purse. 
In the coming days, as has been previously reported, police found no evidence that Ana took a cab or rideshare care or got on a flight. Walshe handed over all the digital devices in the house, exposing cell phone location data for his errands as well as the damning internet search history. 
The police searched all the dumpsters Walshe had visited. Most of them had already been emptied and their contents incinerated, "leaving behind only a fine ash," Connor said. In a dumpster in Swampscott, however, the town where Walshe's mother lives, police found Hunter boots, a short black coat, and a Prada purse. Also in the dumpster, Connor said, were Ana's Covid-19 vaccination card, and rugs that looked like those from the Walshes' living room and kitchen. They had red-brown stains on them and one contained a piece of a Gucci necklace consistent with one Ana would wear. Also recovered from the same dumpster: a hacksaw, a hammer, a Tyvek suit with a red-brown stain on it, and snips, a tool used to cut sheet metal. The stain on the Tyvek suit tested positive for Ana's DNA. When authorities took the hacksaw apart, Connor said, they recovered a bone fragment. It's currently being tested. 
Walshe's team, when it was their turn to speak, asked the judge to consider the idea that Ana may yet be alive, having apparently gone missing of her own volition. "It is easy for a single person to disappear if they want to disappear," Walshe's defense attorney Tracy Miner said. She said that Ana worked a lot, and even when she was in town on weekends, she spent a lot of time away from her three young kids. Walshe, she said, "has been the primary caregiver since each of those children were born."
Miner said there's no indication that Ana died or how she died, and argued that Walshe had no motive to kill her. She said Walshe's mother was wealthy and gave "tens of thousand of dollars" to both Ana and Walshe, so he had no financial incentive to murder her. She described New Year's Eve as a "celebratory evening," where the couple looked ahead to 2023 as "the best year yet." 
The private investigator was all Walshe's mom's idea, according to Miner, who said Walshe never suspected his wife of being unfaithful. "He told her she's crazy, she's a good girl, but go ahead; you'll be proved wrong," Miner said. Walshe only learned his wife was having an affair during discovery in this case, she said. 
She acknowledged he'd bought "a lot of cleaning supplies," but pointed out that he hadn't eve used them all. Many were still in the basement of the Cohasset home, "untouched," she said. Police had photographed them, she added.
And regarding the internet searches? "I get that they're problematic," Miner said. But he searched for other things, too, during the same time period, she argued — things that never came to pass, including best places for a family vacation. "Other searches included how to set up a charitable corporation to give away large lottery winnings tax free," Miner said. "Mr. Walshe never won a large amount of money in the lottery and never set up a charitable contribution."
A judge ordered Walshe held without bail. He is due back in court August 23 for a pre-trial conference. 
The murder case isn't Walshe's only legal trouble. Last week, Walshe attended a virtual hearing in Plymouth, Massachusetts, probate court related to a dispute over his late father's estate and an accusation that Walshe took half a million dollars in assets following his father's death in 2018. His relatives have asked that he file an account of the assets he took. The probate matter is scheduled for trial and has delayed Walshe's sentencing in the federal art fraud case.