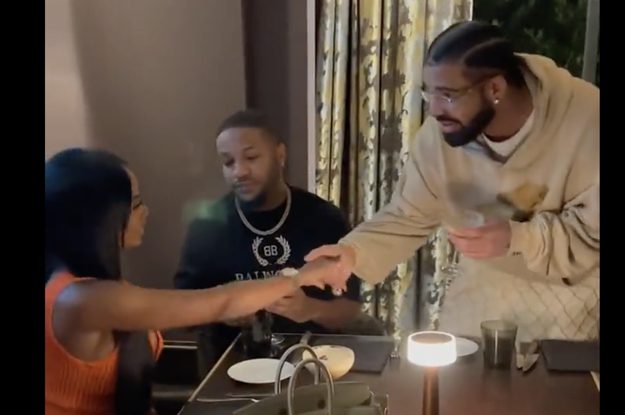 Drake Plays Patronizing Friend Humbling Man in Front of Girlfriend in Hilarious Sketch
Drake proceeds to show off his recent auction mega-win, 2Pac's ring. The piece was last seen on the late star in his appearance at the 1996 MTV VMAs. The precious ring was estimated to sell for $300,000 but wound up going for $1 million. Drizzy even touched on the fact that 'Pac engraved it with a special remark nodding to his relationship with Quincy Jones' daughter Kidada.
"He got it engraved for his girl, that's some shit I would do," Drake says as he holds out his hand for the woman to inspect at length.
The 36-year-old shares a toast with Aaliyah without including BenDaDonnn, then walks away while giving his friend a patronizing pat on the head.
"Like bruhhhh….gone on!!!! You know exactly wtf you doin," an in-character BenDaDonnn wrote in one IG caption. In another he added, "Wait…wtf is even goin on right now…and why are you seducing my b*tch!!!!??!!??? in front of me!!??!"