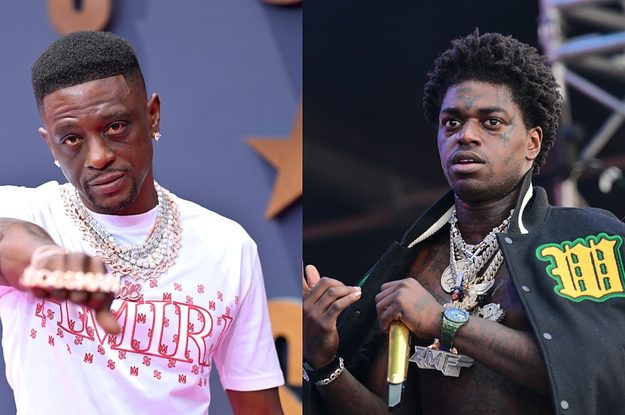 Boosie Badazz Diss Track Takes Aim at Kodak Black for Working with 6ix9ine
Kodak Black linked with 6ix9ine for the rainbow-haired rapper's latest single "Shaka Laka" back in July, and even starred alongside the Brooklyn native in the music video, which ended up racking up over 27 million views on YouTube.
Adamantly against snitching in any form, Boosie Badazz was quick to share his disgust over his frequent collaborator's decision to link with 6ix9ine.
"That n***a Yak fucked me up," he said at the time. "I wonder how all them Zoes feel, dawg? I know those Zoes fucked up right now. I know the state of Florida fucked up right now. This n***a ain't got no morals, don't got no principles. Damn. Thought that little n***a wasn't like that, bro. N***a ain't no street n***a, at all. Damn. Fucked me up."
Meanwhile, Kodak allegedly received a massive payday and a Rolls-Royce to help convince him to jump on a song with 6ix9ine.
The latter's manager Wack 100 spoke about the collaboration in an interview with No Jumper last month, and said Yak was paid "a whole lot of money" to come to the studio and lay down a verse.
"It was supposed to be like 8 o' clock, I seen Kodak by 1 [am]," Wack recalled. "Some things worth waiting on. Kodak pulled up [with] his girl and his kid, with fire in his eyes."
After a "man-to-man" talk with 6ix9ine, both artists recorded their parts for what was subsequently released as "Shaka Laka" with Yailin la Mas Viral.
"And then right before [Kodak] left, shit, we kept it gangsta," Wack added. "He came in a black car and he left in a Rolls-Royce. Tossed him the keys, tell him 'go home' … he put his baby seat in that bitch, he jumped in the driver's seat, he put his driver in the passenger seat, his queen in the back and I jumped on the freeway with him."