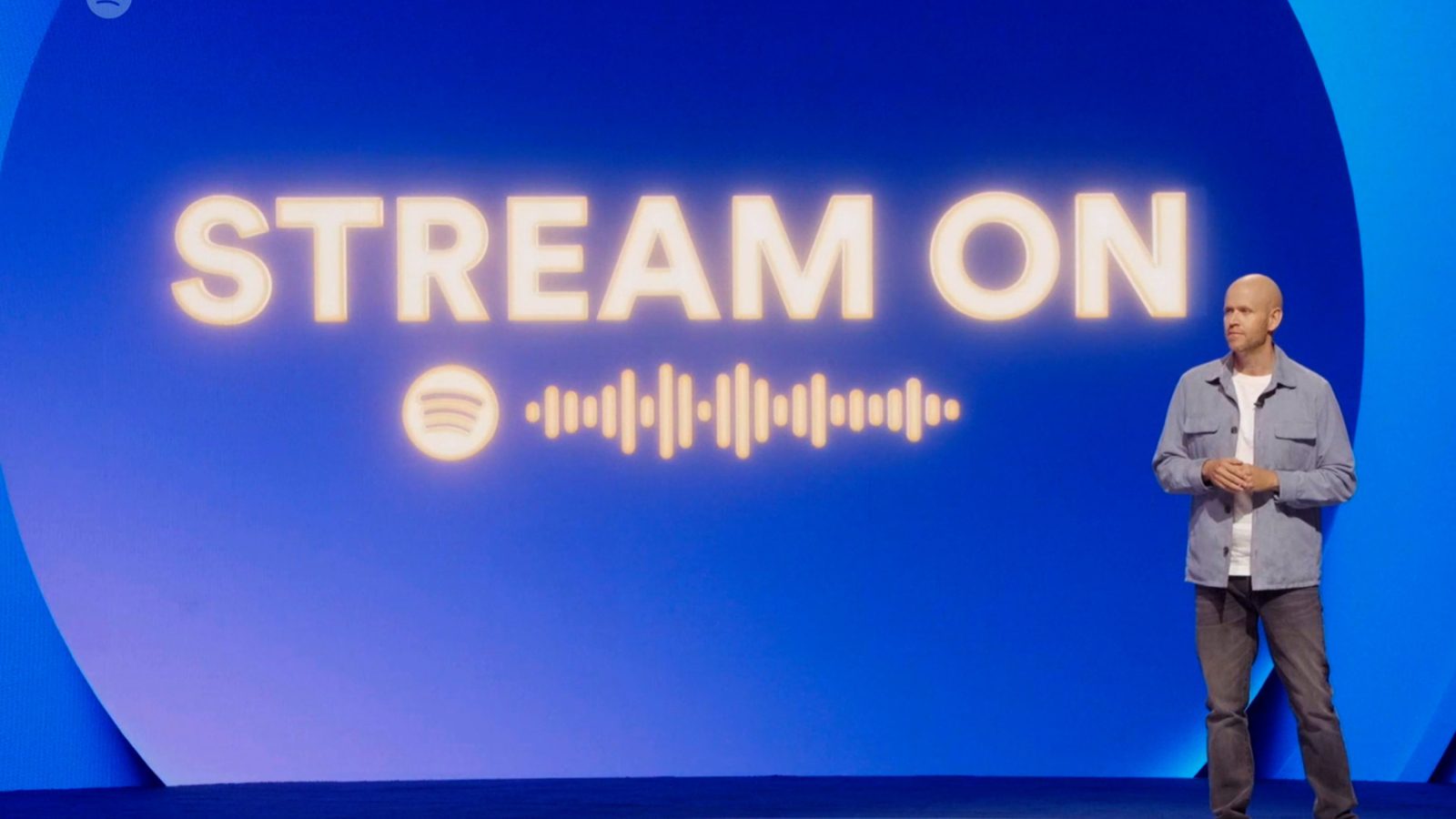 Your Spotify Feed Is About to Look More Like TikTok
Spotify is rolling out a major update to its interface, CEO Daniel Ek announced at the streaming giant's "Stream On" event in Los Angeles on Wednesday. The revamped home feed has a vertical scrolling design meant to look more dynamic, with animated images, video clips and audio previews like the auto-playing trailers on Netflix.
On stage, Ek described the overhaul as Spotify's "biggest change since going mobile." Gustav Söderström, the company's Chief of Research and Development, said it would enhance the user experience for both creators and listeners by providing more "advanced recommendations" and "dynamic" ways to discover content.
The algorithmic cascade of content will likely look familiar to TikTok users, but Söderström appeared to cast shade at the video app without mentioning it by name, seeking to distinguish Spotify's approach.
"Our goal is not to steal time," Söderström said, as with a feed that keeps your eyes glued to the screen by serving endless and addicting clips. Instead, he proclaimed, the souped-up Spotify visuals are intended to speed up discovery, so you can save music, podcasts and audiobooks for later — or start listening right away. Some of these lively elements resemble displays from Canvas, the existing Spotify feature that allows artists to add short video snippets that loop when their songs are played, replacing a still album image.
Other features announced at Stream On — the second such event in the brand's history, and the first to be held in person after a virtual-only broadcast in 2021 — included a streamlined notification system for concert tour dates, a Fans First program for advanced ticket sales, and Countdown Pages, which allow users to pre-save albums and see how much longer they have to wait for its release. (Spotify brought the Jonas Brothers out to hype these additions.) The streamer is also launching an artificially intelligent service called DJ, voiced by Xavier "X" Jernigan, the brand's Head of Cultural Partnerships. Beyond recommending artists and songs, DJ provides background about what it plays for you. Spotify also announced of an expansion of its controversial Discovery Mode, where artists can choose to take lower royalty payments in exchange for engagement boosts.
But moving images and clips that make Spotify "feel alive," in Söderström's words, were the dominant theme of the presentation, with the app evidently striving to become something you look at as much as you listen to. Several of their podcast partners, including Call Her Daddy host Alex Cooper and Distractible's Mark Fishbach (a.k.a. Markiplier), took the stage to speak about branching into video episodes to grow their audience.
Spotify also delivered its annual music royalties report, Loud & Clear, with global head of editorial Sulinna Ong proclaiming a creative "renaissance" as more artists than ever generate revenue from their work. She acknowledged, however, that the hustle to break through continues to be "intense." And while the team touted new advantages for creators, including more front-facing promotion for merch, it seems that aspiring, lesser-known musicians and podcasters will increasingly need to curate appealing visual assets to accompany their songs and shows if they want to be competitive in this space.
An idol on the level of, say, Taylor Swift, has the institutional support and resources to build a sleek, eye-catching aesthetic to match the mood of an album. For those just starting out in the music business, producing this extra flair will be more of a challenge. No doubt there's a segment of Spotify's user base that doesn't particularly care what it's seeing in the app when streaming, but others are bound to be drawn to content that advertises itself with a pop of animation.
In other words, while Spotify likely won't supplant TikTok anytime soon, you may see artists borrowing engagement strategies from that platform to make themselves stand out. In some ways, the streamer is pushing one more evolution of a medium constantly reinvented for the digital age: the music video. The radio star, meanwhile, remains emphatically dead.