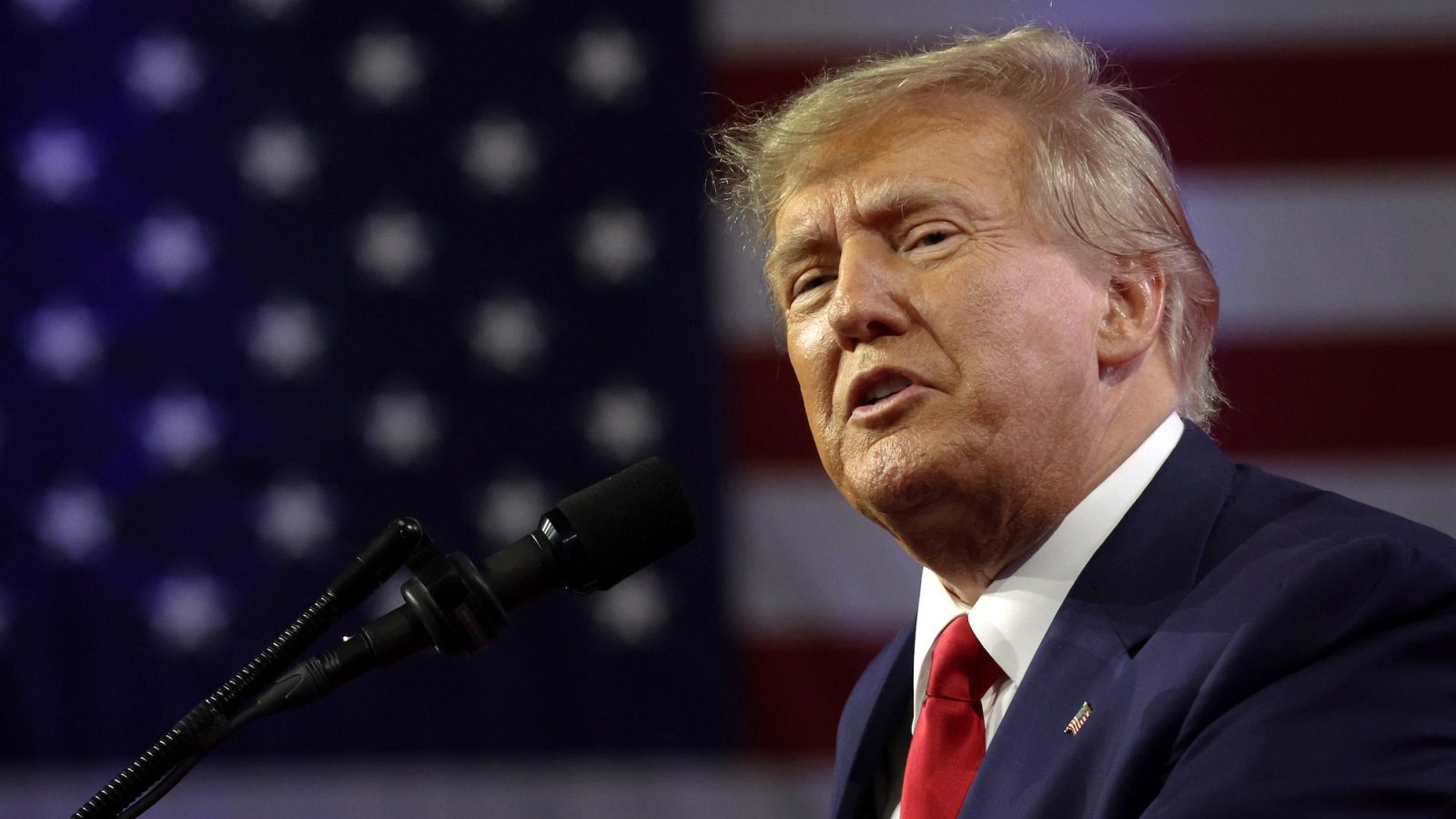 Young Republicans Are Begging Party Elders To Stop Saying 'Woke'
NATIONAL HARBOR, MD. — To attend the Conservative Political Action Conference is to find oneself on the front lines of the war against woke.
During her speech on Friday, 2024 hopeful Nikki Haley deemed "wokeness" a "virus more dangerous than any pandemic." Sen. John Kennedy (R-La.) argued Americans ought not to be governed by "deeply weird, nauseously woke people who hate George Washington, Abraham Lincoln, Dr. Seuss, and Mr. Potato Head." Ron DeSantis, grand poobah of the anti-woke, wasn't there, but Moms for Liberty, the DeSantis-championing "parents' rights" group, was, its members milling outside the main hall in navy "STOP WOKE" T-shirts.
To the young Republicans in attendance, the vernacular feels a bit cringe. "We don't really use 'woke' as our term," says Evan Masse, a student at the Community College of Rhode Island. Chris Johnson, the managing director of Young Conservatives for Carbon Dividends, likened its use to how an out-of-touch uncle might search for the words to describe a nephew at the Thanksgiving table. "I think a lot of older folks use it if they don't really know what they're referring to," he says. "It's a catchall colloquialism."
Several young conservatives I spoke with at CPAC echoed some version of that criticism of party elders. Some worry that going so hard on "woke" — a term now used almost entirely derogatorily by Republican detractors — will turn off upcoming generations of voters already disinclined to support the GOP. Others simply said it had lost its meaning, as many once-favored slang terms do, when the septuagenarians in Congress started punctuating their Fox News hits with it. This next generation of GOP activists nevertheless support the principles behind the "woke" wars — the market basket of education- and gender-related policies being passed in red states across the country. They just really wish the Olds would stop saying "woke."
For nearly 50 years, CPAC has been the Republican Party's premiere annual gathering, where the party's leading lights commingled with its staunchest activists — especially its youngest ones — for a chest-beating pep rally. Or, at least, it had been. This year's conference had been haunted by sexual harassment allegations against Matt Schlapp, the president of CPAC's sponsoring organization, which scared away both financial backers and attendees. Some of those expected leading lights, such as DeSantis and former vice president Mike Pence, accepted invitations to a competing confab in Florida. Fox News, once among the event's key financial sponsors, appeared to have instituted a blackout on CPAC coverage.
The conference remained tonally consistent in spite of these developments: Comic-Con for the Trump-loving Newsmax set. CPAC's biggest celebrities are those who had led the GOP's race toward the conspiratorial fringe. It's the sort of place where a pancake makeup-ed Rep, Matt Gaetz (R-Fla.) is in high demand for selfies — but not as high as Rep. Marjorie Taylor Greene (R-Ga.). Where former Michigan secretary of state candidate Kristina Karamo rubs elbows with former Arizona Senate candidate Kari Lake, neither of whom has conceded their races. Where Steve Bannon periodically led a few dozen in a booming chant of "Take Down the CCP!" 
"CPAC is fundamentally, at this point, political entertainment to a certain degree," Johnson says of the scene.
Such vibes were absent, however, in the small banquet room where a hundred college-aged conservatives crammed in for a lunchtime panel, "How Conservatives Can Compete For — and Win — the Next Generation of Voters." Johnson, a panel co-host, described a pervasive economic anxiety among his fellow young conservatives that sounded not dissimilar from their left-wing counterparts. Nate Hochman, a recent college graduate and staff writer at National Review, said Republicans need to articulate solutions to climate change for Gen Z conservatives — a contrast to the scene on the main stage, where advertisements urging continued dependence on oil played between speakers' sets. Quincy Azimi-Tabrizi, a Brigham Young University student and secretary of National Federation of College Republicans, noted a desire among GOP youths for their party to use "nicer rhetoric."
Not once did the panelists utter Fox News' favorite word. Why not? Azimi-Tabrizi says it contradicts her party's need to expand its narrow hold on socially liberal Gen Z. "I think that a lot of young people — when older conservative say 'woke' — they feel very attacked," she explains. "You're turning off a younger movement of the party by labeling all young people as 'woke.' So absolutely, I would very much disencourage that." Hochman noted he'd written an essay declaring his intention to abandon the term "woke" — one that describes a "pang of embarrassment" he felt whenever "boomer-friendly media presents wokeness in 'will-you-get-a-load-of-this-shit' segments," he wrote.
None of this is to say, however, that the culture wars aren't a key pillar of what some young Republicans see as the future of their party. Hochman represents the New Right, an emerging bastion of conservative intellectuals who believe those fights are essential to building a new GOP coalition. "Among the next generation of conservative intellectuals, there's actually an appetite for a much more aggressive social conservatism and a sense that legacy conservative institutions have been too laissez faire and liberal on social issues," Hochman explains.
Rep. Byron Donalds (R-Fla.), a Black millennial lawmaker, thinks that's why the specifics behind the term are particularly relatable to young Republicans. "What they've experienced is being shut down because of their beliefs — being put aside because of their thought processes," he says. And just because the term is cringe doesn't mean the ideas are among these upcoming conservative activists: Azimi-Tabrizi, Hochman, and Johnson, all favor DeSantis as their would-be future president. "A lot of the kind of things that are under the umbrella of 'wokeness' — we're really concerned about it," Johnson says. "We just don't articulate it the same way."