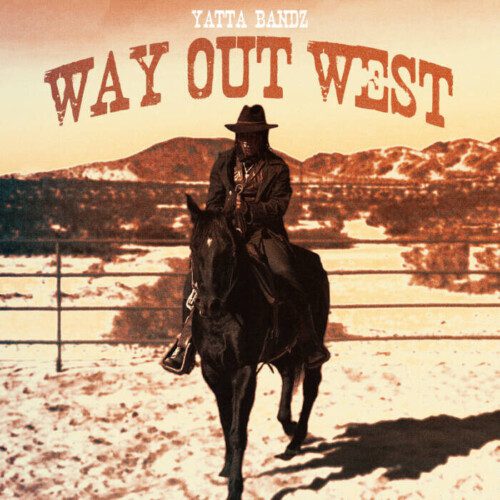 Yatta Bandz Drops New Video for "Way Out West"
Yatta Bandz is taking over Northern California, generating a cult following in the Bay and beyond with his heartfelt melodies and authentic lyricism. Paying tribute to classic western films and telling a story worthy of the inspiration, Yatta shares a Valentine's Day gift for his fans: "Way Out West," his new video, out tonight. Demonstrating his natural gift for sweetly-sung storytelling, Yatta works his way through a complex relationship, struggling to come to terms with his significant other's fading feelings and wondering if he'll ever find true love: "Moving on, I know I been stuck here for way too long/But I know I'm scared to leave/Cause I don't how to believe, out there somewhere there's a heart that's meant for me."
Directed by AdamKG, the video for "Way Out West" faithfully recreates the vibe of western films of the mid-20th century. Yatta decks himself in an all-black cowboy get up, playing the role of an outlaw who takes over a frontier town with the help of his very own Calamity Jane. As they ride off into the sunset, Yatta's partner shows her true colors, robbing Yatta and escaping with the full loot. The video ends with Yatta and his horse, alone in the wilderness, with only his six-shooter at his side.
"Way Out West" continues Yatta's run as one of the most promising artists to emerge from the Bay in recent years. Born in Hayward, an East Bay city south of Oakland and north of Fremont, Yatta endured a rough childhood, experiencing periods of homelessness during his elementary school years. He found refuge from his hardships with his love of music, immersing himself in the discographies of artists like Juice Wrld, J. Cole, XXXTentacion, and Polo G. Yatta first found an outlet for his creativity by posting his original freestyles on Instagram, building a following that naturally followed him to SoundCloud, where he released underground hits like "Loyalty" and "Somebody," and to YouTube, where he cultivated a following of over 178k subscribers. Yatta broke out in a big way in 2022 with the release of singles like "Don't Go" (17.6 million Spotify streams, 5 million YouTube views) and "Unseen Scars" (nearly 2 million views on YouTube audio, 17.7 million Spotify streams), both of which can be found on Perfect Storm, his debut album.
Hard at work on his follow-up to Perfect Storm, Yatta is hoping to expand beyond the Bay and earn some national recognition. Stay tuned for much more from the 21-year-old rapper very soon.
© 2023, Seth "Digital Crates" Barmash. All rights reserved.