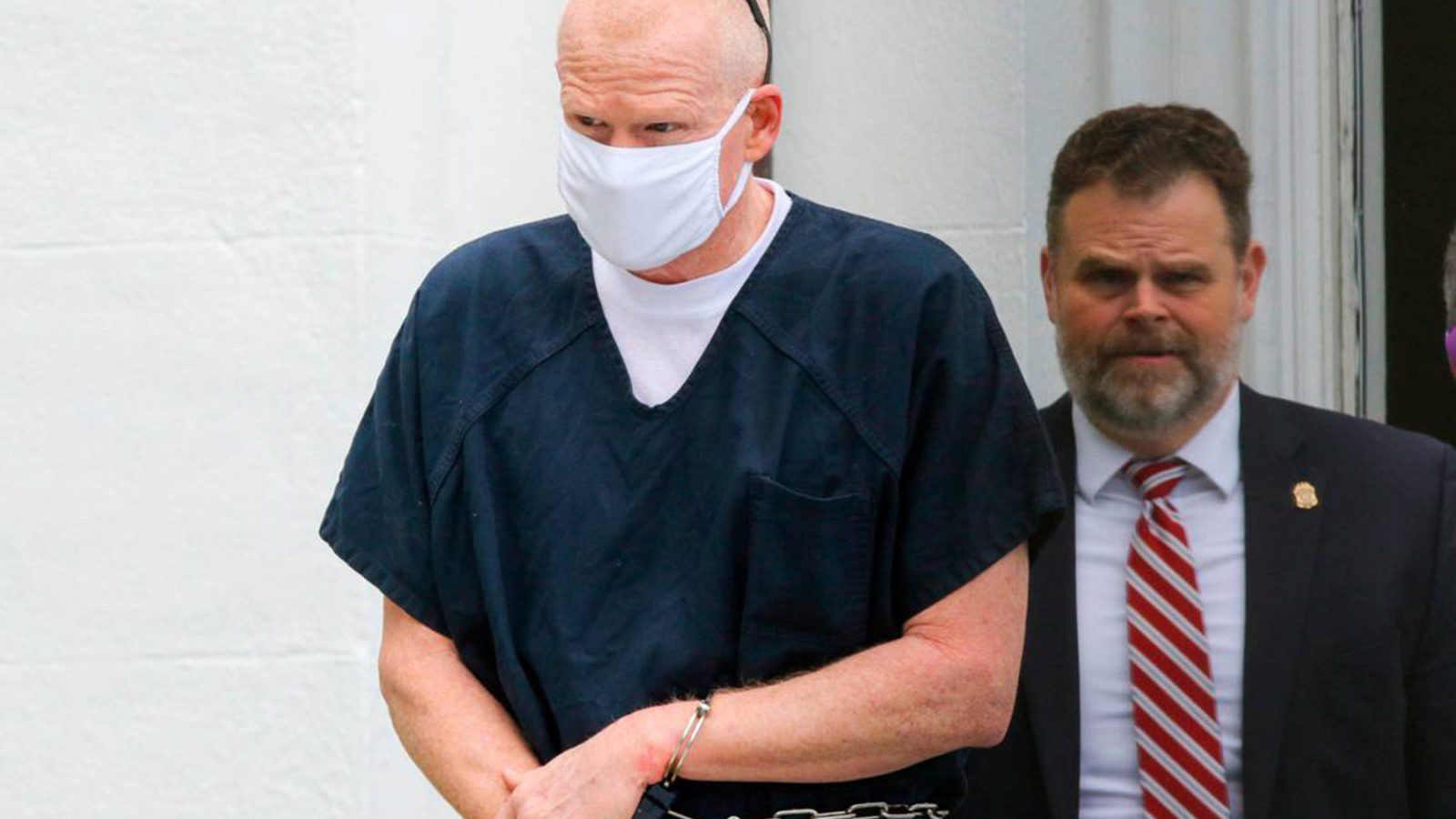 With More Than 100 Other Criminal Charges Waiting, Alex Murdaugh Murder Trial Begins on Monday
On Monday, jury selection begins in the sordid Murdaugh family double-homicide trial. Alex Murdaugh, 52, the disbarred South Carolina lawyer embroiled in layer upon layer of scandal and criminal accusations, will face murder charges for the 2021 killings of his wife, Maggie Murdaugh, 52, and their son Paul Murdaugh, 22. The saga of Murdaugh's alleged wrongdoings has unfolded over the past couple years, capturing national attention with each shocking development. 
For example, Murdaugh's own murder trial has delayed a trial in a wrongful-death lawsuit related to a fatal 2019 boating accident that killed a 19-year-old woman. Also, state authorities last year gained permission to exhume the body of Murdaugh's deceased housekeeper to further investigate her own wrongful death, the settlement from which Murdaugh has admitted to stealing from her surviving sons. He additionally stands accused of stealing insurance settlements from several clients and of misappropriating money from his former law firm. Lest we forget, he also admitted he hired a hitman to kill him in a botched insurance fraud attempt. And then there were the drug-trafficking and money-laundering charges! In total, Murdaugh faces about a dozen lawsuits and more than 100 criminal charges for alleged financial and drug violations. He is being held in jail on a $7 million bond. (While Murdaugh has not entered pleas for most of the charges, he has broadly denied wrongdoing and he and his attorneys have disputed facts of his case in court and to reporters.)
For the murder charges, the most serious allegations he faces, Murdaugh was arrested in July 2022 and indicted on two counts of murder and two counts of possessing a firearm during a crime. (He has pleaded not guilty.) South Carolina Attorney General Alan Wilson has been tight-lipped about evidence, but prosecutors have said that video shows Murdaugh was at the family home with his wife and son around 8:45 p.m., shortly before they were killed. They claim he shot them and then waited an hour after their deaths before calling 911, around 10 p.m. Murdaugh's lawyers, Dick Harpootlian and Jim Griffin, claim Maggie and Paul were both alive when Murdaugh left the family home around 9 p.m. to visit his mother. He returned an hour later, they claim, and found their bodies. 
According to court filings, there's blood on the T-shirt Murdaugh wore the night of the murders, but the two sides have been sparring since late last year over how it got there. It could have been transferred from the bodies when Murdaugh was checking them for signs of life, or it could be blood-spatter from shooting someone at close range. On Wednesday, the defense filed a motion asking for the court to prohibit a blood-spatter expert's testimony. Murdaugh's attorneys claimed the expert initially said there was no blood spatter on the shirt but changed his analysis after investigators visited him in person.
Other filings by the defense have suggested they will try to shift the blame to Curtis "Eddie" Smith, a distant cousin of Murdaugh's. Smith is in jail, charged alongside Murdaugh with attempted insurance fraud in the hitman scheme. He's also been accused of helping Murdaugh sell drugs and launder money and is facing charges including money laundering, forgery, and possessing, manufacturing, or distributing narcotics. In court filings last fall, Murdaugh's attorneys revealed Smith failed a polygraph test when asked about the murders. Prosecutors have moved to block polygraphs from being mentioned during the trial and to limit Smith's role as a witness. Smith denied wrongdoing in the hitman and drug cases, and he has not been charged in relation to the murders. His attorney has said he's been set up to take the fall for Murdaugh. 
In December, the Attorney General, whose office is prosecuting all of the cases against Murdaugh, said that he would not seek the death penalty against Murdaugh. If he is convicted of the murders, the prosecution will instead seek life in prison without parole. The murder trial will take place at Colleton County Courthouse in the small city of Walterboro, population 5,500. It is expected to last three weeks.
Murdaugh is the scion of a long legal dynasty in South Carolina's small Hampton County, in the state's southern Lowlands. For three generations — over 87 years — Murdaugh men served as elected prosecutors in the area. His father, Randolph Murdaugh III, was the last in the family to hold nearby Hampton County's top prosecutor job until 2005. Murdaugh worked at his family's law firm — Peters, Murdaugh, Parker, Eltzroth & Detrick (P.M.P.E.D.) — until he was pushed out in September 2021 amid accusations that he'd misappropriated funds. At the time, a representative said he felt "regret and sorrow," adding that Murdaugh was entering treatment for opioid addiction.
In 2019, Murdaugh's son Paul was charged with boating under the influence causing death after an accident that killed 19-year-old Mallory Beach. In the wee hours of Feb. 24, 2019, Paul, Beach, and four other young adults been drinking and joyriding on a fishing boat near Beaufort, South Carolina, when the boat crashed into a bridge, throwing Beach from the boat. It took a week to find her body. After the boat wreck, the family has claimed, they began receiving threats online. At the same time, the Murdaughs' prominent status within the law enforcement community caused concerns that the investigation into Beach's death was being mishandled. Beach's family brought a lawsuit against Murdaugh, accusing him of lending Paul the boat and allowing Paul to drink alcohol. A trial date is pending in that case. Paul pleaded not guilty to the felony charges he faced, but the criminal case never made it to trial.
On the night of June 7, 2021, Murdaugh called the police in hysterics. "My wife and child have been shot badly," he said breathlessly on the 911 recording. He claimed to have discovered his son Paul and his wife Maggie shot dead near the dog kennels on the family's 1,700-acre hunting compound in Colleton County. Maggie and Paul were both found face down, recent court filings revealed; Maggie had been shot five times with an assault rifle, while Paul had been shot twice at close range with a shotgun. Initially, the killings could have looked like vengeance or payback for Beach's death. One of Murduagh's attorneys later acknowledged that Murdaugh had been a person of interest "from the get-go," although he denied his client's involvement. 
On Sept. 4, 2021, Alex again called the police, this time saying a stranger had shot him in the head while he was changing a flat tire on the side of the road. It could have been another example of his family being targeted in the wake of the tragic boat crash, but that story soon unraveled. Murdaugh — who appeared soon afterwards in court absent any visible head wound — claimed he hired Smith to kill him so that his surviving 25-year-old son, Buster, could claim a $10 million life insurance payout. Appearing on Today shortly after the incident, Harpootlian characterized the shooting as a suicide attempt driven by Murdaugh's opioid addiction and the recent loss of his wife and son. Murdaugh and Smith were charged with attempted insurance fraud. Smith denied all involvement. Murdaugh admitted to trying to stage his own murder, but Harpootlian said in court Murdaugh was only a danger to himself, continuing to deny his involvement in the murders. Murdaugh was released on bond.
Just a month later, however, as he left a Florida rehab facility, he was taken back into custody, this time on criminal charges stemming from a September 2021 lawsuit brought against him by the family of his late housekeeper, Gloria Satterfield, who said he'd taken settlement money that was rightfully theirs.
Satterfield died in 2018 at the Murdaughs' home after she reportedly tripped over the family dog and fell down the stairs. Murdaugh allegedly offered to help them to sue him for wrongful death so they could collect a big payout from his insurance. In the lawsuit, Satterfield's sons claimed Murdaugh then convinced them to hire his friend as an attorney and kept the resulting settlement money for himself. In the spring of 2022, Murdaugh admitted he wrongly took money from the family and that he owes Satterfield's sons $4.3 million. His confession led to his disbarment, in July, by South Carolina's Supreme Court. In September 2021, South Carolina's State Law Enforcement Division (SLED) opened an investigation into Satterfield's death, which was apparently never reported to the coroner. In June 2022, SLED announced they'd received permission from her family to exhume the body.
In the weeks after Maggie and Paul's murders, SLED also announced that, based on information uncovered during the investigation, they would take a second look at the death of Stephen Smith, a 19-year-old nursing student who was killed in 2015 in a supposed hit-and-run in Hampton County. Smith was found dead in the middle of the road. Investigators have said they found no evidence consistent with a hit-and-run, but his cause of death was later determined to be blunt force trauma from a car hitting him. No suspect was ever arrested, but rumors circulated at the time about a possible coverup and potential involvement by members of the Murdaugh family. 
As 2021 drew to a close, still several months before Murdaugh would be charged with murder, scrutiny of his financial practices continued. It had been revealed that shortly before he staged his own failed murder that September, he'd been ousted from his job at PMPED for misappropriating funds. That November and December, grand juries issued back-to-back rounds of multiple indictments on financial crimes, alleging the theft of over $6 million from clients and his law firm. At the time, he told reporters his behavior could be blamed on his opioid addiction. "I want to deal with these charges appropriately and head-on," he said. "I want to repair as much of the damage that I've done as I can. I want to repair as many of the relationships as I can."
In January 2022, attorney Justin Bamberg spoke to Rolling Stone about what Bamberg called a "pattern" of stealing from clients he had offered to help. They included the mother of Hakeem Pinckley, a deaf college athlete who was paralyzed in a car accident and then died after his ventilator was left unplugged. Murdaugh had promised to help his family get a settlement against a tire company, Bamberg said, then kept the money for himself. "They knew how [Hakeem] died and Alec still stole money from him," Bamberg told Rolling Stone. "Who does that? Someone with no soul does that."