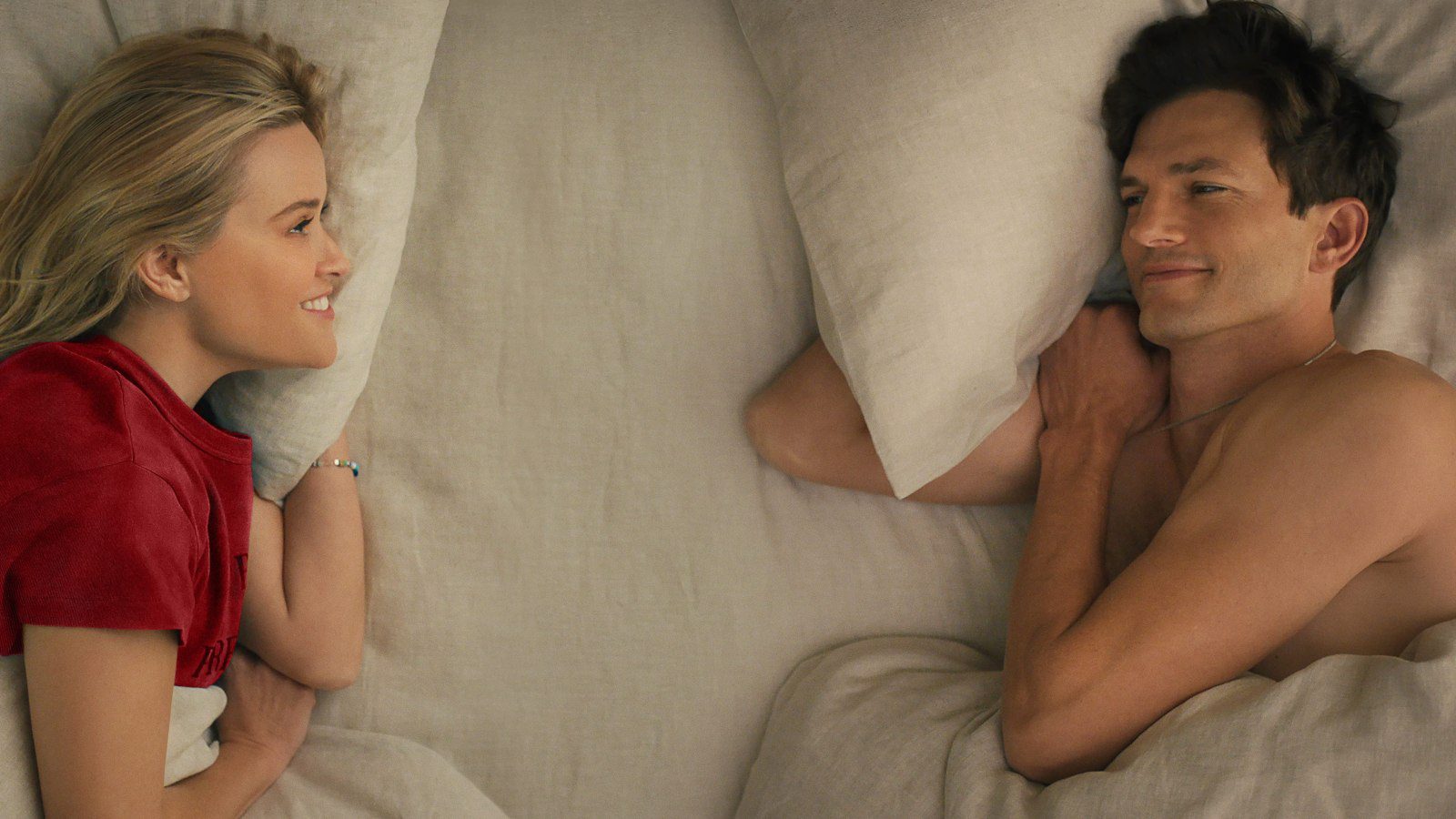 What to Watch in February: 'The Consultant,' 'Your Place or Mine' and Final Season of 'Star Trek: Picard'
If you purchase an independently reviewed product or service through a link on our website, Rolling Stone may receive an affiliate commission.
February might be the shortest month, but that doesn't mean it can't be packed. This year brings the expected rom-coms, internationally traveling strippers, and a bear on cocaine. And that's just on the movie front. There's plenty to watch on TV, too (though nothing with cocaine bears). But first, the month kicks off with a chiller from M. Night Shyamalan.
Related: The Best Streaming Deals and Offers to Grab Now
A Knock at the Cabin (Theaters, February 3)
While vacationing with their daughter Wen (Kristen Cui), Eric (Jonathan Groff) and Andrew (Ben Aldridge) find themselves dealing with a quartet of unwelcome visitors, led by Leonard (Dave Bautista), who inform them that one of them must die to prevent the end of the world. It sounds crazy but, to their horror, Eric and Andrew start to wonder if they might be right. This is M. Night Shyamalan's first R-rated movie since The Happening back in 2008, and it would have to be if it's at all faithful to the excellent, grim novel it adapts, Paul Tremblay's The Cabin at the End of the World.
The Quiet Girl (Theaters, February 3)
Recently nominated for an International Feature Oscar, this Irish-language (yes, you read that correctly) drama tells the story of a shy nine-year-old's life-changing visit to some relatives who live on a farm. The film has picked up acclaim wherever it's played, including Ireland, where it won a bunch of IFTAs, the Irish equivalent of an Oscar.
Dear Edward (Apple TV+, February 3)
Adapting a 2020 novel by Ann Napolitano, this Jason Katims-shepherded series depicts the community and connections that form in the wake of an airplane crash that's left only a single survivor, a 12-year-old kid named Edward (Colin O'Brien). The cast includes Taylor Schilling and Connie Britton, the latter reuniting here with the showrunner of the great Friday Night Lights. Watch with a free trial to Apple TV+ here
Not Dead Yet (ABC, February 8/Hulu February 9)
Gina Rodriguez returns to television with this new comedy about a journalist trying to put her career back together. The bad news: She lands a lowly job writing obituaries. The good news(?): She picks up the ability to speak to the dead, which could prove to be an advantage in her line of work. Watch with a free trial to Hulu here.
Magic Mike's Last Dance (Theaters, February 10)
This second sequel to Magic Mike sends Mike (Channing Tatum) overseas to London to wow a new city with stripping and showmanship. Will England be ready? Salma Hayek co-stars in what's apparently, as the title promises, Tatum's last go-round as Mike Lane.
Titanic (Theaters, February 10)
Avatar: The Way of Water won't even have left theaters when this re-release of James Cameron's 1996 mega-hit begins a return run that promises to give even fans who've watched it many times something they haven't seen before: the film they know remastered in 3D 4K HDR projected at a high-frame rate. That's a lot of letters and words, but it's essentially the same process used to exhibit The Way of Water, a process some viewers found jarring while others embraced. Will it work retroactively for Titanic? We'll have to wait and find out.
Related: How to Watch Titanic Online
Somebody I Used to Know (Prime Video, February 10)
Dave Franco directs and Alison Brie stars in a comedy that follows Ally (Brie) a woman experiencing a professional crisis, as she returns to her hometown and reunites with her long-ago boyfriend Sean (Jay Ellis), only to discover that, oops, he has a fiancée (Kiersey Clemons). Could their old flame reignite anyway? Watch with 30-day free trial to Amazon Prime here.
Your Place or Mine (Netflix, February 10)
Brie and Ellis aren't the only ones reevaluating an old relationship on a streaming service just in time for Valentine's Day. In this new high-concept rom-com Reese Witherspoon and Ashton Kutcher play longtime friends on opposite coasts who swap places: she takes his New York apartment and he travels to L.A. to take care of her kid. Aline Brosh McKenna, no stranger to the romantic comedy world thanks to her scripts for 27 Dresses, Morning Glory and other films, makes her directorial debut. Watch on Netflix here.
Marlowe (Theaters, February 15)
Taking a break from the action films that have dominated his career since Taken, Liam Neeson stars as a different sort of tough guy: Raymond Chandler gumshoe Philip Marlowe. Directed by Neil Jordan, this is not an adaptation of one of Chandler's books, instead drawing from John Banville's pseudonymously written 2014 novel The Black-Eyed Blonde. Set in 1939 Los Angeles, a fine time and place to set a noir, the film co-stars Diane Kruger, Jessica Lange, Adewale Akinnuoye-Agbaje, Alan Cumming and others (all presumably playing some pretty hard-boiled characters).
Animal Control (FOX, February 16/Hulu, February 17)
Joel McHale returns to sitcoms playing Frank, a former cop driven out of the profession by his commitment to exposing corruption who lands a job working for a different sort of law enforcement: animal control (it's right there in the title.) Watch with a free trial to Hulu here.
Star Trek: Picard, Season Three Premiere (Paramount+, February 16)
Expect a lot of familiar faces in the third, and final, season of Jean-Luc Picard's continuing adventures. Where previous seasons have featured guest stars from the cast of Star Trek: The Next Generation, the whole gang's back this time, from LeVar Burton as Geordi LaForge to Marina Sirtis as Deanna Troi. That much we know. Details of the season's plot, however, remain hazy. Watch with a free trial to Paramount+ here.
Ant-Man and the Wasp: Quantumania (Theaters, February 17)
The third Ant-Man movies takes Scott Lang (Paul Rudd) and the extended Ant-Family (Evangeline Lilly, Michelle Pfeiffer, Michael Douglas, and Kathryn Newton) into the Quantum Realm where they meet Kang (Jonathan Major), a regular villain in Marvel Comics and apparently a threat that will hang over the MCU as it enters Phase Five.
Return to Seoul (Theaters, February 17)
Born in Korea and raised in France, twentysomething Freddie Benoît (Ji-Min Park) decides to return to the place of her birth and seek out her biological parents, throwing herself into an identity crisis in the process. This second feature from Davy Chou has been generating praise, with a special emphasis on Park's performance, since it played Cannes last year 
The 12th Victim (Showtime, February 17)
Charles Starkweather and Caril Ann Fugate terrorized the Midwest in 1958 by embarking on a spree killing that left eleven dead. (It's the case that inspired both Badlands and Natural Born Killers and Bruce Springsteen's "Nebraska.") This four-part series reconsiders the official story with an emphasis on Fugate's youth. Fourteen at the time of the killings, was she treated fairly by the press and the legal system? Watch with a free trial to Showtime here.
Hello Tomorrow! (Apple TV+, February 17)
Set in a future-as-imagined-in-the-1950s world of jet packs and robotic dog walkers, this intriguing-looking series stars Billy Crudup as an upbeat traveling salesman peddling an unusual product: timeshares on the moon. The supporting cast includes Haneefah Wood, Hank Azaria, and Alison Pill  and, with For All Mankind and Severance, appears to be part of Apple's continued interest in alternate universes just a little bit off from our own. Watch with a free trial to Apple TV+ here
Sharper (Select theaters and Apple TV+, February 17)
As Madeleine, a con artist whose beat is the ultra-rich, Julianne Moore leads a cast that includes Sebastian Stan, Justice Smith, and John Lithgow. And beyond that not a lot of details have been revealed about this film, which suggests twists and the less viewers know the better. The script is well-liked, however. Co-written Brian Gatewood and Alessandro Tanaka, it made the Black List, an annual collection of the best un-produced screenplays. Watch with a free trial to Apple TV+ here
Cocaine Bear (Theaters, February 24)
What would happen if a bear consumed a massive amount of cocaine? In the real-life story that inspired the film the bear, a black bear living in Georgia, died after consuming a duffel bag of coke dropped by smugglers. But in this Elizabeth Banks-directed film the bear goes on a killing spree. Keri Russell, O'Shea Jackson, the late Ray Liotta, Matthew Rhys, and others make up the cast, but how many will be left when the closing credits arrive?
We Have a Ghost (Netflix, February 24)
And said ghost is named Ernest and played by David Harbour. Jahi Di'Allo Winston co-stars as Kevin, a kid who befriends Ernest after moving into the house the ghost calls home while Jennifer Coolidge plays a medium who may be in over her head. Adapted from a short story by Geoff Manaugh, this horror comedy is written and directed by Christopher Landon, who's got a pretty good record with horror comedies as the writer and director of Freaky and the Happy Death Day films. Watch on Netflix here.
The Consultant (Prime Video, February 24)
Based on a 2016 novel by the prolific Bentley Little (a favorite of both Dean Koontz and Stephen King, this new series casts Christoph Waltz as a consultant brought in to get a tech company named CompWare back on its feet. His plan? Well, it would appear to involve some pretty unorthodox business practices. Waltz is a terrific actor who can excel by going subtle or by going big. He looks likely to go big here. Watch with 30-day free trial to Amazon Prime here.
Party Down (Starz, February 24)
For years Party Down was one of the first shows that came to mind when thinking of series that were canceled too soon. A comedy about a Los Angeles catering team made up of employees who always imagined life taking them elsewhere, it ran for two brilliant seasons on Starz between 2009 and 2010. Revival talk swirled for years and finally turned into reality with this six-episode third season that reunites the original cast of Adam Scott, Ken Marino, Jane Lynch, Martin Starr, Ryan Hansen, Jennifer Coolidge, and Megan Mulally minus Lizzy Caplan (who was kept away by a scheduling conflict). Watch on Starz here.