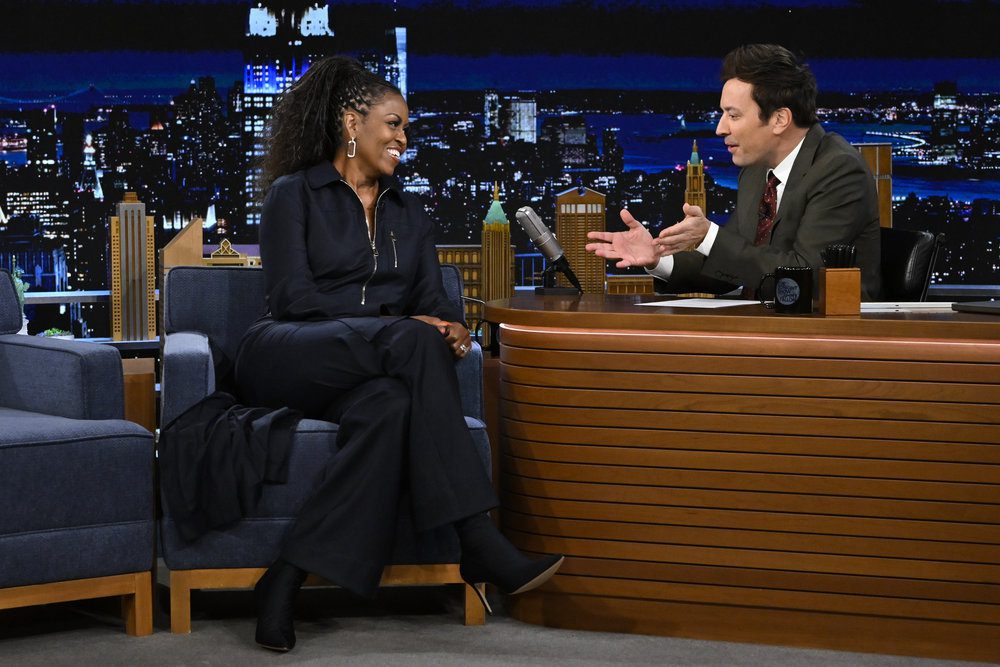 'We Were Never Invited Back': Michelle Obama Discusses Returning to the White House on 'Fallon'
The former First Lady went on the late-night show to talk about her book, The Light We Carry
Michelle Obama appeared on The Tonight Show to continue promoting her most recent book The Light We Carry. On the show, she took the opportunity to reflect on what it was like to return to the White House last fall after spending eight years there as the First Lady. She and former president Barack Obama went back to hang their portraits after not being invited to do so while Donald Trump was in office.
"It was really a beautiful experience," she recalled. "It's a tradition – you do your official portraits, the next president is supposed to invite you back to hang them. We were never invited back, so these pictures have been done for a long, long time… So it was good to see everybody."
Obama also discussed how she feels that change happens best in "small bites" and her continued belief in the motto "When they go low, we go high."
"People still keep asking me, 'You still mean that? Still?'" she said. "I didn't know I'd be known for that line, but I'm proud of that. People ask me, 'Do I ever go low' and yeah, I go low. I go low a lot of times. But I think for people who have a platform who are being looked up to, we have a responsibility to stay high. Because kids are watching us. If you need to go low, go low at home."
She added, "Leaders set the tone and we felt what it's felt like to be led with low. And it didn't feel great."
Elsewhere in the interview Obama talked about her love for Stevie Wonder and Prince, as well as how she now goes over to her daughters' homes for cocktails.
Obama and Fallon also visited the McNally Jackson bookstore in Manhattan to surprise unsuspecting fans with inspirational quotes.
Obama released The Light We Carry last November. The book draws on Obama's personal struggles over the last few years, offering what she calls a "toolbox" of strategies to stay hopeful and optimistic amidst the many challenges of life. The new book arrived four years after the release of Obama's memoir, Becoming, which sold almost a million copies on its first day of release, and went on to become one of the best-selling books of all time.