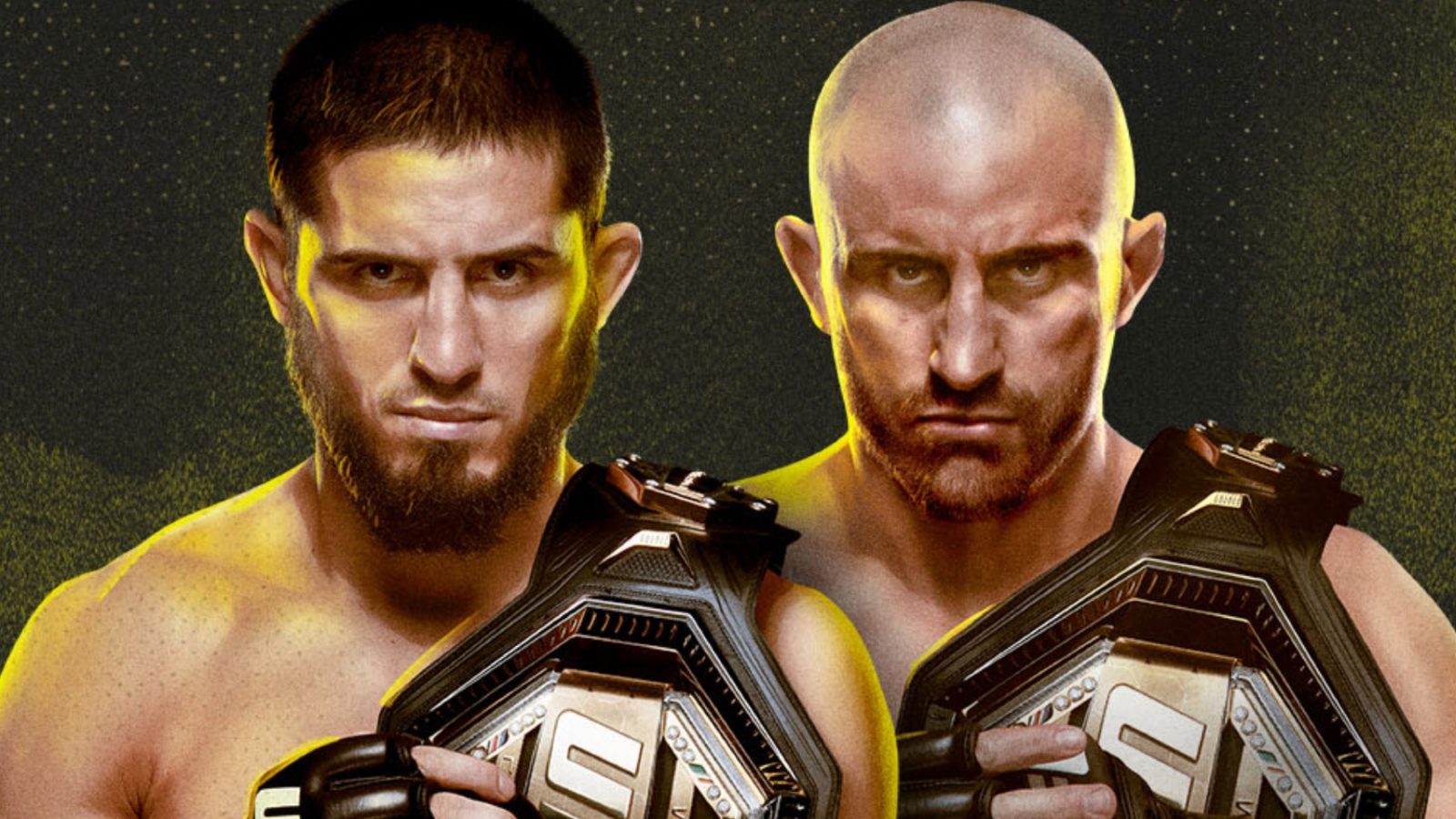 UFC 284 Livestream: How to Watch Makhachev vs. Volkanovski Online
If you purchase an independently reviewed product or service through a link on our website, Rolling Stone may receive an affiliate commission.
The UFC world is abuzz tonight: Lightweight champion Islam Makhachev is putting his belt on the line against featherweight champion Alexander Volkanovski in arguably the UFC's biggest fight of all time.
Tonight's matchup marks just the eighth occasion that two champions from different divisions face off for the same belt. Should Volkanovski win, he'll become the fourth fighter in UFC history to hold belts in two weight classes at the same time. Of course, that's no easy task, as Makhachev is No. 2 in the UFC's pound-for-pound rankings — right behind No. 1 Volkanovski — and he'll be fighting at his normal weight.
Related: How to Watch UFC Fight Night Online
Needless to say, it's likely to be a dramatic showdown between the UFC's two best fighters. If you're looking to watch UFC 284 online, read on. Below, we've outlined how to stream the event online through ESPN+, when the fight starts, and who Vegas has as the favorite.
How to Watch UFC 284: Makhachev vs. Volkanovski Online
As with previous UFC events, anyone looking to watch UFC 284: Makhachev vs. Volkanovski can do so only through ESPN+, as the sports streaming service still has exclusive rights to the UFC (for both Fight Night events and numbered events).
To watch UFC 284 online through ESPN+, you'll need to get a subscription to the streaming service and purchase the UFC 284 PPV livestream through your account. If you already have an ESPN+ account, you can log in and purchase the PPV livestream here for $79.99.
Buy UFC 284 PPV Live Stream $79.99
If you don't have an ESPN+ account, head here to sign up. A subscription costs $9.99 a month or $99 a year, with the annual plan saving you about $20 over the course of the year.
A better way to get ESPN+, however, is to sign up for a Disney Bundle Trio plan. This gets you ESPN+, Disney+, and Hulu — all for $12.99 a month for the ad-supported Trio Basic plan, or $19.99 a month for the ad-free Trio Premium plan (live events still have ads). This can save you up to $20 per month compared to paying for all three streaming services separately, and you get huge catalogs of content from each.
Once you're signed up for ESPN+ (either on its own or through the Disney Bundle), you'll be able to purchase the UFC 284 PPV livestream through your account and watch Makhachev vs. Volkanovski online through any streaming device, smart TV, phone, laptop, or tablet.
Buy UFC 284 PPV Live Stream $79.99
Also note that the prelims for UFC 284 do not require a PPV purchase, and can be streamed for free with an ESPN+ subscription.
UFC 284 Deal: How to Save on ESPN+ Subscription
Want to score a deal on ESPN+? Now is the time: As a promotion for UFC 284, ESPN+ is offering new customers the UFC 284 PPV livestream and a year of ESPN+ for just $124.98. This saves you 35% compared to getting the PPV and a subscription separately, and you'll be able to watch other UFC events all year long with your new membership.
When is UFC 284: Makhachev vs. Volkanovski? Date, Time, Location
UFC 284 is taking place tonight, Saturday, Feb. 11 (for U.S. viewers) from the RAC Arena in Perth, Australia.
The event's prelims start at 2 p.m. ET / 5 p.m. PT, and the main card is scheduled to start at 4 p.m. ET / 7 p.m. PT.
UFC 284: Makhachev vs. Volkanovski: Odds, Card
Oddsmakers are predicting a close match between Makhachev and Volkanovski. Makhachev currently has a slight edge — in part because he's fighting at his usual weight while Volkanovski had to come up to lightweight — with moneyline odds of -400 against Volkanovski's +285.
But this is a very hard fight to predict. The two best pound-for-pounders in the UFC, Makhachev and Volkanovski are both at the top of their game. Volkanovski is the UFC's No. 1 fighter, and the Australian has successfully defended his featherweight belt four times since winning it from Max Holloway in 2019's UFC 245. He currently boasts a record of 25-1 with his singular loss being nearly ten years ago.
Makhachev shares a similar record of 23-1, with a loss in 2015 to Adriano Martins. That was before he nabbed the vacant lightweight title from Charles Oliveira back in October.
Besides fighting at his regular weight, Makhachev also has a four-inch height advantage over Volkanovski. But, considering that the Russian fighter has just four knockouts (and Volkanovski has 12), his height might not be the advantage it seems.
In addition to Makhachev vs. Volkanovski, UFC 284 is bringing a typical assortment of exciting undercard fights ahead of the main event, including a co-main that sees Yair Rodríguez and Josh Emmett clashing in an interim featherweight championship bout.
Here's the full fight card for UFC 284: Makhachev vs. Volkanovski:
UFC 284 Main Card
Islam Makhachev (c) vs. Alexander Volkanovski — Lightweight championship
Yair Rodríguez vs. Josh Emmett — Interim featherweight championship
Jack Della Maddalena vs. Randy Brown — Welterweights
Justin Tafa vs. Parker Porter — Heavyweights
Jimmy Crute vs. Alonzo Menifield — Light heavyweights
UFC 284 Prelims
Tyson Pedro vs. Modestas Bukauskas — Light heavyweights
Joshua Culibao vs. Melsik Baghdasaryan — Featherweight
Shannon Ross vs. Kleydson Rodrigues — Flyweights
Jamie Mullarkey vs. Francisco Prado — Lightweights