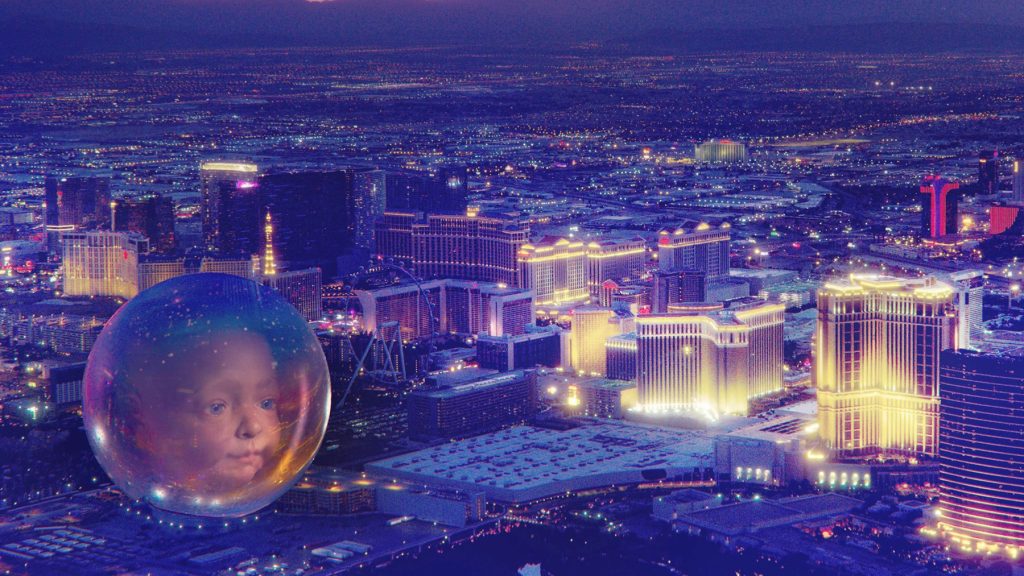 U2 Announce Sphere Las Vegas Dates. The Edge Calls it a 'Quantum Leap Forward'
The Edge is normally reserved and immune to hyperbole when discussing U2's latest plans. But the group's schedule in opening up Sphere in Las Vegas this September has the U2 guitarist atypically talking in grandiose terms.
"My hope is that this will be a kind of quantum leap forward in the sense of what a concert can be," he tells Rolling Stone.
The group will kick off its Achtung Baby Live at Sphere Las Vegas residency on Sept. 29, with additional shows taking place on Sept. 30 and Oct. 5, 7, and 8. One day after the residency was announced, seven more concerts were scheduled for Oct. 11, 13, 14, 18, 20, 21, and 25.
Sphere, which sits on the Strip near the Venetian resort, has been under construction for the past five years, with building costs reportedly topping $2 billion. Billing itself as the "world's largest spherical structure," Sphere is 516 feet wide, 366 feet tall, and can seat 17,600 people.
U2 first heard about Sphere a little over two years ago. "We're always on the lookout for emerging technologies in the world of concerts and audio," says the Edge. "We heard about it, and then started asking members of our team about it. We found out that approaches had already been made in a very tentative way for us to be a part of a possible launch."
The band is a natural fit for Sphere, given its boundary-pushing live-music experience of Zoo TV and PopMart in the Nineties, and more recently with the U2 360° Tour and Songs of Innocence/Experience tours. But those shows all took place at venues designed for sports. "You're battling far-from-optimal acoustics in these place, since they haven't been designed for sound," says the Edge. "It's just a constant battle to overcome the coloration that the venue gives to the audio. The gap between what you want to put across and what you actually put across is often huge."
Sphere, however, was built to create immersive audio and visual experiences for live concerts and custom-made movies. "We will be able to deliver the audio that we want people to hear without any interference from the acoustics of the building," says the Edge. "It's just an amazing playpen for us."
That playpen includes the highest-resolution LED screen on Earth, 10,000 vibrating "immersive seats," environmental effects like temperature control and cool breezes, and 164,000 speakers. Members of the press, including Rolling Stone, were recently taken to a rehearsal facility in Burbank, California, to show off some of Sphere's offerings, which makes the traditional IMAX experience seem quaint and chintzy by comparison. 
"It really gives you the opportunity to bring people back in time or to worlds that are completely computer-generated, but completely believable," says the Edge. "It's a new genre of immersive experience, almost like a new art form. The fun part for us is this phase we're in now, where we're trying to dream up what we will be doing with this technology. It's just pure imagination."
Imaginative filmmakers like Darren Aronofsky are already making movies that will only be screened at Sphere, and U2 are planning their own fantastical visual experiences, but the focus remains on the music. The show will feature a complete live performance of their 1991 LP, Achtung Baby, as well as other songs from throughout their career. (The show is unlikely to vary in significant ways from night to night.) 
"Unfortunately, because of the amount of time and expense in creating some of these set pieces visually, it's quite hard to be as quick on our feet and spontaneous as we might have been on other tours," says the Edge. "But we still are determined that there will be sections of the show that will be open to spontaneity, and it will change from night to night. I don't think anyone in the band will want to see the show on train tracks."
All-in ticket prices start at $140, and 60 percent of the seats will be under $300. Subscribers to U2.com will have the first crack at tickets via Ticketmaster Request now through Wednesday, April 26. Fans can register now through Wednesday for the Verified Fan presale to be eligible to purchase in the Verified Fan presale Thursday, April 27. General on-sale will take place Friday April 28 ,starting at 10 a.m. ET. General-admission floor seats will be nontransferable for any amount of money over face value
"We're trying our best to be as fair and respectful to our fans as we can be," says the Edge. "We're also spreading out the ticket costs so that there are some affordable ones. The most-sought-after tickets will be nontransferable. Inevitably, some will wind up on the secondary market. There's not a huge lot we can do about that."
Opening night comes just a few months after the 30th anniversary of Zooropa. "I think there will be some nods to Zooropa," says the Edge. "In our minds, the tours [for Achtung Baby and Zooropa] blended into one. But I think Achtung Baby will be the main focus." 
The Edge hasn't sang the Zooropa fan-favorite "Numb" in 30 years. Might they break it out at this show? "That has been discussed," he says, "But it's by no means sure if we'll go there. We'll see. It'll be about what feels the most compelling and the most thrilling." [Drummer Larry Mullen Jr. is sitting out these shows while he recovers from back surgery. Bram van den Berg is covering for him.]
U2 are just one of the many acts that will play Sphere in the coming years, and it's unlikely the residency will last much beyond the fall. "We don't want to commit to anything yet," says the Edge. "We're just going to take it one step at a time and see how it all works out. We won't rule out doing further shows. At this point, we're putting up five shows initially. We'll just see how that goes."
This story was updated April 25 @ 3:25 p.m. ET with seven additional concert dates.