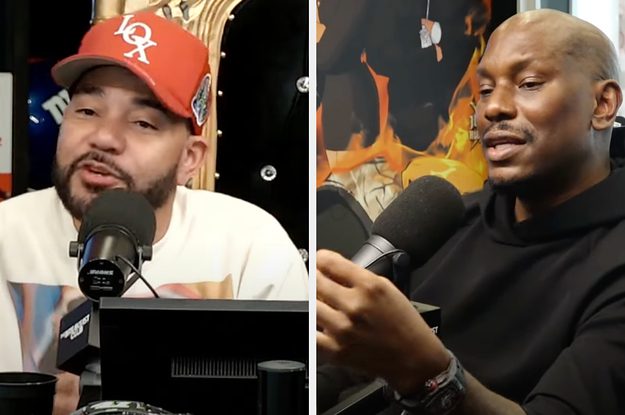 Tyrese and DJ Envy Address Their Past Issues: 'Some of the Things That You Said… Deserve Me to Box Your Mouth'
Later in the interview, Tyrese claimed he didn't get the same kind of support from Envy in light of his divorce and public mental health struggles.
Envy admitted to blocking Tyrese on social media over "disrespectful" messages adding, "That wasn't the man that was my brother." Tyrese claimed he couldn't remember his actions and attributed his behavior to being on psych medication, "When you get drunk, do you hold your boy to what he's saying while he's drunk?"
"I wanted to remember Tyrese as a brother that helped my relationship," countered Envy.
Tyrese then criticized DJ Envy for distancing himself during his difficult times, saying, "How convenient for you to step back. I never stepped back from you."
"Some of the things that you said deserved me to box your mouth," replied Envy, revealing for the first time that the singer had sent inflammatory messages to his wife Gia and that that was his cue to go.
"The things I said and did, the people I rubbed the wrong way and the things that I posted, my conduct overall was literally out of my control," lamented Tyrese.
Tyrese and his ex-wife Samantha Lee got married in 2017 and share daughter, Soraya, born in 2018. The couple announced their divorce in December 2020. The singer recently made headlines for speaking out on his divorce from Lee, calling her a "manipulator" and shaming her for her $20,000 per month child support request. On a recent Instagram Live, he doubled down saying, "I felt like my whole marriage was a big fucking joke. Just a transaction. I got married to do it for the rest of my life. I guess it was all a game to her. So it is what it is."