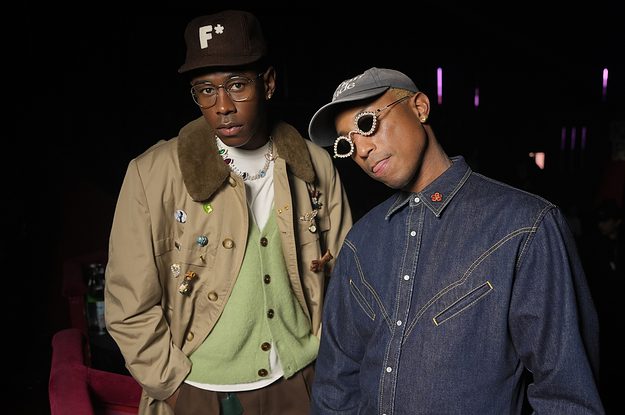 Tyler, the Creator Tells Pharrell How Jay-Z's Rocawear Inspired Him
In an excerpt from Pharrell's upcoming book Carbon, Pressure & Time: A Book of Jewels, Tyler, the Creator sat down for an interview and spoke about the influence Jay-Z's Rocawear had on him.
In an excerpt from the chat with his mentor and frequent collaborator, as published by GQ, Tyler revealed that Hov influenced his approach with his fashion label Golf Wang. "I was talking to somebody the other day about Jay. I was looking at him in a whole different way than when I was younger," he shared. "I probably don't mirror him like most people would think, at base-level, but what he did with Rocawear and these things, I was studying it as a kid. While I got Golf Wang going ten years later, it's worth this and that, if I decided to sell it. I'm great."
Even though the brand had an impact on how he approached things, Tyler admitted that he didn't actually wear Rocawear himself. "I did not like that shit, but I studied what they did, and now, because of that, I learned that from him," he added. "I learned a lot of that from you, and I just hope whoever comes after me, get they own shovel and build they own little path. So, yeah."
Jay co-founded Rocawear with Damon Dash in 1999, and sold it to Iconix Brand Group in 2007 while retaining his stake in the company.
Also in the chat, Tyler was asked by Pharrell how his new music is sounding. "I gotta crazy one comin' very soon. Very soon," he replied. However, Tyler has since clarified that he was talking about the expanded edition of 2021's Call Me If You Get Lost, which dropped in March and included several songs originally intended for the record. "From Feb, Estate Sale out now," he wrote after a post quoted the excerpt.