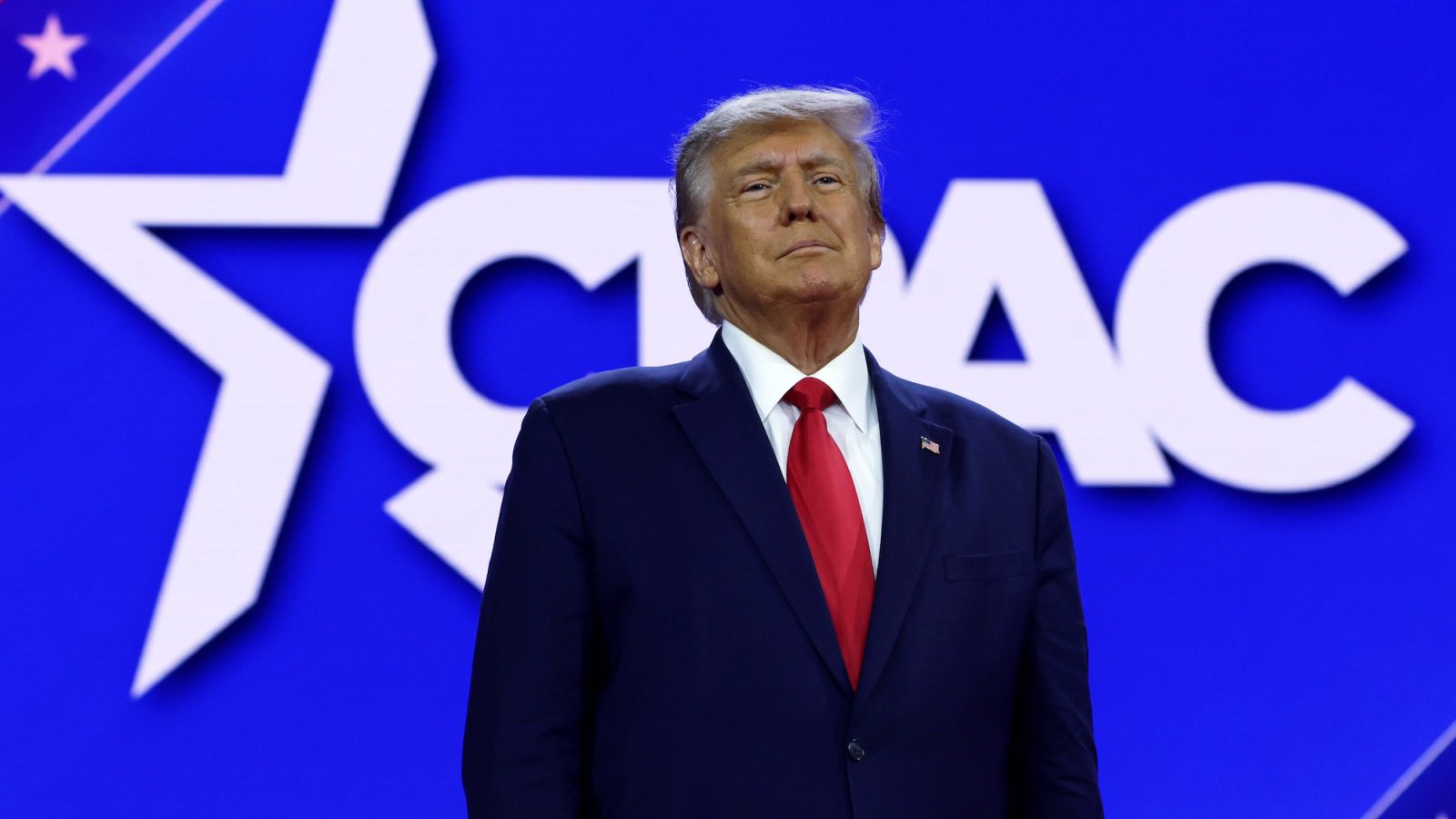 Trump Promises to Continue Presidential Campaign if Indicted, Then Delivers a Snoozy CPAC Speech
At a press conference ahead of Donald Trump's speech to the Conservative Political Action Coalition's annual event, Newsmax's James Rosen asked whether he would drop out of the presidential race if he is indicted on criminal charges. "I wouldn't even think of leaving [the race]," Trump responded. "Probably it will enhance my numbers."
Shortly thereafter, Trump delivered a low energy speech to a low energy CPAC, though he appeared to be briefly interrupted by a protester blaring hip hop music. While the former president did not let the interruption stop him from spouting his usual hateful drivel (the crowd broke into chants of "USA! USA! USA!" to drown the music out), a sweaty Trump gave a speech that seemed more subdued than his typical rallies.
Although the room appeared relatively full for Trump's address, CPAC this year struggled to find attendees and sponsors despite the promise of riveting sessions like "The Biden Crime Family" and "Don Lemon is Past His Primetime." Many prominent Republicans have avoided the conference in recent years, although far-right GOP Reps. Jim Jordan, Marjorie Taylor Greene, and Lauren Boebert all made appearances. Meanwhile, Matt Schlapp, who chairs the American Conservative Union that hosts the event, is being sued for allegedly inappropriately touching a male GOP campaign staffer. Schlapp denies the claims, and Trump made sure to praise Schlapp during his speech.
Trump's remarks echoed the stump speeches he has delivered on the 2024 campaign trail. "I have been engaged in an epic struggle to rescue our country from the people who hate it and want to absolutely destroy it," he said, adding that Biden has turned America into "a lawless open-borders crime and filthy communist nightmare."
Part of that filthy communist nightmare, according to Trump, is providing gender affirming care to transgender people and teaching children about race. "We banned transgender insanity from our military and signed the world's first ban on critical race theory long before anybody had even heard of the term," Trump said. "It was all banned, everything was good. When Biden came in, this guy came in and he put everything right back into place where it was."
Toward the conclusion of his speech, Trump earned some of the loudest applause and a standing ovation when he spewed anti-trans hate. "I will revoke every Biden policy promoting the chemical castration and sexual mutilization of our youth and ask Congress to send me a bill prohibiting child sexual mutilation in all 50 states. That should be easy. And we will keep men out of women's sports. How ridiculous. That will take place on day one."
Trump's anti-trans rhetoric is in line with comments Daily Wire pundit Michael Knowles made during his speech earlier in the day. Knowles called for transgenderism to be "eradicated from public life entirely," arguing for the disappearance of anyone identifying as trans. And it's aligned with the right's recent attempts to further ostracize trans people from society.
Speaking about prosecutors, Trump painted himself as the victim. Multiple cases are currently moving forward against him, including potential election interference charges in Georgia and possible tax-related charges in New York. Prosecutors "all hate me," Trump whined. "They'll get me for anything. 'You put a comma in this paragraph, why did you do that?' 'I don't know.'" Later in the speech Trump claimed he made a "perfect phone call" to Georgia's secretary of state (during one call, Trump begged the secretary to "find" Trump votes).
Trump also took time to praise specific Fox News commentators, including Tucker Carlson and Jesse Watters, saying that they should receive the Pulitzer Prize instead of reporters from publications like The Washington Post and New York Times. Fox ran Trump's CPAC speech live in its entirety, despite Trump recently being openly critical of the network over the recent revelation that its owner, Rupert Murdoch, privately acknowledged that Fox broadcast lies about election fraud. Trump also bashed Fox earlier this week for merely acknowledging DeSantis' existence.
Before his speech, CPAC attendees participated in the traditional straw poll, which Trump won easily, with three times more attendees supporting him than his Republican rival, Florida Gov. Ron DeSantis. His victory is not a surprise; Trump has now won the CPAC straw poll five consecutive times.