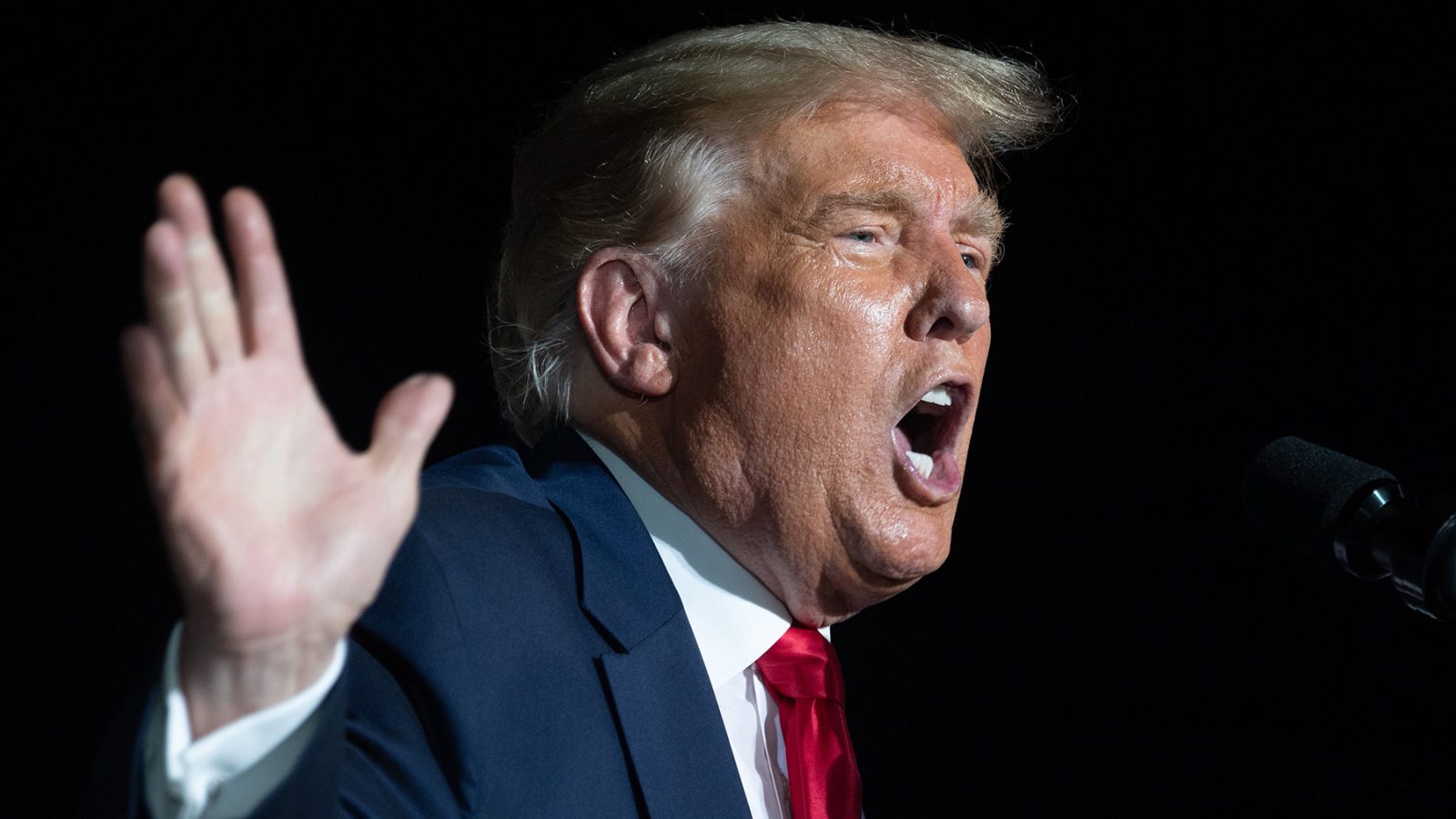 Trump Melts Down Over Murdoch Admitting Fox Lied About Election Fraud
The fallout between former President Donald Trump and Fox News continued on Tuesday following the release of a deposition from Fox Corporation Chairman Rupert Murdoch. The deposition stems from a defamation suit brought against Fox News by Dominion Voting Systems, which alleges the network knowingly misled the public about claims of fraud in the 2020 election. 
In his testimony, Murdoch admits that hosts on the network aired false claims about the election and alleged voter fraud, and that company executives could have intervened to prevent their broadcast. 
The admissions from Murdoch drew ire from Trump, who has spent the last several days attacking his once-favorite channel for their barely-less-than-sycophantic coverage of him. 
"Why is Rupert Murdoch throwing his anchors under the table, which also happens to be killing his case and infuriating his viewers," Trump wrote."There is MASSIVE evidence of voter fraud & irregularities in the 2020 Presidential Election."
"There was so much Voter Fraud & Irregularities in the 2020 Presidential Election that it amazes me how weak and ineffective FoxNews is at portraying itself in the lawsuit against them," he continued in another post.  "They look too scared and frightened to reveal the massive amounts of voter fraud & Irregularities already found, and it would actually help them in the lawsuit. Instead FoxNews wants to silence its anchors and reporters, the reason so many of their viewers fled." 
On Monday, Trump torched the network for deigning to cover potential 2024 rival Ron DeSantis. "FoxNews is promoting Ron DeSanctus so hard and so much that there's not much time left for Real News," Trump complained, accusing the network of downplaying his own popularity with Republican primary voters.  
Despite the attacks from Trump — and the threat of having to pay more than a billion in damages for lying to the public — Fox News seems poised to continue rewriting the events of the Trump presidency, particularly the former president's attempts to cling to power despite being voted out of office. Last week, House Speaker Kevin McCarthy granted Fox's Tucker Carlson exclusive, unfettered access to more than 40,000 hours of CCTV footage from the Jan. 6 attack on the Capitol. The speaker has ostensibly entrusted Carlson, and by extension Fox, with aiding House Republicans in their effort to obfuscate the events of the day and stave off accountability for its organizers and perpetrators — and for Trump.
McCarthy's decision has drawn internal criticism from Republicans and prominent Trump allies who've been looking to gain access to the materials for more than a year, with MyPillow CEO Mike Lindell telling Rolling Stone on Monday that he is planning to sue for access to the footage. Nevertheless, despite Trump's rage at Murdoch's admission that Fox openly lies to its viewers, his allies in Congress know the network is still the most effective pusher of pro-Trump propaganda.