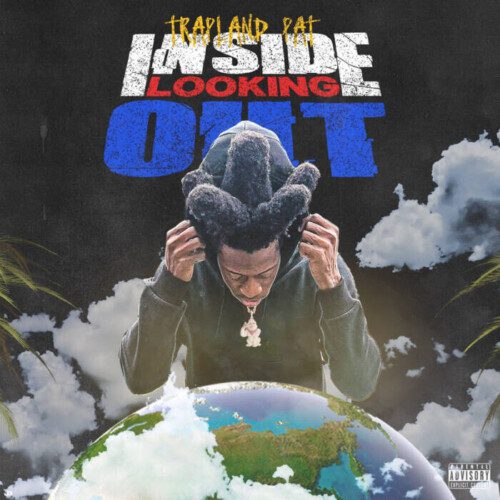 Trapland Pat Drops "Inside Looking Out" Video
Stringing together braggadocious bars and unfazed flexes with his unshakably elastic flow, Deerfield Beach's Trapland Pat lives on a plane of his own. Glancing out the window to examine the state of the outside world, Pat shares his new single, "Inside Looking Out." Featuring a soaring instrumental blending elements of soul and disco sounds, courtesy of frequent collaborator PepperJackZoe, the track finds Pat exploring the very act of artistry as he reconciles his past with his present: "Blockbuster, hit your block, we poking holes through it/I threw my life all on the beat, I run my soul through it."
In the video, directed by regular collaborator ShotByJolo, Pat takes an eventful trip to Haiti, his family's homeland, in an attempt to show the world how people from the country spend their day-to-days. Pat mingles with the locals in a picturesque tropical town, riding through dirt roads in scooters, upending misconceptions about life in the Caribbean nation, and expressing gratitude for his success while trying to spread the wealth in the community.
"Forgetting where you came from should be a crime, bruh," posits Trapland Pat. "There ain't anything wrong with leveling up, but being able to venture back to where you came from, and being able to acknowledge what you got…You gotta enjoy what you got in front of you, cuh, cause all that sh*t could be gone, right now."
"Inside Looking Out" follows Pat's recent collaboration with red-hot teen riser Luh Tyler on "Can't Move Wrong" (over 500k views in its first week) and arrives as his first solo release of 2023. In 2022, Pat took his vibrant, tropical vibes to the next level, releasing Trapnificent mixtape this past summer. Pat's first release for Bang Biz and Alamo Records, Trapnificent earned praise from Pitchfork, who called the project a "zippy distillation of his regional roots" and said that Pat's music is "extremely regionally and culturally specific, like so much exciting and promising new rap music."
Ready to build on his impressive 2022 and bring his searing street raps to a larger audience, Trapland Pat has the goods to be his state's next big star.
© 2023, Seth "Digital Crates" Barmash. All rights reserved.