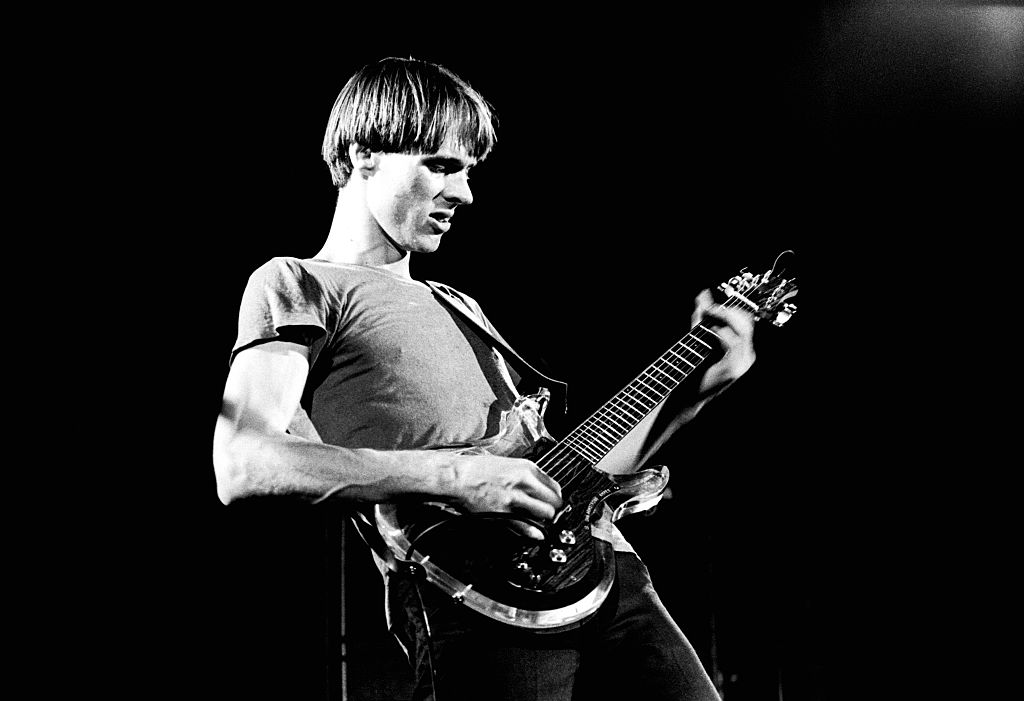 Tom Verlaine, Singer and Guitarist of Punk Legends Television, Dead at 73
Tom Verlaine, singer and guitarist for punk legends Television who crafted the band's 1977 masterpiece Marquee Moon, has died at the age of 73.
Jesse Paris Smith, the daughter of Patti Smith, confirmed Verlaine's death following a "brief illness" to Rolling Stone on Saturday. "He died peacefully in New York City, surrounded by close friends. His vision and his imagination will be missed," Smith wrote.
"This is a time when all seemed possible," Patti Smith wrote in a tribute on Instagram, which included a photo of her and Verlaine. "Farewell Tom, aloft the Omega."
Born Thomas Miller, Verlaine (who adopted his last name from the French poet Paul Verlaine), was high school classmates with fellow punk icon Richard Hell, with whom he'd later form his earliest bands. Arriving in Manhattan's Lower East Side at the dawn of punk, Verlaine and Hell first teamed up for the short-lived act Neon Boys before co-founding Television in 1973 alongside guitarist Richard Lloyd.
Verlaine and Television honed their sound as one of the premier acts at legendary punk clubs like CBGB — establishing one of the earliest residencies at that venue — and Max's Kansas City. Patti Smith — who once likened Verlaine's guitar sound to "a thousand bluebirds screaming" — was in the audience for one of Television's early shows in 1974, and split the bill with Television when the Patti Smith Group made their CBGB debut the following year.
Hell would soon leave Television to join fellow punk act the Heartbreakers. With Verlaine and Lloyd taking the reins, the duo developed a guitar sound that merged punk riffs with jazz interplay. After making their recorded debut with the 1975 single "Little Johnny Jewel," Television released what was their masterpiece — and one of the greatest albums of the punk era — Marquee Moon, the centerpiece of which was the album's twisty, mesmerizing title track. (The album was, as Rolling Stone noted in the review, "the most interesting and audacious" of a series of 1977 releases from CBGB bands like Blondie and the Ramones, but "also the most unsettling.")
"When the members of Television materialized in New York, at the dawn of punk, they played an incongruous, soaring amalgam of genres: the noirish howl of the Velvet Underground, brainy art rock, the double-helix guitar sculpture of Quicksilver Messenger Service," Rolling Stone wrote of Marquee Moon, Number 107 on our list of the 500 Greatest Albums of All Time.
"As exhilarating in its lyrical ambitions as the Ramones' debut was in its brutal simplicity, Marquee Moon still amazes," Rolling Stone wrote. "'Friction,' 'Venus,' and the mighty title track are jagged, desperate, and beautiful all at once. As for punk credentials, don't forget the cryptic electricity and strangled existentialism of guitarist Tom Verlaine's voice and songwriting."
Television's classic lineup would only release one more album during the Seventies, 1978's Adventure, before Verlaine embarked on his solo career. As Patti Smith wrote, Verlaine showcased on his albums "his angular lyricism and pointed lyrical asides, a sly wit, and an ability to shake each string to its truest emotion." (The classic Television lineup of Verlaine, Lloyd, bassist Fred Smith, and drummer Billy Ficca reunited for one last album — 1992's Television.)
In 1979, Verlaine released his self-titled solo album, which included the song "Kingdom Come," recorded a year later by David Bowie for that icon's 1980 LP Scary Monsters & Super Freaks. As a solo artist, Verlaine remained prolific over the next few decades, seamlessly moving from post-punk explorations to entirely instrumental EPs, and silent film scores to collaborations with Smith and other former CBGB denizens.
"Tom Verlaine once complained that he'd never written about two of the strongest dreams in his life, 'because it's hard to get across the language of dreams.' That may be so, but Verlaine still manages to come closer to solving that problem than just about anyone else in his medium," Rolling Stone wrote of Verlaine's 1982 solo LP, Words From the Front. "As throughout his body of work, there's something so inspired yet effortless about Verlaine's songs that you have to wonder if he's writing them … well, in his sleep."
In a 1988 interview with Rolling Stone, U2's the Edge cited Verlaine as one of his chief influences. "I think what I took from Verlaine was not really his style but the fact that he did something no one else had done," he said. "And I liked that; I thought that was valuable."