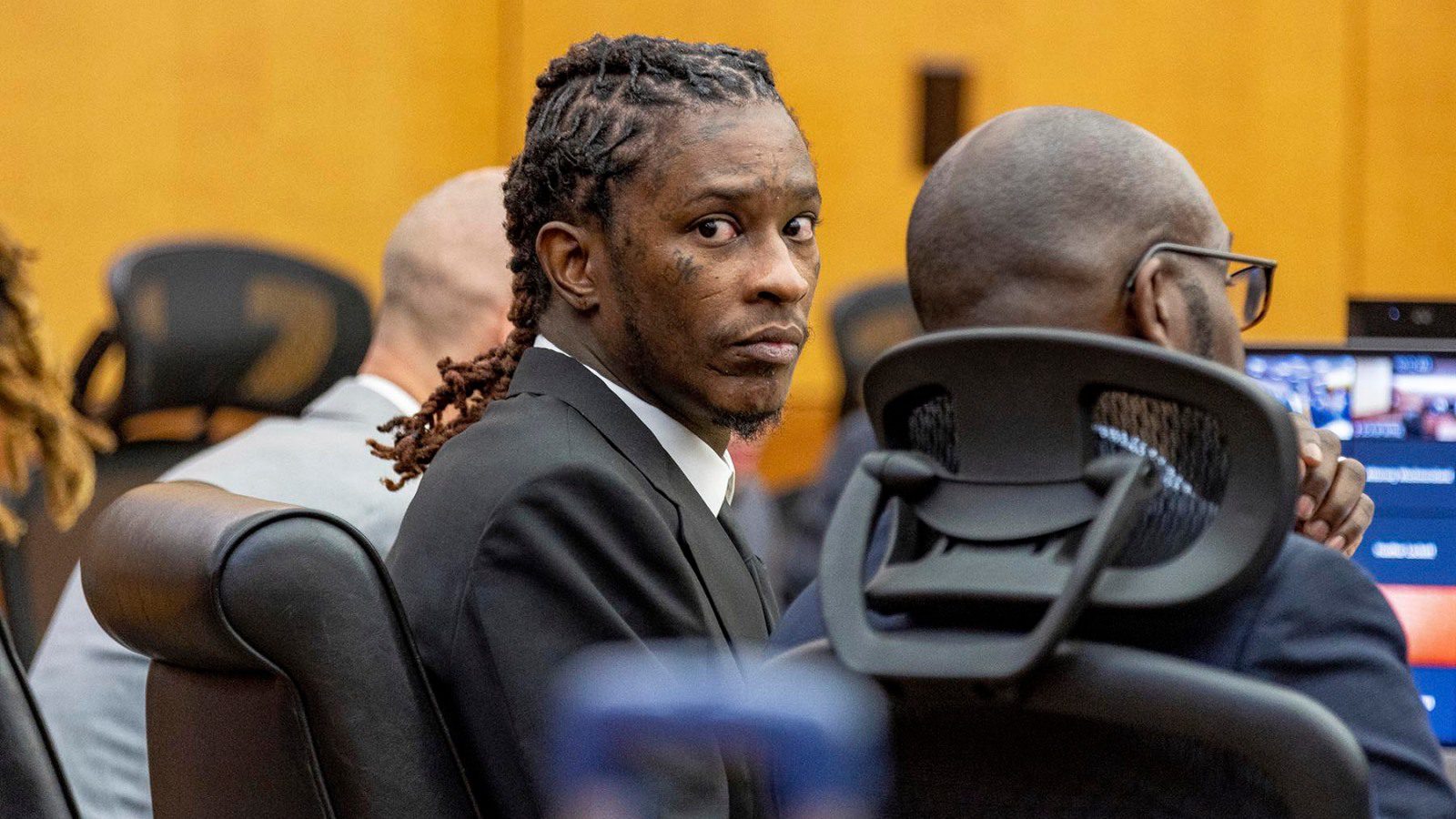 The YSL Case Is Stretching Fulton County's Justice System to Its Breaking Point
In footage from the opening phase of Young Thug's trial in Atlanta, the superstar — forehead firmly on a courtroom table while his lawyers slog through the early weeks of an interminable trial — has often seemed broken by the court. But seen another way, the Young Thug trial is breaking the court.
Attorneys and other sources close to the trial say that the sprawling prosecution of Thug and his YSL cohort on murder, gang, and racketeering charges is affecting cases across metro Atlanta and beyond, creating widespread delays and disrupting other trials. Among those other cases is the RICO prosecution of Rayshawn Bennett, a.k.a. the rapper YFN Lucci, who is facing a murder charge after allegedly participating in a botched drive-by shooting in what prosecutors describe as an ongoing YFN-YSL gang war.
Bennett has been in Fulton County jail since May 2021 awaiting trial. Bennett, Justin "Bloody Jay" Ushery, and 10 other defendants were set to begin their gang and racketeering trial on Jan. 9, the same day the YSL case was set to begin. Their trial has been pushed back indefinitely.
And the YSL case? In December, Judge Ural Glanville said that trial would likely last six to nine months, citing the pandemic and a shortage of defense attorneys as he exempted the court from constitutional requirements for a speedy trial. But that timeline might have been ambitious; Glanville's court has been mired in jury selection for the last six weeks, and court observers say it might need another six weeks to finish, as juror after juror explains how sacrificing half a year or more from work or childcare creates a massive hardship.
YFN Lucci's lawyer Gabe Banks quoted Martin Luther King Jr. in his plea to get his client out on bond while the first trial unwinds: "Justice delayed is justice denied."
"If you've requested a trial, as our client has, and you're denied the benefit of that trial and the reason given is that we've got another trial going on, that's a problem," Banks tells Rolling Stone. "It's unfair for our client to be sitting in jail and to be told that we can't try you because we're handling another matter." The court summarily rejected his bond petition. 
Defense attorney Bruce Harvey, who represents Shannon Stillwell — one of the primary targets in the YSL prosecution — notes that bond has similarly been denied for every defendant in the YSL case. "Each one of these individuals were kept incarcerated," he says. "The state made representations to the court about how dangerous all these folks were — yet [a number] of them have come in and made plea deals and been released." Leaving the other defendants in jail for years simply because they wouldn't take a plea, he adds, "seems morally and legally reprehensible."
Bennett is an alleged victim in the YSL case. Three YSL defendants — Kahlieff Adams, Damekion Garlington, and Jayden Myrick — are charged with shanking him in jail in February 2022. Two others are accused of asking Young Thug for permission to take a second shot on Bennett in jail. All maintain their innocence. Bennett is listed as a trial witness, though his team strenuously asserts that he will not testify.
The Fulton County District Attorney's office insists that there's no problem. "The prosecution of the YSL case has not resulted in any delay in the proceedings of any other case," the DA's office said in a prepared statement. They add that the  office, "which has almost 400 employees, is performing at a high capacity and is able to work a substantial volume of cases. … A single trial — even a high profile one — will not prevent the office from handling other cases on the normal timeline, nor negatively affect the productivity of the office."
However, a spokesperson for the same office later said that the YFN trial had been pushed back due to security issues. District Attorney Fani Willis stated last year that the war between the two street gangs resulted in at least 50 shootings and multiple murders; according to the spokesperson, the prospect of both street gangs in the same courthouse at the same time drove the decision to delay.
Other law-enforcement sources make similar claims. "Providing security for the YSL trial is a priority that requires the deployment of resources from various Fulton County Sheriff's Office units," a sheriff's office spokesman said in a statement to RS. "Because some of the defendants are housed in other counties, the security protocol also involves daily coordination with other agencies regarding transportation and courthouse security. Due to the unprecedented nature of this trial, we are constantly assessing security and making the necessary adjustments to ensure the safety of those involved and the courthouse complex as a whole."
Fulton County's jail is overcrowded, with inmates sleeping in common areas in plastic boats, sheriff Pat Labat told county officials last year. Stabbings occur daily, he said. Fifteen people died in the sheriff's custody in 2022, according to the Fulton County medical examiner's office, compared to two or three in pre-pandemic years. The Southern Center for Human Rights and the ACLU issued a scathing report last year describing rampant malnourishment and neglect on the jail's mental-health floor, where every single inmate was afflicted with lice, scabies, or both.
That ACLU report notes that the jail conditions in Fulton County are in part a function of the court and prosecutions. The court only began to hold in-person jury trials again last year due to the pandemic. The pace of indictments for people in jail has not kept up with the rates of arrest, despite a $5 million grant to clear the backlog. Most of the people in jail face relatively minor charges; half have not been indicted, according to the ACLU report.
The sheriff's office says it hasn't needed to redeploy officers from the jail or run overtime to staff the YSL trial. But the security presence for the trial has been obvious, unusual, and robust. It has also presented problems of its own.
A deputy, Morris Kandakai, was placed on administrative leave and is accused of getting into a scuffle in the back of a jail van with YSL RICO defendant Rodalius "Lil Rod" Ryan last month. Deputies used a Taser on co-defendant Khalieff Adams while searching him for contraband, after Adams was caught handing Young Thug a Percocet pill in open court. Adams' attorneys say he required medical attention after the Taser shocks, while the sheriff's office said he had to be taken to Grady Memorial Hospital because he swallowed contraband.
The lengthy trial isn't just taxing the resources of the sheriff. It's exhausting the capacity of both public and private defenders. Attorneys representing defendants in this trial will be unavailable to their other clients, according to multiple attorneys interviewed for this story. This has set off a chain of filings across the criminal court system in metro Atlanta and elsewhere, as attorneys for YSL defendants ask to drop their representation of other clients or delay cases.
Harvey estimates that 35 to 50 other cases of his, alone, have had to be delayed as far away as Tennessee and North Carolina because he is required to be in court in Atlanta while the trial is ongoing. Jay Abt — another experienced, high-profile defense attorney who represents Deamonte "Yak Gotti" Kendrick — has had his office conflict out of more than 100 pending cases both in federal and state courts due to the YSL trial.
Rickey Carter's murder trial in neighboring DeKalb County is one of those cases. Carter, a 63-year-old Marine veteran, has multiple myeloma cancer and requires chemotherapy that the DeKalb sheriff has provided inconsistently, Abt says.
"He has cancer. We've been begging the judge for a bond and can't get it," Abt said. "The sheriff's department is refusing to take him to his chemo and radiation treatments. And my client Rickey Carter can't get a jury trial because I have to be here."
(A spokesperson for the sheriff's office declined to comment directly on Carter's medical care, citing privacy rules, but said: "As is our mandate, the sheriff's office provides consistent and comprehensive medical services to all inmates… based on assessments at intake and throughout incarceration to include medications and referrals on release as appropriate.")    
Angela D'Williams represents YSL defendant Rodalius Ryan. Unlike Abt, she's a relatively new attorney who is still building her reputation and portfolio. She accepted Ryan's case through a Georgia Public Defender's Council assignment. And for the next six to nine months, it's the only case she'll be able to stand in court for. "Some judges are upset that we're keeping cases open and that it's hard to plan," she says. "This case is my only focus right now."