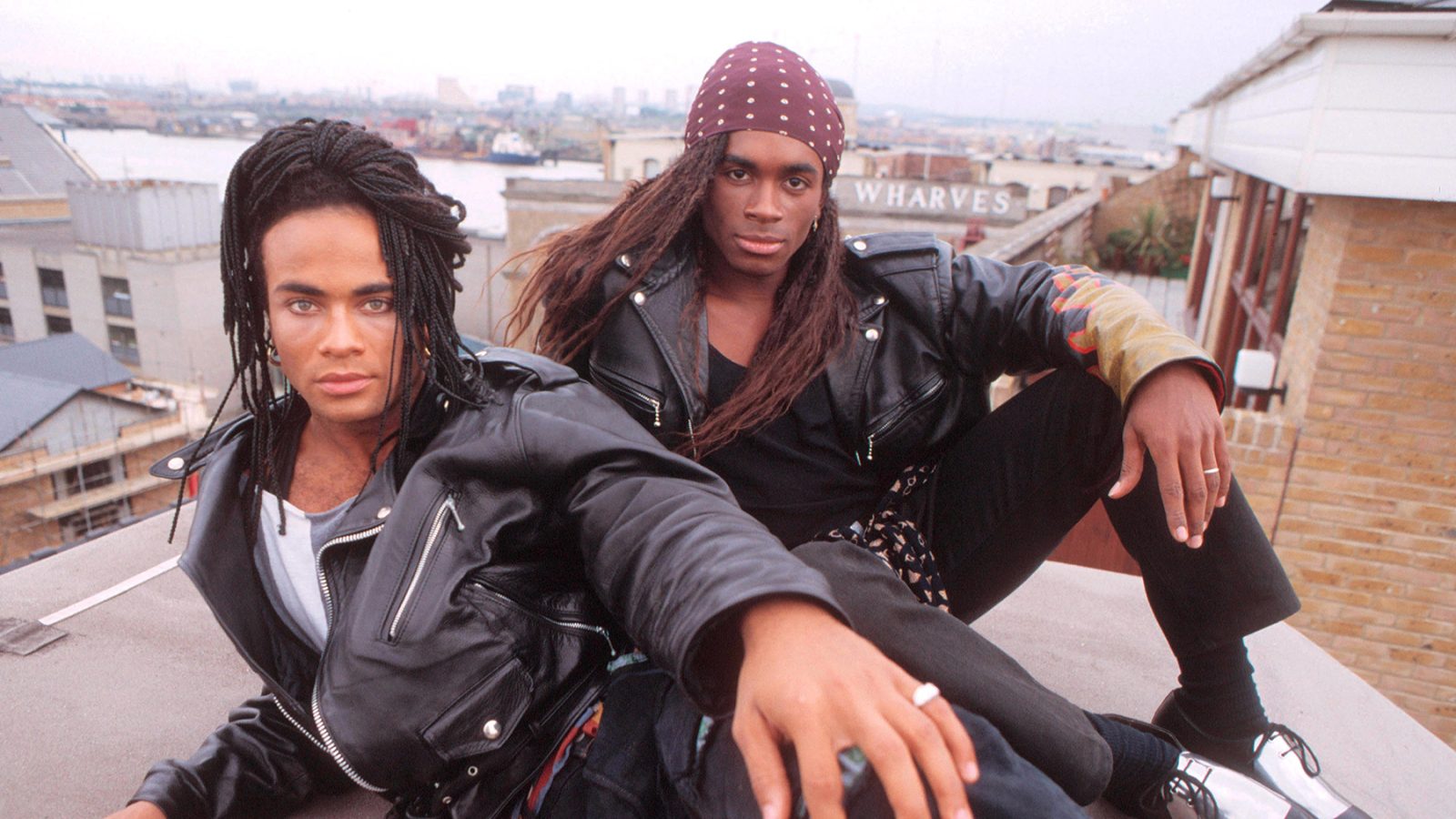 The Rise and Fall of the Eighties' Most Scandalous Pop Duo
Milli Vanilli have gone down in history as one of the all-time notorious pop scandals. Everybody knows the story: two Black European peacocks named Fab and Rob explode on the Eighties dance-pop scene, with the fizzy smash "Girl You Know It's True." They score three U.S. Number One hits and win the Grammy for Best New Artist. The flashiest hair. The tightest pants. They're on top of the world. But then everyone finds out they're lip-synching, and didn't sing a note on their hits. Crash. Fab and Rob get banished from the radio, get their Grammy revoked, and turn into the most infamous music-biz punch line. 
But Milli Vanilli, the new documentary from director Luke Korem, tells a different side of the tale. Milli Vanilli premiered last weekend at the Tribeca Film Festival. It starts streaming this fall on Paramount +. It's a fascinating and moving look at the star-making machinery, focusing on the human factor, from the duo's own perspective. It turns out there's a lot more to this story than anyone realizes.
Rob Pilatus never recovered from the shame, and died in 1998 after years of nightmarish drug addiction. But Fabrice Morvan is alive, well, and determined to finally tell his tale. "There's a French proverb," he tells Rolling Stone, the day before the premiere. "The truth takes the stairs. The lie takes the elevator."
When Milli Vanilli got demonized, Fab and Rob were the scapegoats who took the fall for everyone. All the public outrage was aimed at them—not their producer, managers, or record label. Morvan says, "It's like when you watch those mob movies, and the Feds have a chart on the wall with the faces. They go down from the top: 'You got this dude, he's the boss, then this guy's a capo, that guy's a worker.' But the journalists never saw that—they just said, 'Rob and Fab, you're responsible.' Nobody wanted to touch the powers that be."
The Paris-born Fab and the German Rob were outsiders in every way. They met at a Munich party, shocked to see each other. "There was not many Black people in Munich," Fab says in the documentary. "We were the only two dark-skinned people." Both were recovering from abusive childhoods, and both were looking for a family. They moved in together, already dreaming of stardom. "He was my older brother," Morvan says, "I didn't speak German very well. He was my protector, in many senses."
They got offered a contract by German producer Frank Farian. His claim to fame: the crazed Seventies disco act Boney M, who were huge everywhere but the U.S. But his new duo was young, hungry, and willing to sign anything. Fabrice says, "We never really tried to read it." They were crushed when Farian refused to let them sing on their 1988 debut single, "Girl You Know It's True," before he or anyone else realized this franchise would blow up into a global sensation. When he released their European debut album, Rob and Fab had their glam faces on the cover—but their names weren't even in the credits.
I can assure you firsthand that absolutely nobody at the time, not one of us, thought Rob and Fab were singing. And nobody cared—we bought the records because they were awesomely ridiculous bubble-funk pop floss. (You can take my "Blame It On The Rain" cassingle when you pry it from my cold dead hands.) But Pilatus couldn't shut up in interviews, in his tortured English, so he made it painfully obvious that his speaking voice was the total opposite of the American baritone belting on the radio. "Everybody ask me if I sing on this record," Pilatus told Rolling Stone. "Even my mother ask me. I am very proud person, and this is embarrassing…I have to go through this again and again, till I get cancer in my stomach and die." 
They were blatantly lip-synching at the Grammys. At the Tribeca documentary premiere, one of the biggest audience laughs was a close-up of Ozzy Osbourne watching their performance, in his tux, wincing in pain. Ozzy has seen some weirdness in his time, but even he's asking, "What is this that stands before me?" 
It's always a mystery why Frank Farian chose to be so obvious about his scam. It would have been standard practice to leave himself a little plausible deniability—let the boys do a few perfunctory recording sessions, never use the tapes, never tell them the truth, let them kid themselves they're in the mix somewhere. It would've cost him nothing. (Rob and Fab would've been the ones charged for the studio time.) Yet Farian foolishly trusted them with the secret—rubbed their faces in it, really, as if just to bully them. For such a pro, it was a rookie mistake, but it ended up costing him insane amounts of money. (You'll notice that no pop mogul has made the same mistake since then.)
"We embraced the lie," Morvan says in the documentary. Success went to their heads. When they won on Grammy Night, Paul McCartney tried to congratulate them, but Pilatus said, "Later." His diva delusions got dangerously out of control. "Musically, we are more talented than any Bob Dylan," Rob declared in Time magazine. "Musically, we are more talented than Paul McCartney. Mick Jagger, his lines are not clear. He don't know how he should produce a sound. I'm the new modern rock & roll. I'm the new Elvis."

The media was rooting for these guys to fall, and as the film shows, the backlash was ugly, the roar of boomers who wanted to seize back control of the music establishment. There was an undeniable whiff of racism and homophobia in the outrage. (Fab and Rob weren't gay, but as with all 1980s Euro pretty-boys, Americans assumed they were.) In one scene that made the Tribeca audience groan, Howard Stern does a parody in blackface.
The film has astounding footage of their first post-scandal press conference, in a room full of reporters who sound angry and downright unhinged. They keep yelling about "integrity." One journalist screams, "How do we know you're not lying right now?," as if she thinks they're making this all up. Rob and Fab end the press conference by singing "Girl You Know It's True" live for the cameras, and beautifully at that. Nobody listens.
They had to return their Grammy. "Did you hear what happened to the award?" Morvan asks me. "It's broken and sitting in the Grammy Museum. They broke it, and put it on a shelf. Somebody sent me a photo once. I thought, "Oh my God, they went that far?'"
But the whole industry claimed to be shocked, shocked, at the idea of lip-synching. The doc keeps asking, "What did Clive Davis know, and when did he know it?" The Arista president always insisted he and his label had no idea. Some interviewees suggest otherwise. Director Korem says, "For me, in making the film, what I found interesting was the lack of remorse and willingness to come clean by some people 30 years removed from this incident. Nobody can say, 'Rob and Fab shouldn't have been the ones to take the complete downfall. This was our project. Milli Vanilli is not just Rob and Fab—in fact, it wasn't even their idea.'"
They were hardly the only lip-synching pop pin-ups of their era. There were constant rumors of stars getting their vocals "sweetened." But there was something extra about Rob and Fab—their weirdness, their foreignness, their androgyny, their accents, their personality—that made them a target. That's why Milli Vanilli became an infamous legend through the years, while the likes of C+C Music Factory have been forgotten. 
By the time they came back with their own album, Rob & Fab, the game was over. Farian released an album by "The Real Milli Vanilli," titled The Moment of Truth. Pilatus turned into a tragic drug casualty, in and out of rehab for crack, dying in a hotel room from booze and pills. Morvan went to Amsterdam and rebooted his whole life, resolving to prove himself as a real artist. He began a family and started over as a solo singer-songwriter. 
The movie ends poignantly with Fab at an outdoor show, singing "Blame It On The Rain" in front of a cheering crowd that's rooting for him all the way. The documentary turns into a surprisingly touching tribute to his resilience. As Morvan says now, "Being underestimated is the best. To this day people think I can't sing a note, then they hear me. The music has helped me heal. That's why music and I, we're never parting ever. Ever, ever, ever."