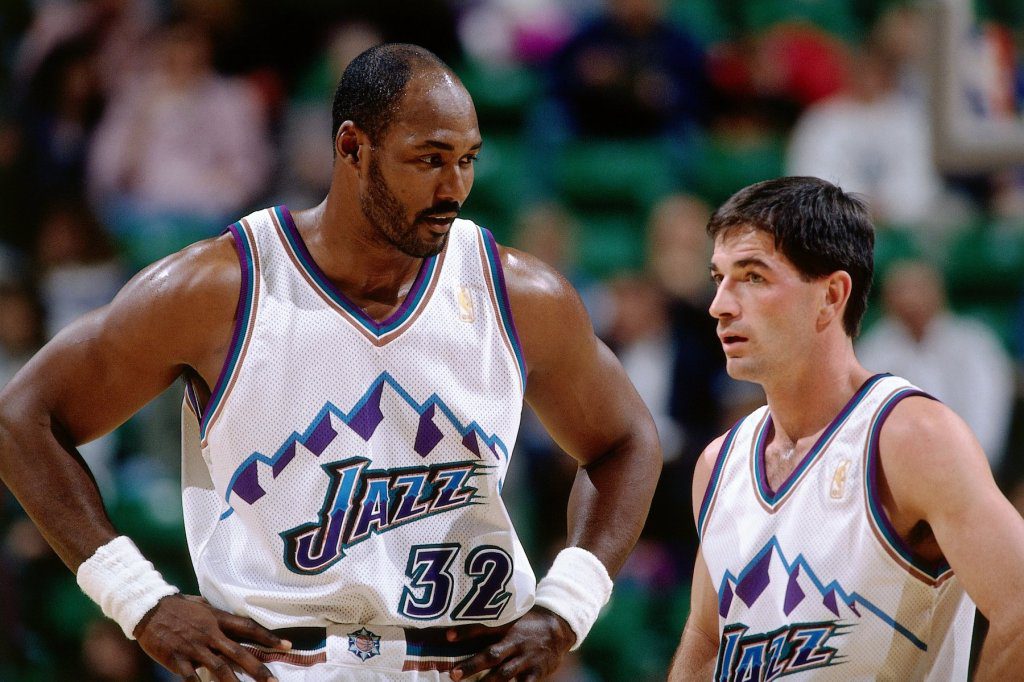 The NBA Shouldn't Have Creepy Karl Malone at All-Star Weekend
On Feb. 18, Utah Jazz legend Karl Malone will be a judge during the Slam Dunk Contest at NBA All-Star Weekend in Salt Lake City. On the surface, an all-time great participating in All-Star festivities in their former team's home city makes sense; the league is banking on most fans summing up his presence that way. But in reality, having him there overlooks a past full of abhorrent behavior.
In 1983 a then 20-year-old Malone impregnated his "girlfriend," 13-year-old Gloria Bell, while playing basketball at Louisiana Tech University. According to Bell, her family declined to press statutory rape charges because of his impending NBA fortune — except he then denied paternity of their child, Demetress Bell. Gloria Bell's family sued Malone, and they settled out of court in a manner that allowed him to not acknowledge that he was the father. When Demetress (who went on to become an NFL lineman) finally met Malone at 17, his dad reportedly informed him "it was too late for him to be his father, and he'd have to make it on his own." They reunited in 2014, with Bell saying in 2018 that they now talk "nearly every day."
Malone faced another lawsuit from Bonita Ford, who he had Daryl and Cheryl Ford with in 1980. The 19-year NBA vet was held in contempt of court and agreed to another out-of-court settlement. Both Daryl and Cheryl went on to play basketball at Louisiana Tech, with the latter having a 10-year WNBA career, winning three championships with the Detroit Shock. Malone eventually acknowledged his twins in 1998, and later said of them, "I didn't handle it right; I was wrong… Father Time is the biggest thief out there and you can't get it back." 
The few people in the tenuous position of defending Malone may decry this piece as the product of a "cancel culture mob" who can't let the past go, but Malone has never so much as publicly acknowledged Gloria or Demetress, probably because the explanation for having sex with a 13-year-old would be even more complicated than his decision to abandon them. How can we let it go when he's never even accepted it?
It would be bad enough if Malone's misdeeds stopped there, but they don't. In 2004, he harassed Vanessa Bryant, widow of the late Kobe Bryant, in a manner that made her uncomfortable. The story goes that Vanessa asked Karl, who was  wearing a cowboy hat and boots at the Staples Center, "Hey, cowboy, what are you hunting?" Malone's reply: "I'm hunting for little Mexican girls." (Vanessa is of Mexican descent.)
On another occasion, Vanessa was given Karl's number by his wife Kay so that she could invite Malone's son over to her seating area during a Lakers game. But their conversation reportedly went left. Rob Pelinka, then-Kobe's agent, told ESPN that Malone said: "Why don't you come over here and sit next to me and give me a big hug… If you do that it will be on the cover of every magazine in the country."
Pelinka added, "Vanessa didn't know what to say because this was the first time she had ever spoken to Malone without Kobe or Kay being around. Karl continued. 'Do you like me?' Malone asked her, to which Vanessa said, 'As my friend, Kay's husband.' From there Malone asked Vanessa if she could keep a secret, and that he would like to tell her something. At which point Vanessa told him she was a married woman and he was a married man who was old enough to be her father. To which Malone replied, 'Oh, like your daddy?' At that point she told me she ended the conversation."  
The exchange, which Karl reportedly admitted to Kobe but later denied when both couples were on a phone call, forever fractured his relationship with the Bryants. In 2015, Marc Lamont Hill asked him about his disagreement with Kobe, and instead of taking accountability for his harassment, Malone offered to fight Kobe.
Despite Malone's controversial track record, he's been viewed glowingly by many public figures, and has had lucrative endorsement deals during and after his career. In 2003, he and his wife Kay received a special declaration from then-Utah Governor Mike Leavitt to "commend and thank Kay and Karl Malone for their incredible service, friendship, and generosity to the state of Utah." The Jazz gave him a statue outside of their arena in 2006. He was given a Henry P. Iba Citizen Athlete award by The Tulsa Rotary Club in 1998 for his Karl Malone Foundation For Kids.
Malone's presence as a Utah ambassador, just two weeks after Dr. Dre had a Grammy Award named after him, represents the latest example of a man being celebrated while onlookers contemplate the thorny totality of their legacy. In Mankaprr Conteh's exclusive piece, Dee Barnes, a pioneering music journalist and survivor of Dre's abuse, referenced the beloved producer calling his actions a "blemish" on his legacy, saying, "Well, what do you do with a blemish? There's a whole industry created — skincare lines and vitamins and rituals — to get rid of blemishes. And, in a sense, there's a whole network to keep me hidden."
Similarly, the sports world has decided Malone's basketball legacy is so mighty that his actions with the Bell family and others can be swept under the rug. The mythmakers intent on making heroes out of public figures too often minimize the damage done to others along their journey, if they're mentioned at all. Everyone from ABC News, ESPN, and the AP sentimentally recounted Malone uniting with the Ford twins without mentioning Gloria or Demetress Bell. 
The NBA, especially under Commissioner Adam Silver, has worked hard to position itself as a progressive league that frowns upon wrongdoing amongst its ranks. It's easy for the Association to condemn Jazz legend John Stockton's anti-vax stance and keep him away from the festivities, just like it was easy for the Nets to suspend Kyrie Irving for sharing a video with antisemitic messaging. Neither men's actions are defensible, but their treatment, in relation to Malone's valorization, is incongruous and represents a fraught take on the term "no-look pass." If enough people look the other way, the NBA will act like it's all good. But it's not.