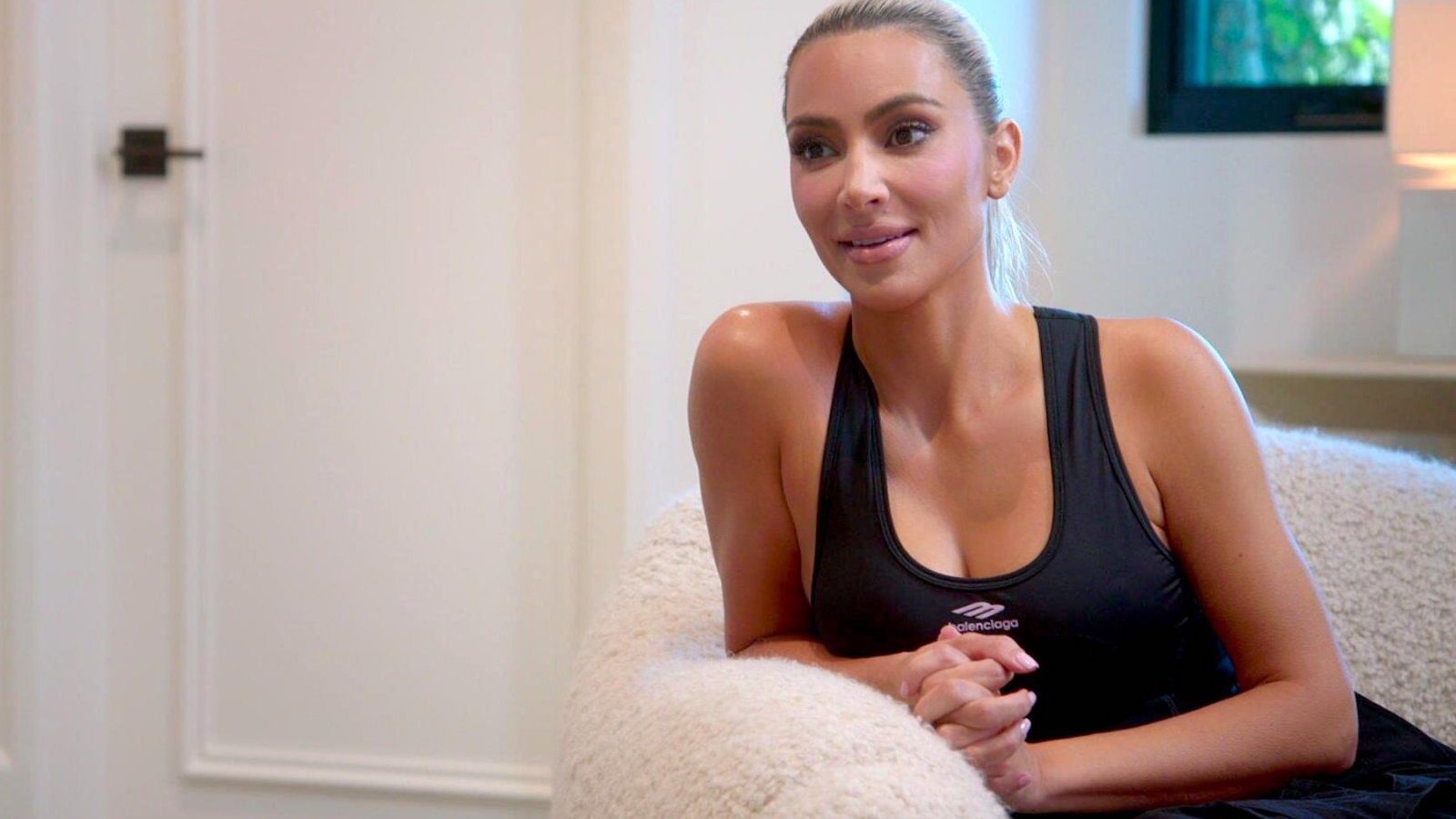 'The Kardashians': Kim Kardashian Is Done Protecting Kanye West
Kim Kardashian is no longer Kanye West's keeper. Thursday night's episode of The Kardashians picked up where last week's left off — with Kim continuing to discuss her relationship with her ex-husband at length for the first time since the rapper made headlines earlier this year following several antisemitic tirades and public meltdowns.
Kim said she used to spend hours at a time calling people behind Kanye's back to try to cover for him, admitting that she's now at a point where she feels like keeping the rapper from hitting "rock bottom" is no longer her responsibility. But while she said she's learned to take a step back, she still tries to hide the truth from their four children — at least for now. "I still feel the need to not talk about it and protect it from my kids, but god, if people knew. I just would never do that to my kids," she said. "It's just really crazy."
Without getting into any details of what Kanye said or did at the time (which was incredibly offensive and damaging to both himself and others), Kim said, "It's the hardest feeling to watch someone you really loved and have a family with just be so different than who you knew."
And even though their oldest daughter North is nine, miraculously, she's yet to see headlines about West — partly because of Kim's lengths to keep her from it. "She actually doesn't know, and that's what's so crazy," she said. "It's a chain to my whole household: no TV, only Apple TV. I can't risk an Access Hollywood 'Coming Up Next' with their dad mentioned, and they want to watch. I have to figure out a way to protect. They still haven't seen anything."
She continued: "I am the one being accused for so many things, and being blamed for so many things. It's really, really hurtful and it sucks. But I can control how I react. If I'm a mess, then my kids will see that."
Early on amid West's controversy, Kim denounced her ex-husband's words in a two-sentence tweet without even naming him. "Hate speech is never OK or excusable," Kim wrote on Instagram. "I stand together with the Jewish community and call on the terrible violence and hateful rhetoric towards them to come to an immediate end." But after that, nothing. Kim seemingly went about her life as if nothing was happening. The reality star received her own backlash for not speaking up more, with many saying that her silence was its own form of complicity. But during Thursday's episode, Kim said her silence was simply an effort to protect her children.
"I really do believe in my soul that one day, my kids will appreciate my silence, my understanding, and my grace. I will try my hardest to keep it together at all times," she said.
And while she was on the topic of discussing her own backlash, Kim addressed complaints that her ex-boyfriend Pete Davidson wasn't on Season Two enough while they were together. (The two have since split. Read her somewhat vague explanation here.) "I'm not going to meet someone and be like, 'Pause, before we really get to a place, will you be on my show?' No. And he was still on! He was on at what level he was comfortable with."
"When we first started Keeping Up, all of us were 20 years old, and no kids and no lives, and this was our only job and only careers," she explained. "There wasn't even any social media. So for anyone to even want the same thing… people grow and evolve."
Basically, now that they have more to lose, they aren't as willing to give. So does that mean they are done with the show? No, not exactly. As Scott Disick, the oft-surprising voice of reason (and comic relief) on the series so wisely put it, the show is the center of the entire Kardashian empire. But it does mean we as viewers might have to suffer through a few more fluff scenes and learn to appreciate the sprinkle of real drama we get now and again.
"Khloé and I, we give real content. We're sharing every last detail of our lives," said Kim. "I just think our show is what made us. I'll always want to give it my all. I'll always want to film and be a part of it and give everything I can."
And since Kim isn't willing to outright say it, I will: Kourtney is the problem. Kim and Khloé may give it their all, but so far in Season Three, Kourtney has been virtually MIA. When she does film, it's so extremely clear that she's only using the show as a paycheck and a way to promote her other businesses. Of course, they all do this (don't get me started on the number of "Kylie loves makeup" montages we've had to watch, including in this episode), but Kourtney, as an O.G., is the most obvious about it.
However, longtime fans shouldn't be surprised by Kourtney's lack of dedication. In 2020, she took a step back from filming Keeping Up with the Kardashians, saying the show had become "toxic" for her and was no longer her priority. When the show transitioned and rebranded with Hulu as The Kardashians, Kourtney came back — but with clear boundaries in place: she will only show what she wants when she wants (unlucky for us, that's mostly just her dry-humping husband Travis Barker).
But fret not! If there is one thing Season Three seems to be promising, it's an all-out war between Kim and Kourtney over a fashion partnership (because, of course). While it hasn't come to fruition quite yet, the battle is definitely brewing.
"I'm never going to fight with family, bottom line," said Kim, who has been seen smacking the absolute shit out of her sisters on more than one occasion. "I just don't want this to kill my vibe. So, let's talk about it." OK, girl.