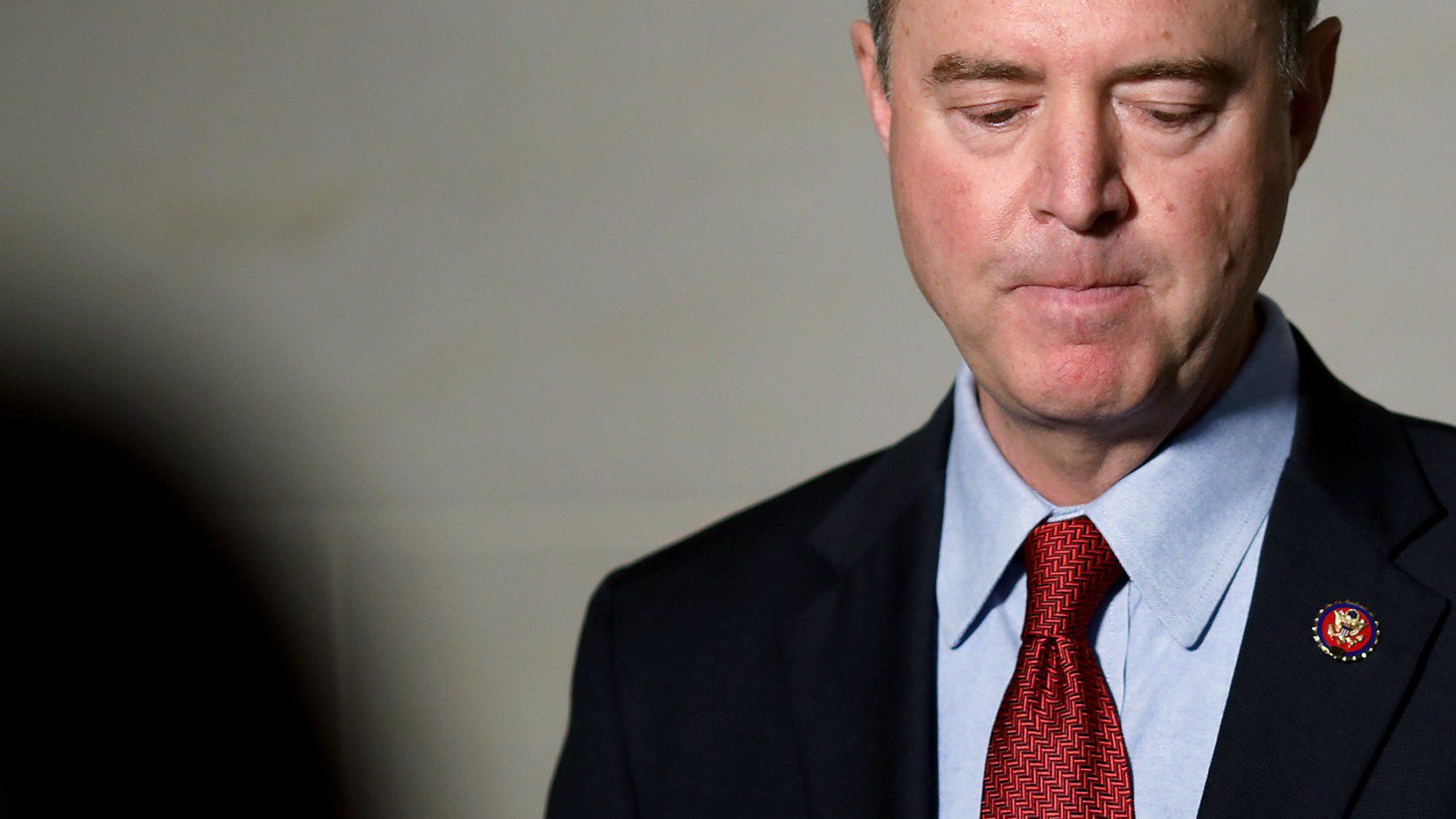 The Democratic Plot To Take Down Their Impeachment Hero
To a certain cadre of loyal MSNBC viewers, Adam Schiff is the platonic ideal of a Democrat. The California congressman supports universal health care. He eschews corporate PAC money (these days, at least). He's an understated former prosecutor who takes his job seriously even as Washington often descends into fundamental unseriousness. Look no further than his management of then-President Donald Trump's first impeachment as proof. For this, he was on the receiving end of the former president's characteristic uninspired hate-speak: He was "liddle"  and "shifty" and a "pencil-necked" weakling and everything he said was "bull-Schiff." In a time of tribal, fractured politics, there was no great honor — no quality more likely to win him the adoration of his fellow Democrats — than to be labeled Public Enemy No. 1 by Trump World.
And yet, in the early stages of the 2024 election cycle, Schiff finds himself facing a riptide of opposition from the Democratic faithful in his Senate race to replace retiring Sen. Dianne Feinstein. He may have the support of former Speaker Nancy Pelosi and be the early favorite of establishment Democrats, but in the liberal crucible of California politics, being a national figure whose name is practically synonymous with the preservation of democracy does not pave an easy path to the U.S. Senate.
The anti-Schiff sentiment is fomenting at the beginning of the "insiders primary," as Rose Kapolczynski, longtime campaign manager for former Sen. Barbara Boxer, calls it — the behind-the-scenes chatter among the donors, consultants, and activists who lend credibility to nascent campaigns. Some Democratic donors have been strategizing on how to ensure the two women in the race, Reps. Katie Porter (D-Calif.) and Barbara Lee (D-Calif.) — both liberal stalwarts in their own right — persevere against Schiff. Progressive activists have launched a nascent disparagement campaign, carried out in the open on Twitter and in private over group chats, that knocks Schiff's past positions on healthcare and criminal justice reform. Others have publicly undermined Schiff's pro-democracy brand by highlighting reports that he hadn't been as eager to impeach Trump as he claims.
It's a torrent of criticism Schiff's supporters have met with eye rolls. "He was as progressive as you could be on the most important thing of all: defending the rule of law in our democracy," says Rep. Jared Huffman (D-Calif.), who endorsed Schiff's candidacy last month. As for the concerns about identity politics, too much focus on them have "gotten us in a lot of trouble," California Assemblymember Tina McKinnor, a Black progressive who represents Inglewood and endorsed Schiff. "People who look like me may not carry my progressive values. I want the best person for the job."
To Democrats devoted to electing women, the possibility of Schiff's election has been met as a five-alarm fire. For most of the last three decades, both of California's U.S. Senate seats were held by women. Feinstein and Boxer were elected in 1992, the so-called "Year of the Woman." Upon retiring, Boxer was followed in 2017 by Kamala Harris, and when Harris ascended to the vice presidency, her successor was Alex Padilla. EMILY's List, the national organization dedicated to electing Democratic women, hasn't ruled out independent expenditures against Schiff. Electing Women Alliance plans to hold events for both Lee and Porter and has been encouraging donors to give to both campaigns. They're strategies oriented toward California's "jungle primary" system that advances the top two vote-earners, regardless of party, to the general election "to ensure a woman would hold this seat," says Stacy Mason, EWA's executive director. "We find it unconscionable that two men could represent California in the U.S. Senate after the historic role this state has played." 
Others view Lee's candidacy as an opportunity to send a Black woman to the Senate, a body with none at present and only two in its entire history (Harris and former Illinois Sen. Carol Moseley Braun). "California provides a unique path to sending this woman to the Senate that Florida and North Carolina couldn't do [in 2022]," says Aimee Alison, a California-based Democratic strategist and founder of She the People, which supports women of color running for office. To Lee's backers, her run is about more than simply representation: Lee's quarter-century in Congress prepares her best, they argue. "If this really was a country whose politics were based on meritocracy as to who was the most qualified, the most experienced, then that would be Barbara Lee," says Kimberly Ellis, a Bay-area Democratic strategist.
Schiff's progressive detractors, meanwhile, point to his congressional debut as a business-friendly Blue Dog Democrat and support for the Iraq war at a time when many in his party had begun to reject it. Schiff no longer accepts corporate PAC money, but opponents point to the nearly $2 million he previously did. During his shadow bid for attorney general following Xavier Becerra's appointment as Biden's Secretary of Health and Human Resources, Schiff encountered resistance from racial justice activists who faulted him for a tough-on-crime approach he held during his time in the California legislature. While Schiff now embraces the market basket of lefty litmus tests — Medicare for All and the Green New Deal, among others — "he hasn't been someone who leads the fight," says Amar Shergill, the chair of the California Democratic Party's Progressive Caucus. "He stands at the back of the crowd and says 'I will vote for these things if you force me to.'"
That record strikes a contrast to the left-flank bona fides of Lee, the only lawmaker to vote against the war in Afghanistan, and Porter, an Elizabeth Warren acolyte who is as synonymous with attacking corporate greed as Schiff is with preserving democracy. Schiff's progressives supporters, however, find the charges meritless. "Trying to extract purity tests from those metrics is just becoming tiresome," says Huffman, a member of the Congressional Progressive Caucus. Others see Schiff's political evolution as an asset. Konstantine Anthony, a member of the Democratic Socialists of America and mayor of Burbank — which Schiff represents in Congress — endorsed Schiff earlier this week on the grounds that the congressman would no longer accept corporate PAC money. "Supporting a Democrat who has decided to fundamentally shift the way money is raised and politics is funded in California is a huge opportunity for us," he says.
The left flank's anti-Schiff sentiment is a byproduct of what a U.S. Senate seat in California means for Democrats: A lifetime appointment. Supporters of Lee and Porter argue that California, a vanguard of liberalism, is a state ripe for sending the most liberal candidate possible to the Senate. They recall that Sen. Bernie Sanders (I-Vt.) won California's 2020 Democratic presidential primary. They note that in 2018, the California Democratic Party endorsed progressive state Sen. Kevin de Leon over Feinstein, who was deemed insufficiently progressive. (They skate over the recall of Chesa Boudin, the progressive district attorney in San Francisco who was recalled last summer.) 
"This is a generational seat, so it's a big deal," says Jane Kim, the state director of the California Working Families' Party. "Big races push an agenda forward, it can be an inflection point in movement."