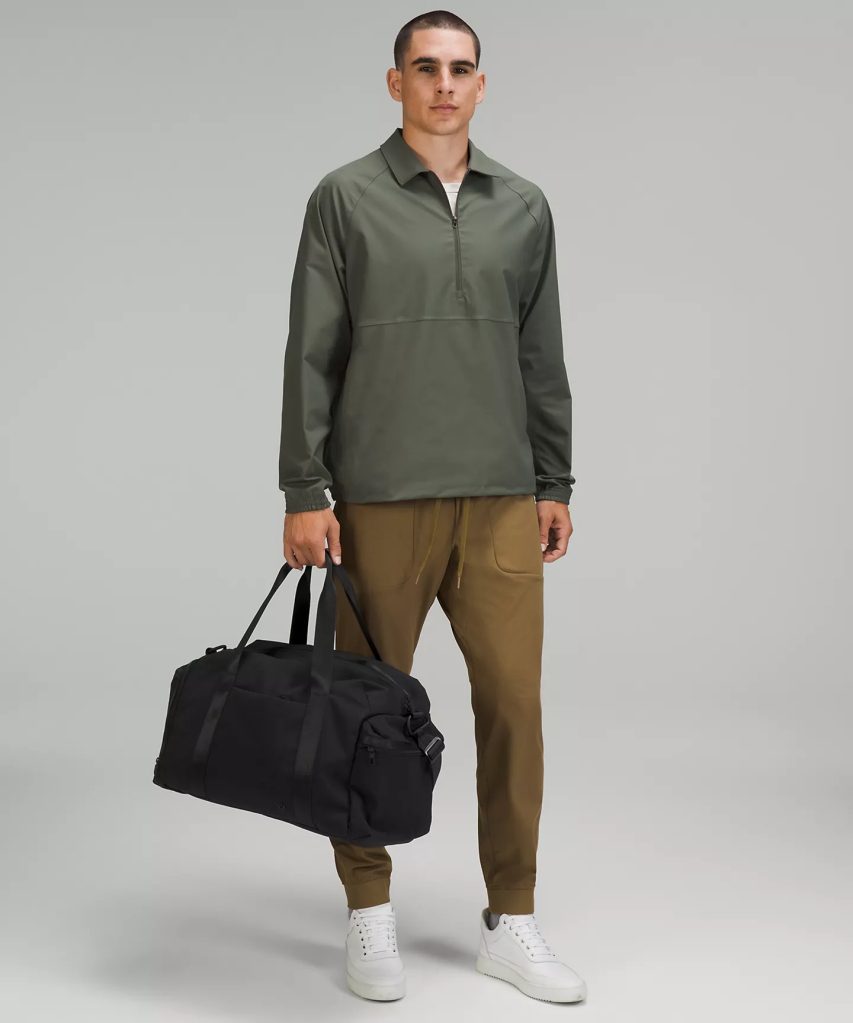 The Best Gym Bags
If you purchase an independently reviewed product or service through a link on our website, Rolling Stone may receive an affiliate commission.
Gym bags are underrated. Like many gym-goers, we used to toss our workout clothes and equipment in whatever tote or duffel was laying around. But, after getting a dedicated gym bag, we're never going back.
The best gym bags can streamline your whole fitness routine, providing a spot to keep everything from sweatshirts to running shoes to boxing gloves — and you don't have to unpack after every gym visit. Plus, some gym bags let you separate sweaty clothes and dirty shoes from the clean stuff, making it easier to go from the gym straight to the office, a dinner, or any other activity. And this added convenience can very easily make you squeeze in a few more workouts — it certainly does for us.
What Are the Best Gym Bags?
If you're looking to better organize your workout gear, read on. We've rounded up some of the best gym bags to buy right now, including stylish workout duffels, compact gym totes, and large gym bags. Check out our picks here, and scroll down further for reviews of each bag.
Best Overall: Lululemon Command the Day Large Duffel Bag
Best With Shoe Compartment: Outdoor Voices Your Doing Things Duffel
Best Gym Backpack: Under Armour Adult Recruit 3.0 Backpack
Best Large Gym Bag: Patagonia Black Hole 55L Duffel Bag
Best Small Gym Bag: Nike Brasilia Small Duffel
Best Climbing Gym Bag: Black Diamond Gym Solution 30 Gear Bag
Best Gym Tote Bag: Nike One Luxe Tote Bag
1. Lululemon Command the Day Large Duffle Bag
Considering how good their workout clothing is, we're not surprised that Lululemon nailed it with this gym bag. At 37 liters, it's not bulky but still big enough for a change of clothes, daily essentials, and some gym gear. Organization options are excellent too with a separate "shoe garage" (throw sweaty stuff in there too), an external pocket for beverages, and even a padded laptop sleeve. Plus, the bag's water-resistant fabric and minimal look make it stylish enough to carry around the office or on trips.
2. Outdoor Voices Your Doing Things Duffel
Best With Shoe Compartment
Another one of the best gym bags is this Your Doing Things duffel from Outdoor Voices. One of the bag's main draws is a side compartment for dirty shoes, which prevents your sneakers from stinking up your clean clothes. It's a great size too, as it offers more than enough space for all your gym gear and can even work as an overnight or weekender bag if need be. We also love the bold blue color in a sea of black gym bags.
Buy Outdoor Voices Your Doing Things Duffel $88
3. Under Armour Adult Recruit 3.0 Backpack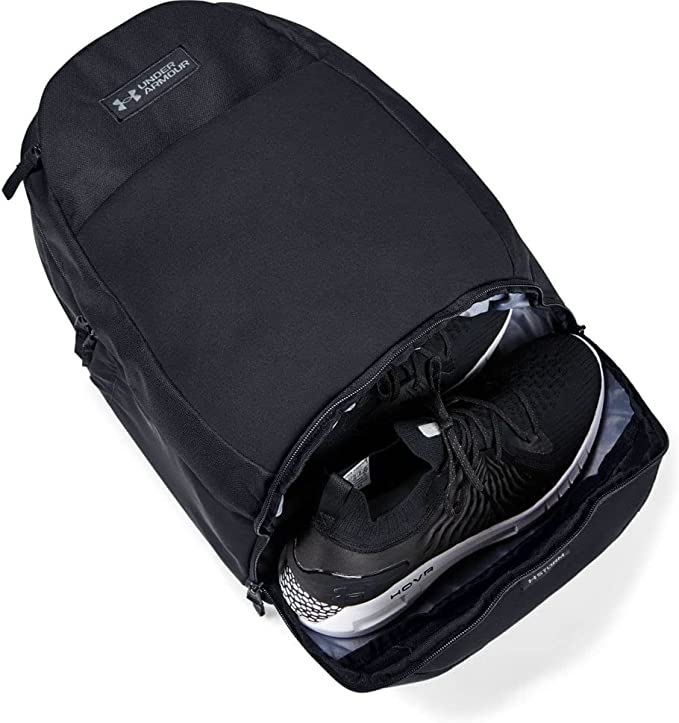 Prefer the convenience of a backpack when you hit the gym? Pick up this Under Armour Recruit backpack. It features a durable water-resistant build, but the whole backpack can be machine washed when it (inevitably) starts to smell like your gym clothes. Inside is a padded laptop sleeve and organization pockets, while an exterior slip pocket and zippered phone pocket offer quick-access options. Best of all, there's a separate zippered shoe compartment on the bottom.
Buy Under Armour Recruit 3.0 Backpack $64.00
4. Patagonia Black Hole 55L Duffel Bag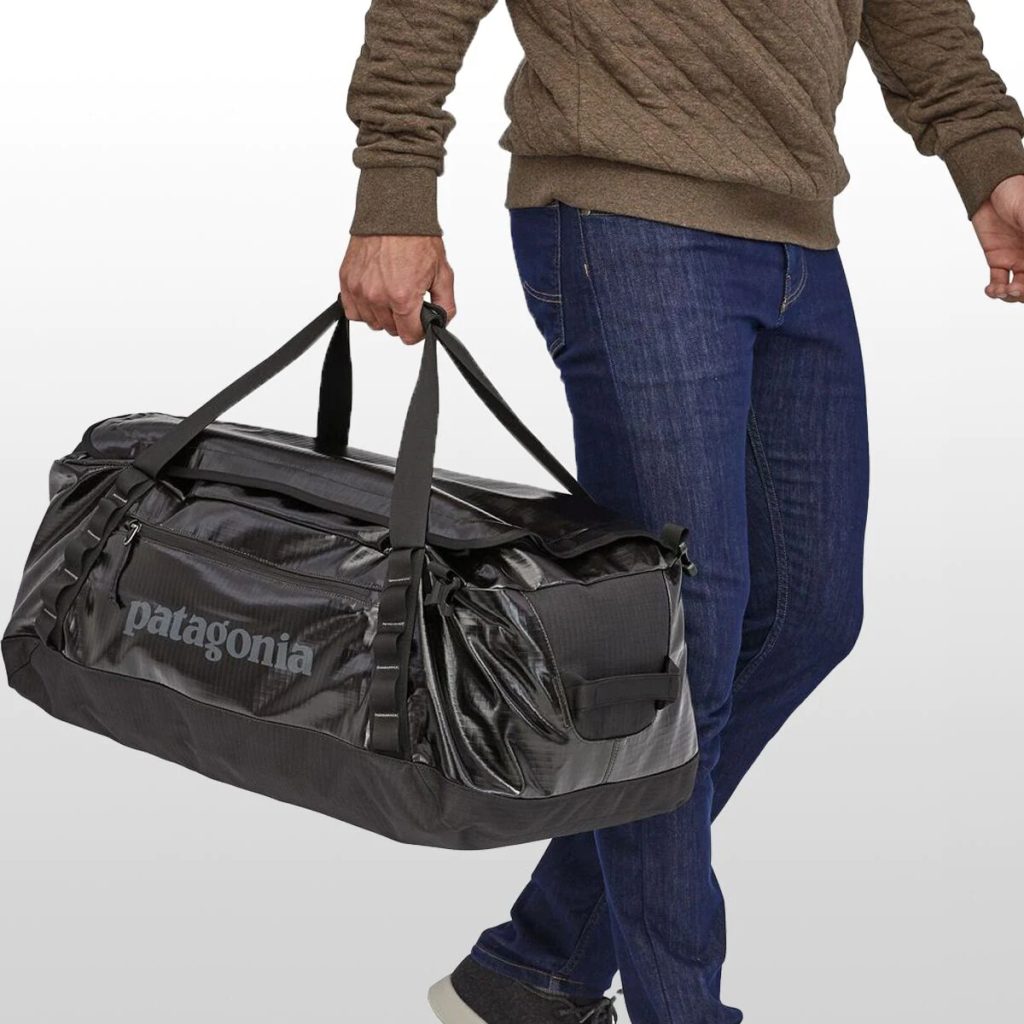 If your workouts require a lot of gear — maybe a basketball, a lever belt, or boxing equipment — consider this 55-liter Patagonia Black Hole duffel. It's our favorite duffel bag, period, and works just as well as a gym bag as it does for traveling. We love it for two main reasons: Firstly, thanks to backpack straps, it seamlessly transitions from a duffel to a backpack and back again. Secondly, the Black Hole's nylon build is easily the toughest of any bag, effectively keeping out water and holding up to serious wear.
Buy Patagonia Black Hole 55L Duffel $169
5. Nike Brasilia Small Duffel

For the light-packing gym-goer, we recommend this small Brasilia bag from Nike. It's just the right size for a change of clothes, shoes, everyday essentials, and, if needed, a lever belt or other piece of gear. And long-term users agree: The bag has a 4.8/5-star rating and over 6,000 reviews on Amazon, with many customers praising the bag's size and value.
Buy Nike Brasilia Small Duffel $42.33
6. Black Diamond Gym Solution 30 Gear Bag
Bulky, chalk-covered climbing gear can sometimes be awkward in regular gym bags, so most climbers opt for a specific bag like this one from Black Diamond. It features a wide drawstring opening for packing ropes and climbing shoes. When you're ready to head home, the bag's cross-shoulder strap makes it comfortable and easy to carry, even over long distances.
Buy Black Diamond Gym Solution 30 Bag $54.95
7. Nike One Luxe Tote Bag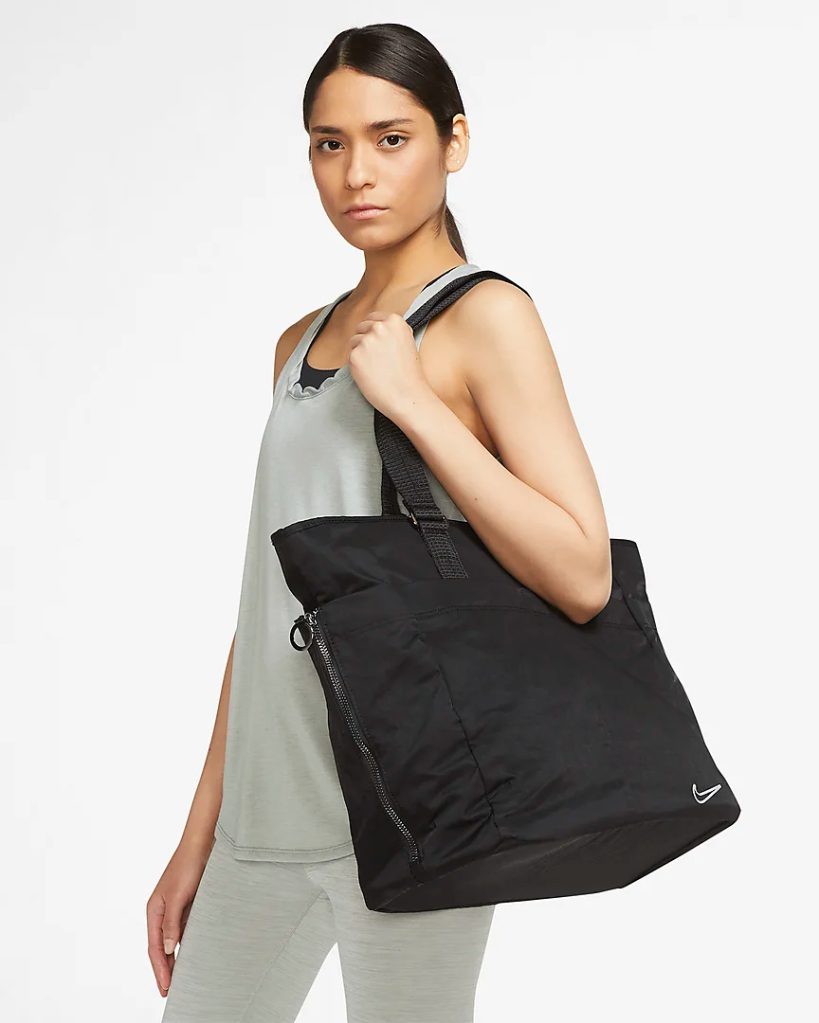 If you're not walking too far with your gym bag, a tote can be more convenient and versatile than a duffel or backpack. This Nike One Luxe is a good example, boasting a large 32-liter capacity that lets you stuff in shoes, clothes, and equipment. Inside is a clever pocket system that keeps a water bottle and your laptop or books upright, while outer pockets provide a place to stash things you'll need to access quickly (say, your gym card, phone, and earbuds).
Buy Nike One Luxe Tote Bag $152
Gym Bag Buying Guide
The best gym bag is one that works for your specific needs. Here's what to think about while choosing the right bag for you.
Size: We think a 30 to 40-liter capacity is typically the sweet spot for gym bags. But, if you carry bulky gear like basketballs or boxing gloves (or just lots of equipment), you may want to go bigger.
Organization: Shoe compartments, dirty clothes pockets, laptop sleeves, and water bottle pockets are all welcome additions to gym bags. Look for smart layouts that make sense for what you typically bring to the gym.
Materials: Although your gym bag probably won't be thrown around under an airplane or taken camping, it's still a good idea to pick up a durable bag that you won't have to replace too soon. We like high-quality nylon and polyester bags, and they should be water-resistant in case you're caught in the rain.
Style: Just like gym apparel, the best gym bag is one you'll feel good toting around. Even though it's a functional piece of luggage, pick something that looks stylish enough to carry into the office.
How We Chose the Best Gym Bags
Besides using gym bags for lifting sessions, fitness classes, and destination runs, we combed through reviews for bags from top brands. We also looked for high-quality fabrics and build qualities that we think will hold up to the test of time, and chose bags with style worthy of your wardrobe.