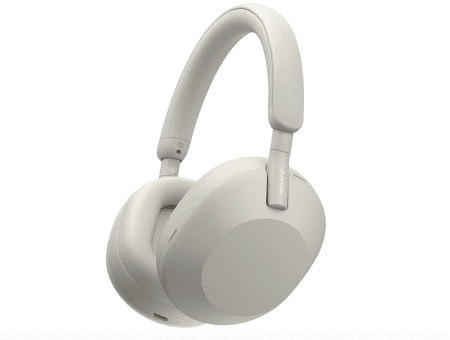 The Best Co-Working Office Essentials
If you purchase an independently reviewed product or service through a link on our website, Rolling Stone may receive an affiliate commission.
After the remote-work surge of the early days of the pandemic, companies and co-working spaces are opening their offices back up and welcoming workers back in – full-time, part-time, and for independent startups. And while there are definitely benefits to working in close proximity to others, like quick collaboration and forming office friendships (and often free snacks and coffee), sharing a workspace can be an adjustment. So if you're headed back to the office, or even thinking about setting up a shared workspace with your coworkers as you start up a new small business, we've selected a few of the best co-working essential items that everyone should have to make a workspace as comfortable, productive, and efficient as possible.
Co-Working Essential Items Buying Guide
To block out distractions and zone in on your current project, get yourself a pair of good noise-cancelling headphones or earbuds. There's an overload of them out there these days, but that doesn't mean they all perform equally. Take into consideration the environment you'll be in – are there lots of other people like a call center? Are you right by the loud front door? – and go from there to find the perfect pair.
Privacy screens can also be a significant boost to feeling like you've got your own personal space in a busy setting. And you won't need to rely on the building's facilities management to get them. There's a bunch available online, to configure any type of setup you're envisioning, from a simple divider to a full-on cube maze.
Along with these, check out our list below.
1. Sony WH-1000XM5 Headphones
Sony's WH series gets better with each new generation, and this newest pair is easily one of the best wireless noise-cancelling headphones on the market today. The noise-cancellation technology is unparallelled, and can stand up to even the noisiest of office environments (along with places like airplanes or walking on busy streets). The sound quality, as expected, is also excellent, with clear highs and deep bass, helping small details in music and movies stand out when you listen. The pair is instantly comfortable, with plush earpads and an adjustable headband, and the battery will last up to 30 hours on a single charge. And if you're in a hurry, they also have a quick charge feature that allows you to get five hours of battery life with just quick a 10-minute charge.
2. Indoor Room Divider
Instant privacy awaits, even in the most crowded of spaces, with this divider. It's a versatile and practical solution for creating (and dividing) space in any "open plan" office where it can feel like you're on display, and other peoples' activities are making it hard to focus. The portable design allows for easy relocation around the workplace, and it's made of sturdy materials,  featuring a sleek, modern design that complements any interior.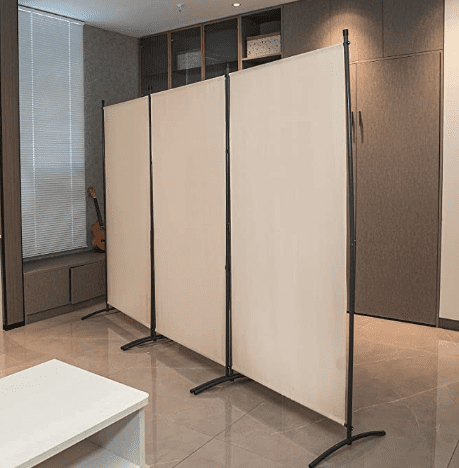 3. Jabra Elite 7 Pro Bluetooth Earbuds
Jabra has always been a favorite, reliable, and go-to brand of headphones for us, and these Elite 7 Pro earbuds are a top-of-the-line choice for anyone in a noisy co-working environment. Their Bluetooth capability connects fast, and to multiple devices at once, cranking out exceptional sound quality, active noise cancelling sound, and an impressive battery life. Plus, they're comfortable to wear for the entire day, and come with multiple ear tip sizes to ensure a secure fit. These are also water- and sweat-resistant, making them perfect for post-work workouts or rainy commutes (or accidentally dropping them in your drink). The companion app also provides access to a range of features, such as customized EQ adjustments and personalized sound profiles.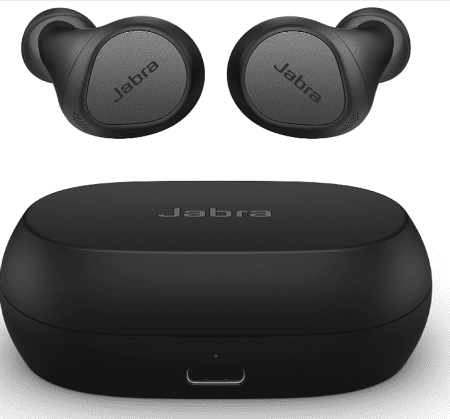 4. Anker Triple Display Docking Station
Even going so far as to say that this is an absolute beast of a device is still somewhat of an understatement. Anker, one of the planet's top tech brands for charging gear, created this 10-in-1 Triple Display Docking Station as an ultimate enhancement to their workstation setup. With its ability to support three displays simultaneously, the 563 docking station eliminates the need for multiple cables and devices, keeping your desk neat and organized while keeping everything powered and charged. The dock also features multiple ports for connecting devices such as hard drives, keyboards, and mice, making it a central hub for everything you need at work.
The build quality is solid, and the design is sleek and professional. Plus, it's also easy to use, with plug-and-play functionality that allows you to connect your gadgets and devices right out of the box. The triple display support is particularly impressive to expand your desktop and increase productivity, especially for designers, programmers, and gamers by night.
5. Huanuo Monitor Stand and Desk Drawers
Organization is key in a co-working space, where you'll quickly find out that a messy desk can affect your mental clarity and productivity. Fortunately, products like this make it easy (and affordable) to keep everything accessible and neat, ready whenever you want it. But along with cleaning up your desktop, the Huanuo Monitor Stand can also improve your posture while working. The 4.6-inch stand lifts it to eye-level, quickly reducing neck and eye strain. The added drawer, meantime, provides additional storage space for small items such as paper, pens, and other office supplies, freeing up valuable desk space. The stand is made of high-quality materials and is sturdy enough to hold larger monitors without any wobbling, up to 33 pounds. Assembly is extremely minimal, and this is pretty much ready to go right out of the box.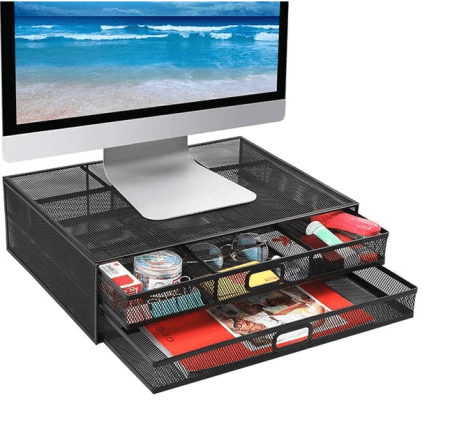 6. Scalebeard Foot Rest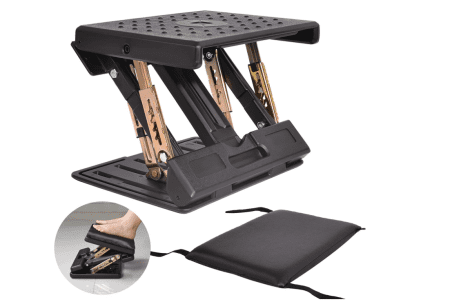 7. Minuendo Earplugs
Ask anyone in an office who's tried to block out noise with cheap drugstore earplugs and they'll tell you it doesn't do the job they were hoping for. Ask them while they're wearing the earplugs and they'll still probably hear you. Those plastic and foam plugs only work for certain scenarios and frequencies, and offices aren't on that list. 
That's where these plugs are a game-changer. You've got full control over what enters your ears now, with adjustable decibel levels, flattening unwanted sound instead of merely muffling it. The included 11 sets of ear tips ensure that one will fit comfortably, and because they were designed with vocalists in mind, they won't fall out when you speak (or sing). 
These also work great for outside the office: commuting, concerts, and even sleeping. There's no electronics needed, and because they boast a magnetic locking system, it's easy to keep them in place when you're done.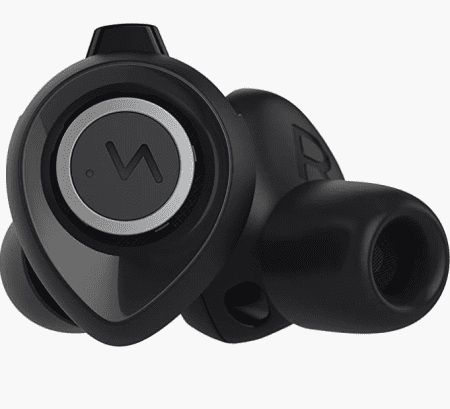 8. Muggo Self-Heating Coffee Mug
A nice hot cup of good coffee is, in our opinion anyway, the best way to ease into the morning. But it cools down rapidly, giving you a short window to really enjoy all the flavors of the brew at optimal temperature – between scalding and too-cold. That's where Muggo comes in and fills the void that every coffee drinker since the beginning of time has wished for. This tightly-sealable, BPA-free mug charges up via USB-C, and can hold your coffee at a steady temperature for up to three hours thanks to the 1200mAh Li-ion battery. Simply turn it on via the touchable buttons on the side, and set your ideal temperature, anywhere from 95-160 degrees Fahrenheit. It's portable, holds up to 12 ounces, and when you're done, is completely hand-washable.