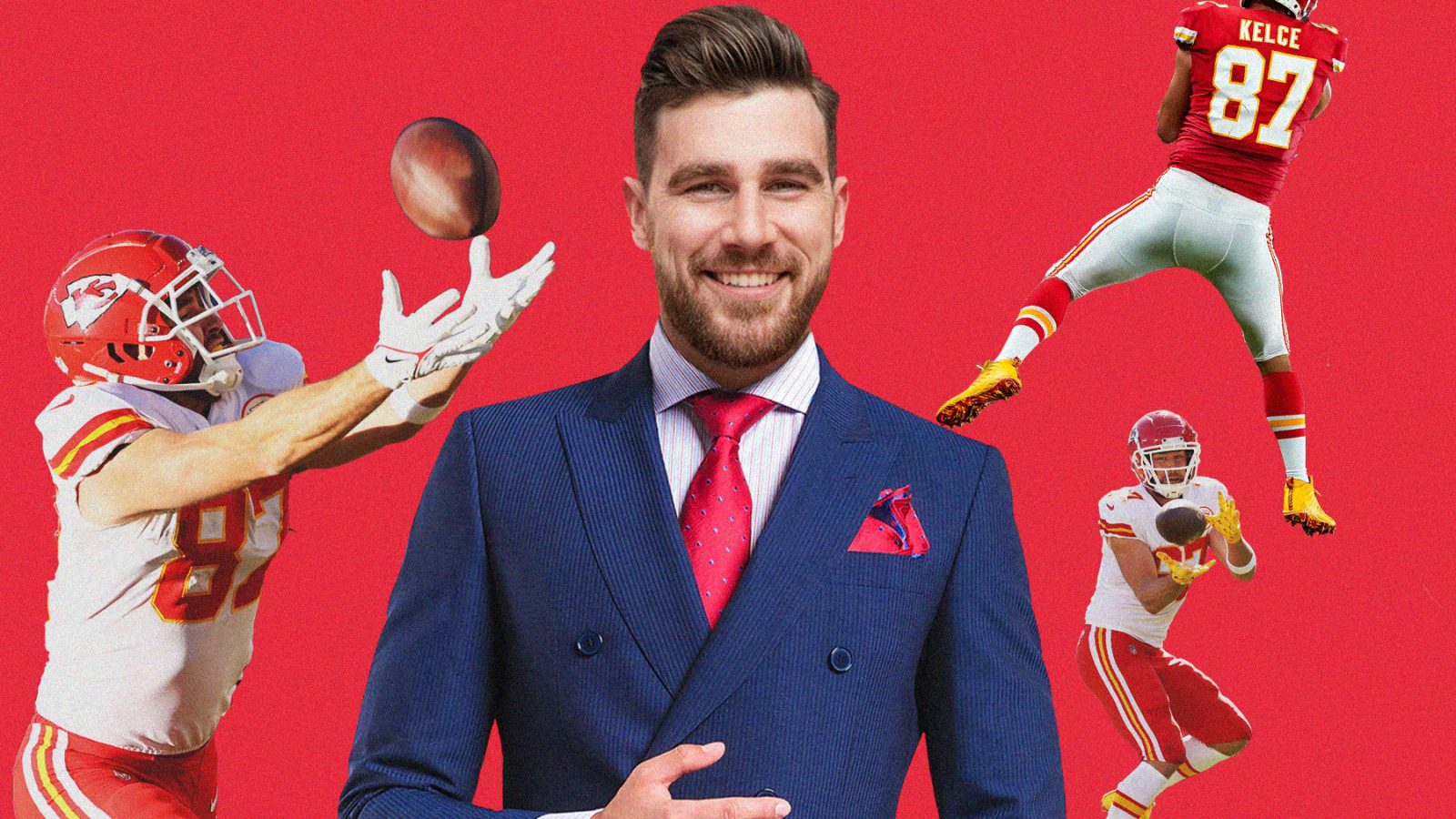 Super Bowl Stud Travis Kelce's Fun Dating Show, 'Catching Kelce,' Proved He's an MVP
What makes for an entertaining dating show? Is it a truly twisted concept, like keeping people physically separated in Love Is Blind, or making a bunch of horny moms go after each other's adult sons in MILF Manor? Is it the assurance that attractive people will bang at some point, which seems to be the selling point of Too Hot to Handle and Love Island? Or do we just want to see couples thrust into intense circumstances, as with Married at First Sight and 90 Day Fiancé?
If I can, I'd like to make the case for a different kind of TV you don't see much of anymore: the celebrity-bachelor showcase. For a while, VH1 dominated this space, with Flavor of Love and Rock of Love the two major tentpoles, starring rapper Flavor Flav and rocker Bret Michaels, respectively. But in 2016, E! aired a one-season series that featured future Super Bowl champion Travis Kelce of the Kansas City Chiefs looking for his next long-term relationship. It was called Catching Kelce, and it had awkward, undeniable charm.
If Catching Kelce is instantly more engaging than a lot of reality romance streaming today, it may have to do with the self-selection process for contestants. These women, instead of signing up to date a dead-eyed investment banker, are here to woo a 6-foot-5 NFL star, and as a consequence they exude a relatable (or recognizable) Americanness missing in so many poised, polished ensembles of would-be girlfriends.
That effect is heightened to a comical degree by a beauty-pageant conceit: there are 50 "girls" or "ladies," as Kelce unfailingly terms them, each representing a home state. Especially at the outset, when he's a little shaky on names, Kelce refers to a woman by where she's from, sort of like a college sports coach. And when they're eliminated, even in the final rounds, he tells them, "I'm going to have to ask you to go back to Arizona," or wherever they came from, as though solemnly banishing a subject of his glorious kingdom.
Before any of those "tough decisions," however, Catching Kelce opens with a hilariously ice-cold mass elimination. Upon introducing himself, Kelce announces that the women each have 60 seconds alone with him to make a first impression, with the end of that minute punctuated by an air horn, and 30 of the women not making the trip to the L.A. mansion where his suitresses will reside during the show. "In , the first cut is always the biggest," the tight end explains.
The show settles into its Bachelor-esque pace from there, though with genuine surprises that can only come from authentically interesting (and often weird) people. A woman slated to be among the first of the top 20 sent home because Kelce feels they have more of a "friend zone" vibe gets up and kisses him on the spot — and he dismisses her rival as a result. Two other competitors (Minnesota and Mississippi) take a strong dislike to each other, but their beef plays out in a ridiculous subplot stemming from Minnesota's claim she once dated, and dumped, Fabio. "I don't think I'd be able to dump Fabio," Kelce jokes when he finds out.
Perhaps the funniest of the early missed connections arises during a group gym date, when the woman repping Washington grills him about his fitness routines and reveals an inexplicable disgust with anyone who uses the elliptical machine. "I like the elliptical!" Kelce confesses to the audience in a whisper. The conversation earns her a ticket back to the Pacific Northwest.
Naturally, there comes a point where Kelce is hooking up with everyone still in the game, which leads to jealousy and tears. Yet in the way of a gentle himbo, he sounds puzzled by the drama and does a commendable job maintaining relative peace while addressing his multiple girlfriends' needs and feelings. It's hard to think of a guy who, at the center of this format, comes closer to achieving a harmonious polycule. (A show where this is the objective can't be far off now.) With a few exceptions, he's also remarkably good at reading his sweethearts, identifying what they're all about and where potential chemistry lies.
And, until he's forced to adopt a more serious tone in the later, higher-stakes episodes, Kelce is winningly goofy. He dances. He sings in a falsetto. He pulls faces and never takes himself all that seriously. He's a natural flirt! He earns the TikTok appellation, "a quirked-up white boy with a little bit of swag." You come to find out that some contenders might want to stay on and win more than they actually see a future with Kelce, but they're willing to fudge their "connection" because he is — quite obviously and unreservedly — Captain Fun. Which imbues his later complaints about how the elimination process "sucks" with something like profundity, however much you laugh at them.
Through it all, Kelce gets well-considered advice from his older brother, Jason Kelce, a center for the Philadelphia Eagles. This Sunday, the two will become the first siblings to face off in a Super Bowl, and Catching Kelce contains an amusing preview in which they both assemble a team of women for a pickup game of touch football. (Travis admits to a desire to defeat Jason on the field that outweighs any dating considerations for the moment.) In the end, it's Jason who warns Travis that he's leaning toward a woman too similar to his exes and might want to give his other top pick a chance.
Without spoiling the finale: Kelce's final choice of partner is not the woman he dated on and off for the next five years. But who cares? Catching Kelce didn't overpromise on the happily-ever-after, and that — along with a general absence of the laborious clichés and exaggerated emotional beats that drag out your average matchmaking series — is a source of its appeal. The prize here was a minimum of a couple months of a relationship with a handsome pro athlete who had recently signed a $46 million contract extension. No need to present it as anything more.
All of which makes you wonder if we aren't due for another entry in this genre. Please, spare us another crop of humorless, calculating strategists who have watched too many dating shows themselves and sanded down the corners of their personalities. Find a charismatic, single celebrity comfortable on screen and willing to be the life of the party, then scour the country for several dozen unpredictable randos who like the idea of getting to hang (or make) out with that particular individual. In a medium where artifice already predominates, a heavy-handed approach is stultifying. Seeing Kelce break the tackle, you can't help wanting that action again.