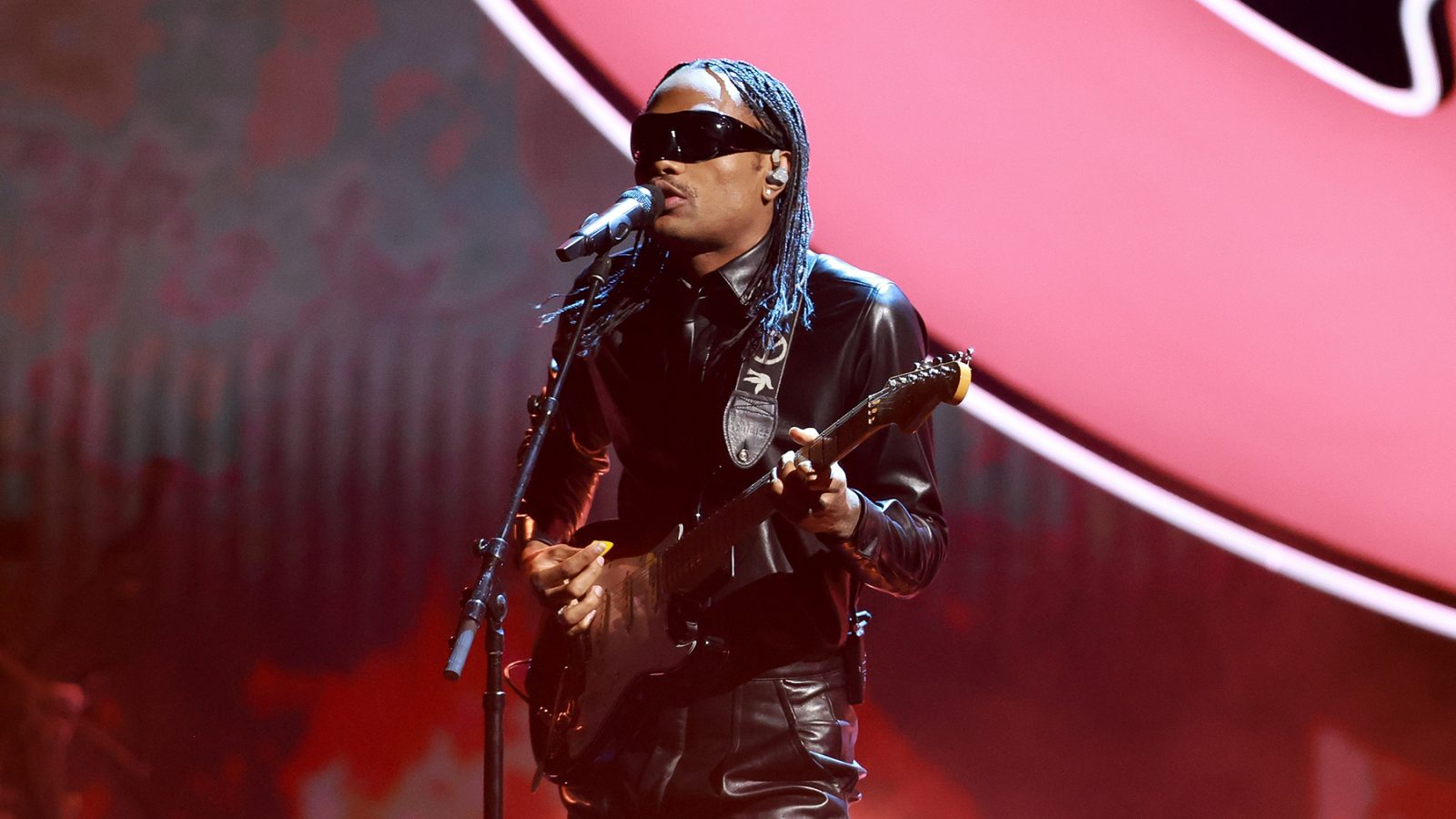 Steve Lacy's Performance of 'Bad Habit' Was So Great, Even Beyoncé and Taylor Swift Danced Along
Six-time Grammy Award nominee Steve Lacy took the stage at the Grammys for the first time on Sunday night with a grand performance of his hit single "Bad Habit," which accounts for three of his six total career nominations.
Backed by Thundercat on bass, Lacy delivered his R&B gem in his signature all-leather outfit — which recently placed him at Number One on Rolling Stone's list of Most Stylish Musicians. Lizzo, Taylor Swift, and Beyoncé were seen dancing in the crowd.
"Bad Habit," which appears on Lacy's latest album Gemini Rights, received a nomination for Record of the Year. It was joined in the category by Beyoncé's "Break My Soul," Kendrick Lamar's "The Heart Part 5," Adele's "Easy on Me," Brandi Carlile's "You and Me on the Rock," ABBA's "Don't Shut Me Down," Mary J. Blige's "Good Morning Gorgeous," Doja Cat's "Woman," Lizzo's "About Damn Time," and Harry Styles' "As It Was."
Lacy also earned nods for the record in Song of the Year and Best Pop Solo Performance, while Gemini Rights was nominated for Best Progressive R&B Album.
In October, Lacy spoke with Rolling Stone about the unexpected success of "Bad Habit," sharing that it all started as a joke, really. "I just knew it was fun," he explained. "I knew I liked it. And I was like, 'That's a funny . . .' We laughed about it, like, 'God, this is a funny story.' I feel like this is something that everybody probably went through. So we were just kind of laughing about it."
He added: "I really had no idea that it would be [successful] like this. I don't even have that brain. I'm just making stuff constantly, and I'm always chasing that feeling of loving an idea. And I'm really harsh. I had, like, 250 ideas for the album, but I always knew I wanted 10 [songs]."
Lacy realized after the song's release that it was actually reflective of his own place in life in that moment. "I was talking about this with a friend," he said. "It's kind of also an underlying message of where I am in my life, like, 'I wish I knew you wanted me.' Take a fan or a listener, right? They want all these things from me, and I didn't know."
"So I'm holding back from my true potential, because I just didn't know. And it has to do with self-confidence, you know? But 'Bad Habit' we found later on. We were talking about video concepts and stuff around this time. We were like, 'Whoa, that's actually wild. This actually relates to everything.' It was kind of freaky."