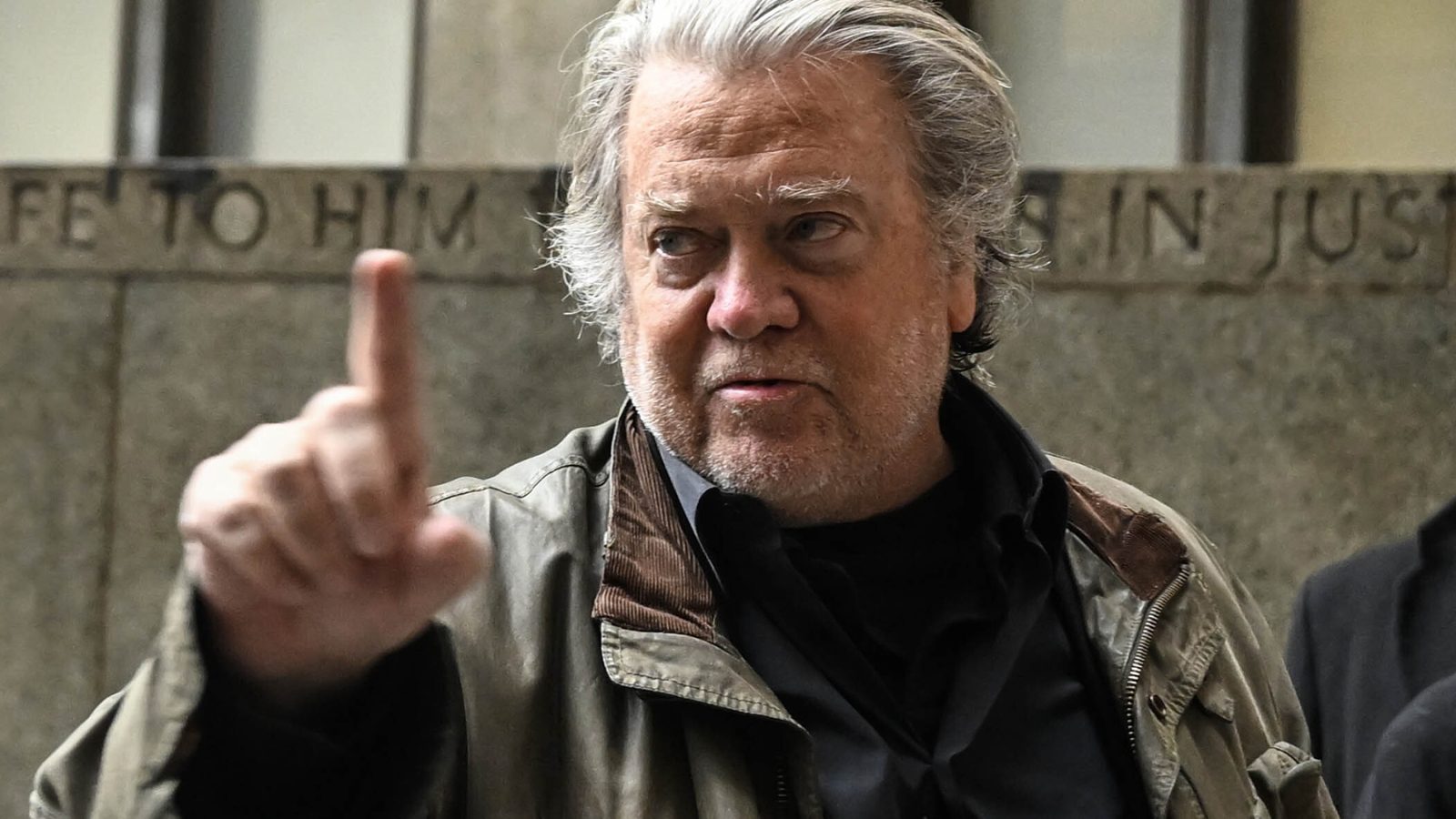 Steve Bannon's MAGA Crypto Coin Has Lost 95 Percent of Its Value: Report
The MAGA cryptocurrency $FJB, (officially Freedom Jobs Business, unofficially shorthand for "Fuck Joe Biden") has fallen 95 percent in value in the past 13 months despite a relentless push by owners Steve Bannon and Boris Epshteyn to keep it afloat, according to an investigation by ABC News. The devalued digital currency has also reportedly become a hotbed for complaints from investors claiming mismanagement and broken promises by Bannon and Epshteyn. 
According to a Dec. 2021 contract obtained by ABC News, Bannon and Epshteyn were granted "control, administration, and governance of the coin," which allegedly reached a market cap of $90 million before their acquisition. Despite an initial spike following the Trump allies taking over the coin, the steady decline and lack of transparency has raised concerns that Bannon and Epshteyn have taken the money and run. A Discord administrator announced to investors that  pair announced to investors earlier this month that they would be transferring the rights to $FJB.  
According to the report, $FJB promised significant returns to investors, and a commitment to send a portion of transaction fees to veterans groups and patriotic causes. Charities Bannon cited in his promotion of the coin, including the Wounded Warrior Project, claim they have not received any monetary gifts from $FJB, according to ABC News. 
Claims that a significant portion of the funds intended for charity have gone "missing" have raised concerns that investors in $FJB have fallen victim to a scam. An administrator for the company messaged users on the $FJB Discord server, telling them that while the funds were not "stolen" they "did not go to the purpose they were intended for, and that's as far as we'll speak on," according to ABC News. The same administrator later claimed that Epshteyn was "working on recovering our funds."
This wouldn't be the first time Bannon jilted hopeful investors. Trump pardoned his former adviser before leaving office after Bannon was charged with fraud and money laundering related to his "We Build The Wall Campaign." Bannon allegedly received more than $1 million worth of funds intended for the construction of a border wall between Mexico and the United States. Earlier this month, a law firm representing Bannon sued him for almost half a million dollars worth of unpaid legal bills, some related to the border wall lawsuit.
The collapse of $FJB, brought on in part by the general downturn of cryptocurrency markets in 2022, was met with a wall of silence from Bannon and Epshteyn, despite pleas from investors for the pair to publicly promote and revive interest in the coin. "It is very obtuse of [them] to put their names to this project 11 months ago, and people put in thousands only to feel left to flounder," one Discord user wrote. Another stated that they had lost more than $14,000 on the project.