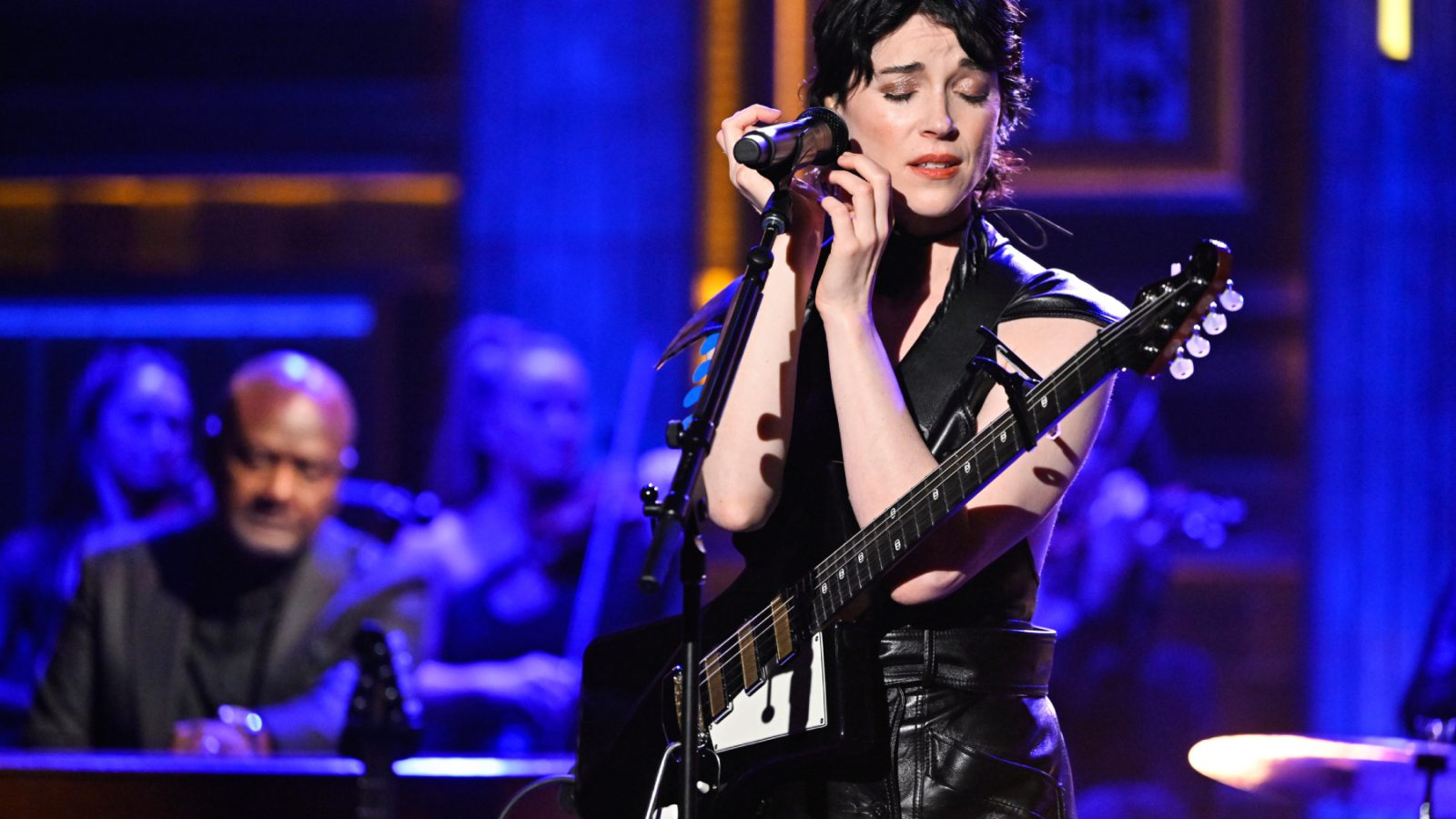 St. Vincent, the Roots Perform Emotional 'Glory Box' Cover on 'Fallon'
Performance heralds singer's appearance on the God's Love We Deliver livestream
St. Vincent returned to The Tonight Show stage Wednesday night to cover the perennially chill "Glory Box" by English electronic band Portishead. The performance comes ahead of St. Vincent's appearance at Love Rocks NYC's God's Love We Deliver livestream tonight.
The singer was joined by house band the Roots for an expectedly emotional rendition of the hit 1995 song. "Give me a reason to be a woman," she sang, "I just want to be a woman," before playing a Hendrix-y, wah-wah-drenched guitar solo. Throughout, she tapped into the song's passion for her own unique interpretation, which felt more "St. Vincent" than an imitation of Portishead frontwoman Beth Gibbons' trademark style.
In 2021, the artist, whose real name is Annie Clark, starred in and wrote a mockumentary with Sleater-Kinney's Carrie Brownstein. The Nowhere Inn presented as a behind-the-scenes documentary directed by Brownstein and centered on Clark, and followed the filmmaker and the artist's working relationship as it unraveled over the course of the shoot. Although the film portrayed Brownstein as the filmmaker, the movie was directed by Bill Benz (Portlandia, At Home With Amy Sedaris).
In May that year, St. Vincent also released her most recent album, Daddy's Home, which examined Clark's relationship with her father and her own self-discovery. The album won best alternative album at the 64th Annual Grammy Awards.
Last year, St. Vincent covered Lipps Inc.'s disco classic, "Funky Town," for the soundtrack for Minions: The Rise of Gru. The artist worked on the track with producer Jack Antonoff, who co-produced St. Vincent's last two albums, Daddy's Home and Masseduction.