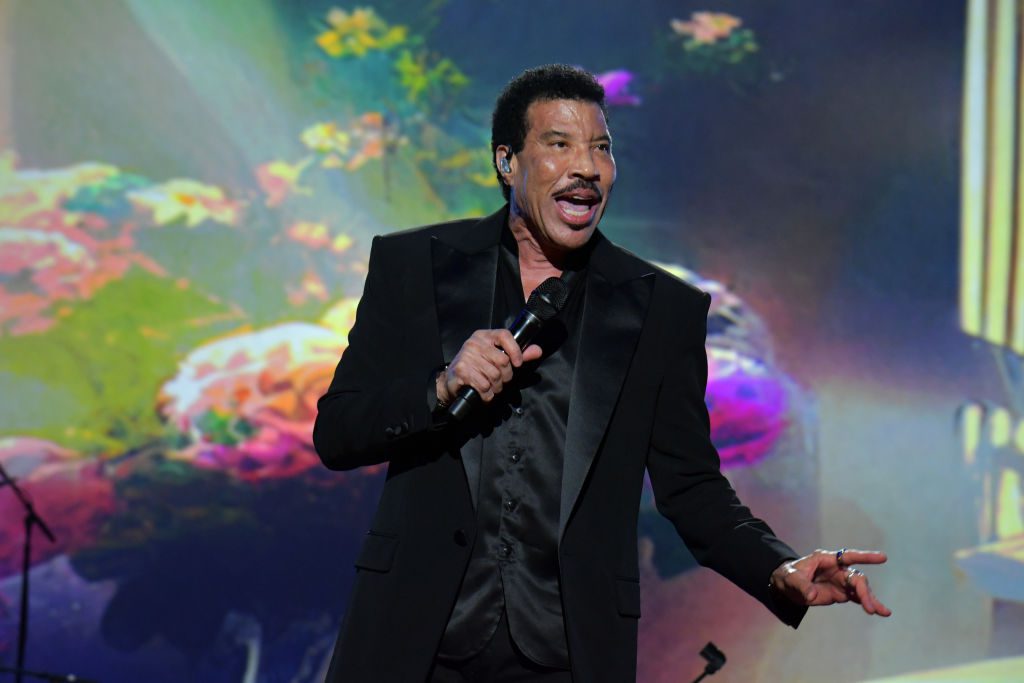 Smokey Robinson on Sharing MusiCares Honor With Berry Gordy, 'My Very Best Friend in the World'
It's difficult to capture in just a few hours the depth of the influence Berry Gordy and Smokey Robinson have cast over the industry through their legendary Motown catalog, but the 2023 MusiCares Dinner looked to do just that, celebrating one of the most prolific creative collaborations — and one of the most endearing friendships in the history of the industry — for the nonprofit's annual event on Friday night just two days before the Grammys. Gordy, the founder of Motown Records, and Robinson, one of the label's first signings and one of its most influential songwriters, were honored as this year's Persons of the Year.
"I've been fortunate to win awards in my life, but this one is really the most special to me because I'm getting this award with my very best friend in the world," Robinson said of the honor as he took the stage toward the end of the evening. Not long after a quick speech, he sung a new song called "Did You Know," a sweet song he wrote particularly to honor his friendship with Gordy, singing lyrics like "Did you know all the joy you'd keep bringing, did you know you'd be the song the whole world is singing," as his friend looked on. 
"When I first met him, I sang a bunch of songs for him," Robinson said. "He never once said, 'Okay, man, I'm tired. I gotta go.' He just sat there and listened. And he critiqued. He became my mentor. But not only that, that day, the seed was planted for the best friendship in history."
Gordy however, had a bit less to say than his fellow award winner. When Recording Academy CEO Harvey Mason Jr. asked if the Motown founder had anything to say, Gordy quipped, "Not particularly. I'm happy to be here with my best friend, I mean, damn."
Gordy and Robinson's stage appearance was the culmination of about three hours of performances from 23 different artists who took the stage Friday. What came of the evening's entertainment was an eclectic mix of Motown Records legends like the Isley Brothers, the Temptations, The Four Tops, Lionel Richie and Stevie Wonder along with a healthy blend of stars across several genres such as Brandi Carlile, Sheryl Crow, Michael McDonald, Dionne Warwick, Chloe x Halle, Trombone Shorty, John Legend and Mumford and Sons all playing Gordy and Robinson's hits. 
Wonder, wearing a dark gold sequined jacket and black beret, showcased predictably stunning vocals as he played Robinson's "I'll Try Something New," and "Tears of A Clown" and ripping an impressive harmonica solo on the latter. 
Richie was a fan favorite as he played the Commodores' hit "Easy," sounding particularly polished. Richie and Wonder, both legends in their own rights with 200 million sales between them, both earned the Person of the Year honor from MusiCares in previous years. The duo both lauded Robinson and Gordy as major forces for their own successes before performing. 
"Were it not for the two people here we're recognizing, I wouldn't be here," Wonder told them. "Thank you I love you, thank you I love you, thank you I love you."
The Temptations, wearing matching shiny red suits, kicked off the evening as the first performers, playing a medley of their hits "The Way You Do The Things You Do," "Ain't Too Proud to Beg," "I Can't Get Next To You," and "My Girl."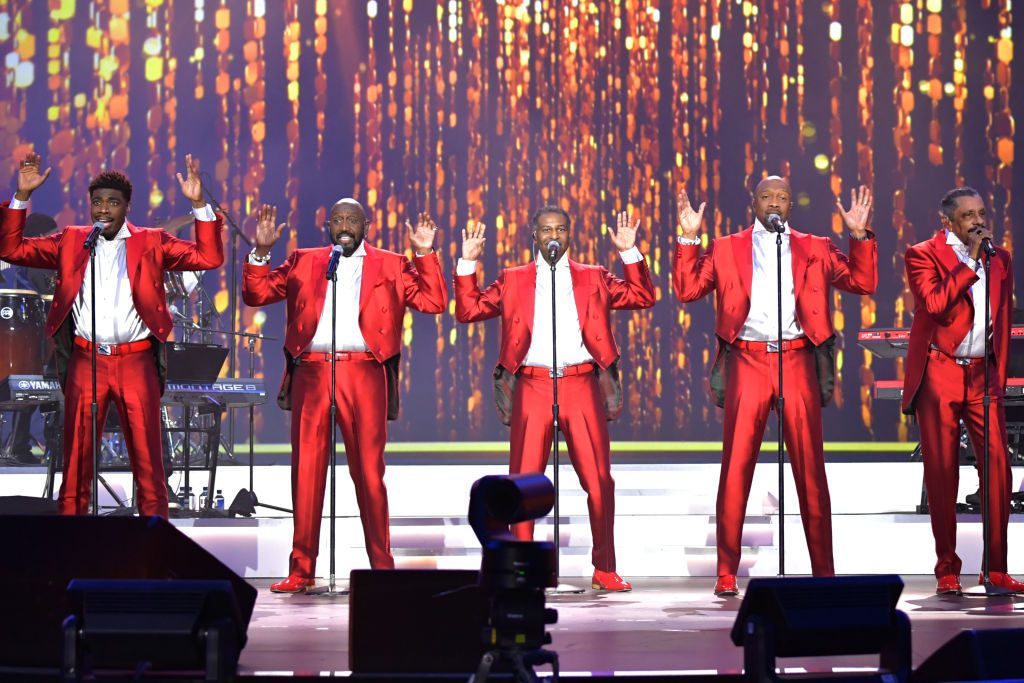 Fellow early Motown staple the Isley Brothers came later, playing "This Old Heart of Mine," and were immediately followed by the Four Tops, who also played a medley with "Baby I Need Your Loving", "It's the Same Old Song," "Reach Out (I'll Be There)," and "I Can't Help Myself (Sugar Pie, Honey Bunch)."
Warwick covered the Mary Wells-performed, Robinson-written track "My Guy" Friday, quipping before her performance, "Thank you so very much for allowing me to be your friend, and for me for allowing you to be mine."
Other highlights were Mumford and Sons' transformation of "Money" into a clap-along bluesy stomp, which seemed to elicit a wide, jaw-agape smile from Gordy. Legend, who's made himself a fixture at many Grammy events as a talisman of soul for his generation, fit right in among the Motown crowd, giving a classic cover of the Jackson 5's "I'll Be There."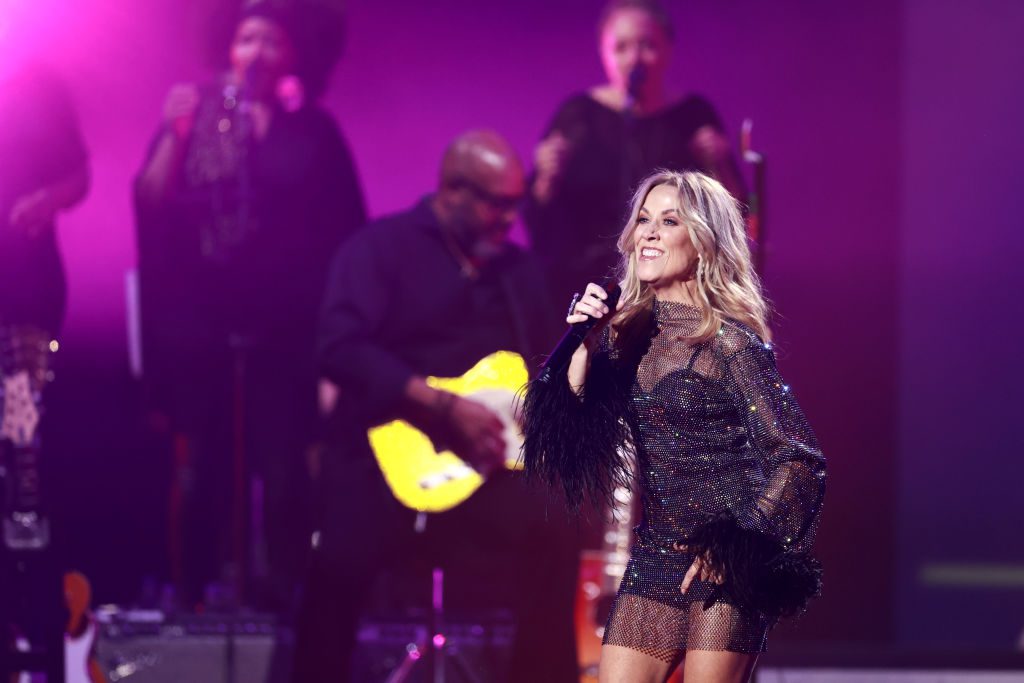 Sheryl Crow went with a higher vocal range than what her voice is more ubiquitous with on "I Want You Back," a fitting choice for a singer whose career started backing up Michael Jackson. Going further into a country tinge on the R&B classics, Brandi Carlile gave a beautiful rendition of "The Tracks of My Tears" while Jimmie Allen duetted with Valerie Simpson on "Ain't No Mountain High Enough."
MusiCares, a nonprofit within the Recording Academy founded to give musicians and industry workers help in times of financial or medical hardship, throws one of the most prominent charity events in the music business each year, drawing celebrities and prominent figures like Elton John, Nancy Pelosi and Tom Hanks this year.
Among the more surprising attendees, however, was controversial former Def Jam executive Russell Simmons, whose public status and activity in the music industry have waned since numerous women accused him of rape and sexual assault. (Simmons denied the allegations.) Meanwhile, one of the event's tables was filled with survivors of sexual abuse in the industry and their fellow advocates and attorneys, who just a few hours prior that day held a press conference and called for MusiCares to rescind the honor it bestowed to Steven Tyler two years ago after a recent lawsuit accused him of sexual assault of a minor. 
"This is an invitation to them to engage and do the right thing," Anderson told Rolling Stone regarding the call to revoke Tyler's Person of the Year Honor. "Clean your own house, it's a simple invitation. And I expect they will, I have confidence. If they're willing to put the welfare of vulnerable adults and artists above profit, they will." (A rep for MusiCares didn't reply to request for comment on both Simmons's presence at Friday's ceremony and Tyler's award.)