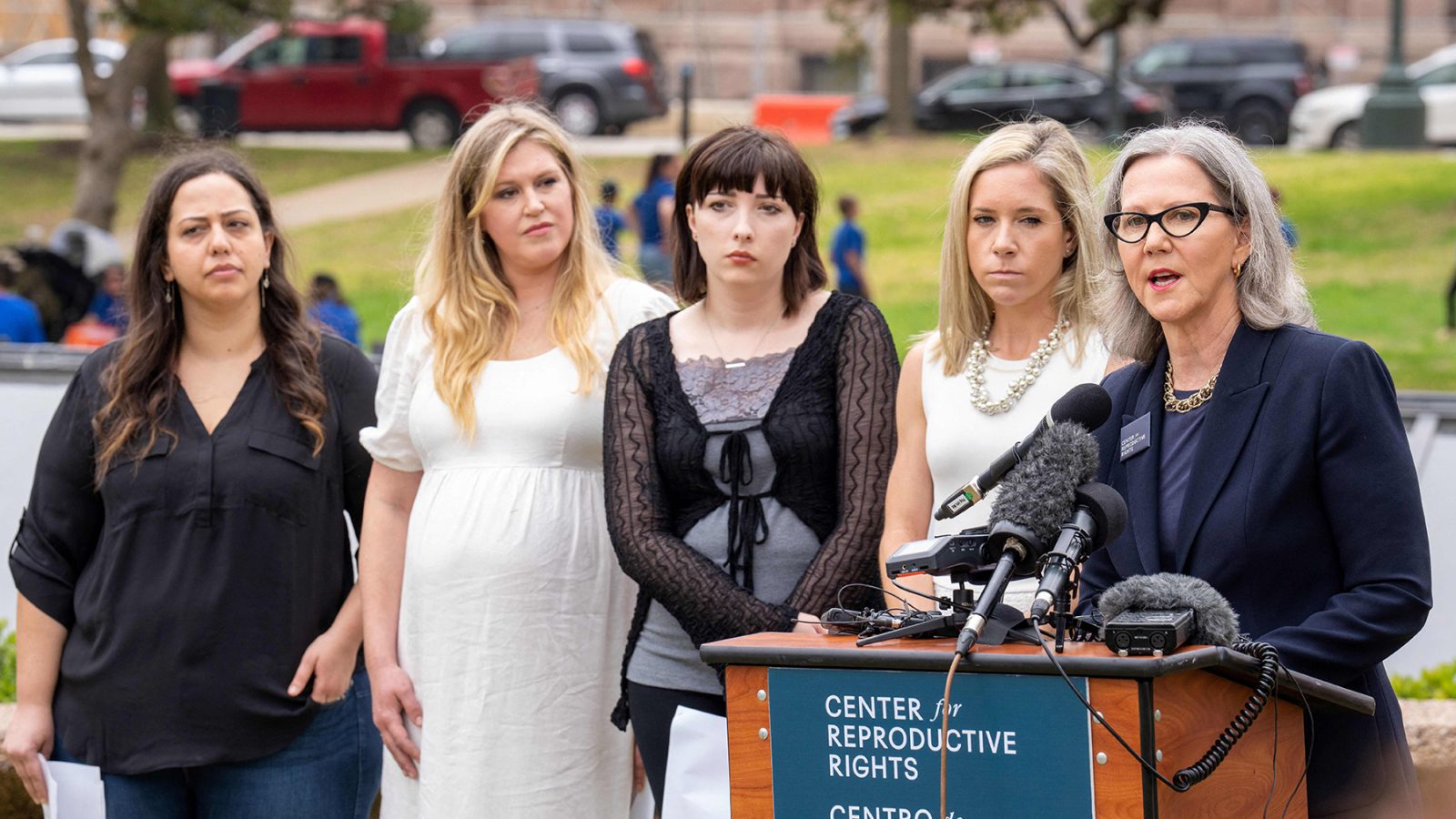 'Sick and Twisted': Women Describe Losing Pregnancies, Nearly Dying Because of Texas Laws
Amanda Zurawski endured 18 months of "grueling" fertility treatment before she and her husband were able to conceive their daughter, Willow. She was in the middle of her second trimester, putting the finishing touches on the guest list for her baby shower, when she started experiencing what she thought of at the time as "curious" symptoms. Her cervix had dilated prematurely, and not long after, her water broke. Without amniotic fluid to protect her, Zurawski and her husband were informed Willow would not survive.
"I asked what can be done to ensure the respectful passing of our baby, and what could protect me from a deadly infection, now that my body was unprotected and vulnerable," Zurawski recalled on Tuesday, speaking to reporters at a press conference outside the Texas State Capitol Building. "They explained there was nothing they could do."
Because Willow's heart was still beating, the Zurawskis were told they had to wait until she could get treatment. Three days later, she was checked into an intensive care unit with sepsis — an infection that nearly killed her.
Zurawski is the lead plaintiff in a lawsuit filed Monday by five Texas women who could not obtain abortions despite life-threatening medical complications. Her co-plaintiffs — whom Zurawski called "involuntary members of the most horrific club on the planet" — gathered together Tuesday to share their experiences and call on members of Texas' legislature to add medical exceptions to the state's multiple, overlapping abortion bans. 
The case marks the first time that pregnant women themselves have challenged the state's three abortion bans: a criminal ban that pre-dates Roe v. Wade, a trigger ban passed in anticipation of Roe being overturned, and Senate Bill 8, an effective ban on abortion after about six weeks of pregnancy. All three bans have exceptions for medical "emergencies," but advocates say they are unclear and have resulted in "widespread confusion" over who and what qualifies.
What happened to each of them sounds like, as Zurawski put it, the "sick and twisted plot to a dystopian novel — but it's not."
Lauren Hall was 18 weeks pregnant with a daughter she planned to name Amelia when she learned the baby had anencephaly, a fatal condition that meant she had developed no skull and very little brain matter. After informing her of the diagnosis (their baby would not survive), Hall remembered how the doctor "quietly and carefully explained to us that if we chose to terminate, we would have to leave" Texas. Because of the state's laws, the doctor would not make a referral, or even send her medical records to her abortion provider. 
"We were completely on our own," Hall recalled. Before she left, Hall said the doctor warned her and her husband "to only tell people who were absolutely necessary and needing to know; she instructed us to say nothing to friends or coworkers; say nothing at the airport and nothing until the procedure was completed."
The doctor's fears was well-founded: In addition to facing steep penalties — up to 99 years in prison, $100,000 in fines — for providing abortion care, health care providers (or anyone for that matter: friends, family members, uber drivers, TSA agents) can open themselves up to lawsuits if they help a Texan obtain an abortion. 
Another plaintiff, Lauren Miller, was 12 weeks along when she learned one of the two twins she was carrying had compounding complications: Trisomy-18, a condition that limited his growth, and two "large fluid masses" where his brain should have been. Multiple doctors confirmed that not only would the baby not survive, continuing to carry him would pose a health risk to herself and the other twin. 
Miller traveled to Colorado for a selective abortion; she is due to give birth to the surviving twin this month. "I was lucky," she said. "I had connections with out-of-state doctors. I had family to watch my son. We had the time and the money to make the journey. But layers of privilege should never determine which Texans couldn't get access to the health care they need."
Anna Zargarian, another plaintiff, was 19 weeks pregnant when her water broke prematurely. "My heart broke into a million pieces. I didn't even know a pain like that could exist," she said. While she should have been grieving, Zargarian was left scrambling to find an out-of-state clinic that could accommodate her. Like Miller, she sought care in Colorado. Getting on the flight, she says "was one of the most terrifying experiences of my life. It was like Russian roulette, knowing I was at risk of infection."
"Politicians in Texas are prohibiting health care that they don't understand," Miller said on Tuesday. "It shouldn't be controversial for an individual to make health care decisions for themselves, in consultation with their doctor."
The lawsuit the women have filed has a very modest goal: all they want is for the state of Texas to clarify, using medical terminology, what constitutes an "emergency" under the law. Or, as Molly Duane, senior staff attorney at the Center for Reproductive Rights, put it on Tuesday, "We want the state of Texas to acknowledge that the women standing behind me should have received timely abortion care, and that women and pregnant people throughout Texas who face similar situations — similar pregnancy complications in the future — should be allowed to receive abortion care in their home communities."
Despite their harrowing personal experiences, the plaintiffs are hopeful that the state's lawmakers will choose to act before they are compelled by a judge. 
Hall is now pregnant again — a boy this time — and she says she lives in constant fear. "I was calm during my previous pregnancy; now I compulsively look up every ache and pain, terrified that I will find myself in this unbearable situation again." 
"I love Texas," she told reporters outside the Capitol Building. "And it kills me that my own state does not seem to care if I live or die."