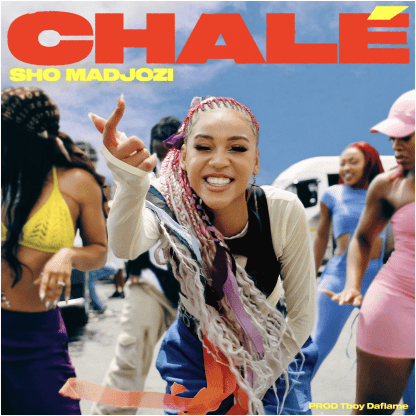 SHO MADJOZI DROPS "CHALÉ" SONG AND VIDEO
On the verge of a superstar breakthrough, the award-winning new queen of South African rap Sho Madjozi serves up her anxiously awaited new single and music video "Chalé" today via Epic Records.
While performing to sold out audiences in arenas across North America with Stromae at the end of 2022, she cooked up "Chalé" with tourmate, DJ, producer, and collaborator Tboy DaFlame. Together, they channeled the same creative chemistry that catalyzed her viral smash "John Cena." Sho teased "Chalé" with a brief TikTok post in the middle of the holidays. Fans immediately embraced it as the short clip generated 6 million views. She recently gave the single its live debut with show-stopping performances in Tanzania and Ghana.
Propelled by an Amapiano beat, she spits rapid fire rhymes in her native tongue of Tsonga—a regional language in South Africa. Meanwhile, the chantable chorus pops off in English as she proclaims, "You wasn't there when we were shooting in the gym, back then when the money wasn't coming in, click click, Sho Madjozi, can I have a pic?" The music video flaunts downright flawless fast-paced choreography and high-energy vignettes as she shines in every frame. Shot on the streets of Cape Town, the video showcases her magnetic presence and the pride her home country has for her, as the video features an entirely real group of fans who were crashing the video shoot for photos and videos with Sho.
Bound for catchphrase status, "Chalé" possesses multiple meanings. In Ghanaian Pidgin English slang, it could translate to "Dude" or "Homie," but it also can signify either disappointment or agreement, depending on the context. 
In this context, it could very well mean "Smash"…
It arrives on the heels of "Toro" [feat. DDG]. In addition to gaining steam on DSPs, OkayPlayer proclaimed, "The two ride the wave of the beat in a beat in a memorable way," and CLASH hailed it "a blazing ball of fiery energy" and christened her "a true force of nature, someone who has  taken the organic street sounds of South Africa to a global audience." The track was notably her first English release since the viral "John Cena," and continues to position the music industry disruptor as a true international force of nature.
Right now, Sho Madjozi is preparing more music for release very soon.
© 2023, Seth "Digital Crates" Barmash. All rights reserved.