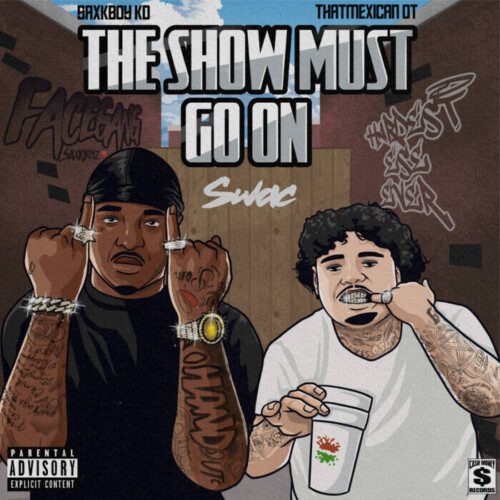 SAXKBOY KD DROPS COLLABORATIVE EP 'THE SHOW MUST GO ON' WITH THAT MEXICAN OT
Texas-born rapper Saxkboy KD joins forces with fellow Texan That Mexican OT to present their first joint EP, The Show Must Go On, out now.
The 9-track collection illuminates the kinetic chemistry between these two buzzing talents who initially linked up to lay down one track. As they did just, the connection took on a life of its on furthermore, culminating in today's joint project release. On "Gucci Rugs," Saxkboy KD devours a bouncy groove with a head-spinning cadence that cuts right through the production, crashing into a lyrical solo as the beat fades to black. Meanwhile, That Mexican OT counters with a laidback verse of his own, adding another dimension to the track. Piano glimmers over 808s on "Pillow Talk" as their verbal volley proves downright captivating. Fittingly, the ride culminates with "Faking." From the jump, Saxkboy gets introspective on the verses without ever sacrificing his signature speed on production laced with keys and guitar. Hinging on unbreakable chemistry, the project affirms Saxkboy KD and That Mexican OT as the next in a long line of powerhouse Southern duos a la OutKast and UGK.
Last week, he set the stage for the release of The Show Must Go On with "Just Talking." The airy lethal, lullaby-style chant gives way to another elite display of lyrical force punctuated by personal musings. It has already picked up traction at streaming platforms, esteemed media outlets and more.
Be on the lookout for more from Saxkboy KD soon.
© 2023, Seth "Digital Crates" Barmash. All rights reserved.