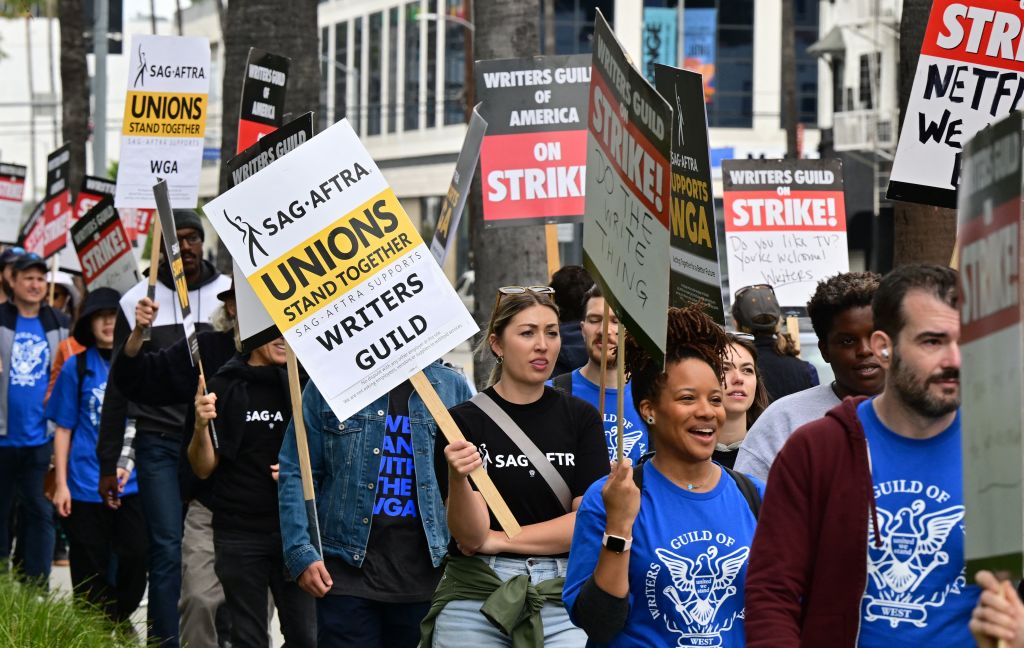 SAG-AFTRA Boards Calls for Strike Authorization Vote by Guild Members
SAG-AFTRA may officially join the WGA on the picket lines. Last night, the SAG-AFTRA National Board unanimously agreed to recommend that its members vote to authorize a strike. 
The decision comes ahead of the guild's TV and theatrical contract negotiations with the Alliance of Motion Picture and Television Producers (AMPTP), which begin June 7. An affirmative vote from the guild's members doesn't necessarily mean a strike will take place; instead, it would allow the SAG-AFTRA board to call one if deemed necessary during the negotiation process.
"For the first time in a very long time, our member leadership stands in solidarity at the negotiating committee and the National Board levels on moving forward with a strike authorization," SAG-AFTRA President Fran Drescher said in a statement. "We must get all our ducks in a row should the need present itself. The prospect of a strike is not a first option, but a last resort. As my dad always says, 'Better to have and not need than to need and not have!'"
She continued, "Therefore, I implore eligible members to follow the leads of both the negotiating committee and the National Board with an unprecedented show of solidarity and make three a charm with an emphatic 'yes' for a strike authorization vote!"
SAG-AFTRA currently represents more than 160,000 entertainment and media professionals, including hundreds of established Hollywood actors. The organization is a combination of two guilds: the Screen Actors Guild and the American Federation of Television and Radio Artists. The goal of the upcoming negotiations is fair pay, as well as a discussion about the use of AI likenesses.
A press release announcing the vote authorization explained, "Earning a living as a professional performer has become increasingly difficult, with both inflation and the streaming ecosystem undercutting compensation — all the while, corporate profits and executive pay at studios continue to rise. Add to this the unregulated use of artificial intelligence and the burdens of the industrywide shift to self-tape, the outlook for working actors becomes unsustainable without transformative change."
Instructions on how to vote will be sent to eligible members today. Voting will close at 5 p.m. PT on Monday, June 5. 
Drescher has appeared on the WGA picket lines and expressed her support for the writers' strike, which began earlier this month. In an interview on SiriusXM's The Julie Mason Show, Drescher confirmed that "it's important that we sit by our sister unions in solidarity."
"That's what makes labor powerful," she said. "And it's a very interdependent and collaborative art form. And everybody's contribution needs to be honored. And the industry at large has changed so significantly with the advent of digital and streaming that it's inevitable that when this time where, you know, many of the unions are about to renegotiate, SAG-AFTRA included, that serious and significant adjustments have to be made to the contract because the whole business model of the industry has changed."