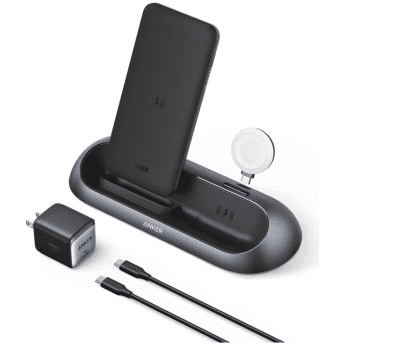 RS Recommends: The Best Wireless Charging Devices on Amazon
If you purchase an independently reviewed product or service through a link on our website, Rolling Stone may receive an affiliate commission.
Only a few years ago, wireless charging was still a pretty novel way to refill your phone's battery. But now it's become almost standard, and as more and more devices adopt wireless charging technology, a good wireless charger has become a necessity.
These quickly evolved into "stations" too, able to hold and charge multiple different devices at once, all wirelessly, as long as each product supports it.
An endless number of manufacturers have sprung up on Amazon since these have taken off in popularity, and one search will tell you that it can be tough to choose the right wireless charger for your needs. That's why we've compiled this buying guide featuring the best wireless chargers available, while still being an affordable and reliable option.
What to Look for in Wireless Charging Pads and Stands
Charging Speed: Possibly the most important factor here to consider is speed. And it's especially true if you're using a wireless charger to charge your phone at the same time as other devices (and need to do it quickly).
We recommend a charger with, at the very least, 10W of output for decently fast charging (an iPhone 12 or later, for example, requires at minimum a 20W). However keep in mind that some devices may require a specific wattage to be able to charge up at their full potential, and different devices offer varying features that help it fuel faster, sometimes specific to the company that makes it. Double check to be absolutely sure of the charger's ability to work with your device before buying.
Design: The days of having one simple charging cable are fading in the rearview mirror, and overall that's a good thing. There's way better options now for multi-charging, including stands, pads, and even car mounts. Take a minute and consider how (and where) you plan to use your charger, and pick the form factor that best fits your needs.
For example, if you want to use your charger at your work desk, a stand may be the best option to keep your phone at an easy-to-see angle, and to make sure it has a strong grip so you can operate the touchscreen without it falling off.
Same goes for a nightstand by your bed. But for holding and operating your phone while it's charging (like for playing mobile games), a simple old-school wire charger still may be your best option. That being said, there's now multiple USB options within the same cable to keep your space as clutter-free as possible, and you can even upgrade to a mobile gaming controller that'll make it easier and more fun to play, plus charge it up as well.
Additional Features: Some wireless chargers come with additional features, like a built-in fan for temperature control, or multiple charging coils for more versatile options. They may not be necessary for everyone, but they can be really convenient when needed, and improve the overall charging experience, plus keep your devices in good shape to keep working for the long-term.
What Are the Best Wireless Chargers on Amazon?
Here are our picks for the top wireless chargers and charging stations you can buy with your Prime membership.
1. Anker Wireless Charging Station
Anker is a reliable and leading maker of chargers and accessories that we've been using and testing for years with overwhelmingly positive results. This Multi-Device Detachable Wireless Station is a versatile and convenient charging solution for all your devices. With the ability to juice up three devices at once, this solid station allows you to fast charge your Apple Watch as well as Qi-compatible phones, AirPods, and AirPods Pro wireless charging cases.
One of the standout features here is its portability. The wireless portable charger and Apple Watch charging module can easily be detached, making it a breeze to give your devices a power boost when you're out and about. The device is also case-friendly, which means you don't have to worry about taking off your case whenever you need to charge.
Safety is a top priority with the PowerWave Go as well, and it's MFi Certified to work smoothly and safely with any Apple watch. Additionally, the 20W USB-C Power Delivery port on the portable charger allows you to charge compatible iPhones at blazing fast speeds.
2. SAMSUNG Wireless Charger Duo
Whether you need to charge your phone, Galaxy Watch, or earbuds, this charger has got you covered. One of the best features here is the compatibility with a wide range of devices. Plus if you have a Galaxy Watch, there's a dedicated placement that features an interior magnet to keep it locked solidly in place.
Another great attribute is the charger's Friendly LED, which changes color to show your devices' charging status. It's clear and easy for anyone to make sense of, and, if you're worried about the light disturbing your sleep, you can set it to dim at night. You can leave your phone in its case while it charges, thanks to the charger's ability to reach through lightweight cases, a huge benefit that other chargers should take note of.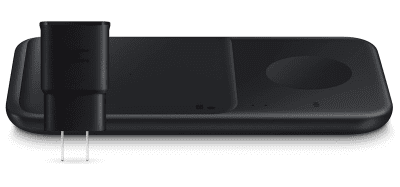 3. Belkin 2-in-1 Charging Dock
Belkin's another leader in the field of charging pads and stands, and this one is a convenient two-in-one iPhone and Apple Watch charging dock that allows for clear viewing of both. The magnetic charging module for the Apple Watch ensures that it aligns properly and charges instantly upon contact. The Lightning connector is built into the dock and can be adjusted to fit most cases, ensuring fast charging for your iPhone, while the advanced design of the charging stand controls voltage to prevent damage to connected devices, a nice touch for ensuring personal safety. Belkin also offers a two-year warranty, so you're covered in case anything goes wrong.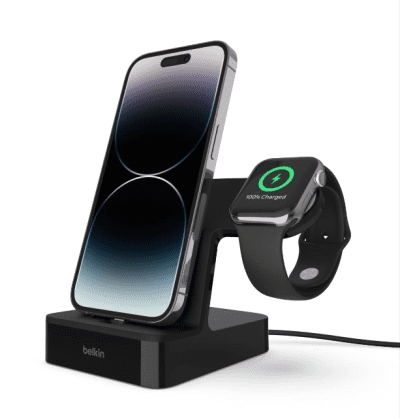 4. Yootech Wireless Charger
If you've got multiple Samsung devices, this one's for you. The YooTech lets you charge up your Samsung phone, Galaxy Watch, and Galaxy Buds wirelessly – and fast. With its exclusive four-coiled design, it provides a larger charging area for a single phone, and can charge three devices simultaneously (or separately). The multifunctional Intelligent Protect technology provides temperature control, surge protection, and short-circuit prevention, making it safer and easier to use than many of the other options out there. It's also compatible with iPhone 13, Samsung S22, S21, S20, Note 10, and any wireless charging-enabled phones, offering 7.5W, 10W, and 5W charging modes. This is ideal for nightstands too, as its sleep-friendly design makes it a user-friendly device, and the package comes with an AC-DC adapter, a DC cable, and a user manual. Plus with Yootech's reliable 12-hour response service, you'll always get a reply if you need help.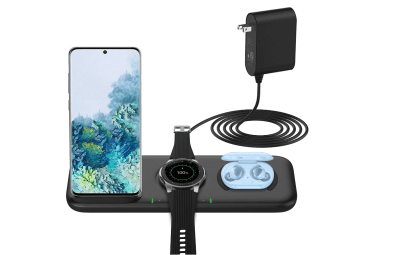 5. UCOMX Nano Wireless Charger
This is one of the smartest space-saving designs we found for efficient charging of multiple Apple devices. The pads can be folded 180 degrees for easy phone viewing, and rotated 360 degrees for optimal charging positions. They're covered with magnetic attraction devices that prevent your phone from slipping, making it suitable for slightly angled surfaces. Quick-charge is supported, and can simultaneously fuel three devices – a phone at 10W, AirPods at 5W, and an iWatch as well. With upgraded coils, the conversion rate has been increased by 35 percent, which is an excellent feature for an economical use of power distribution.