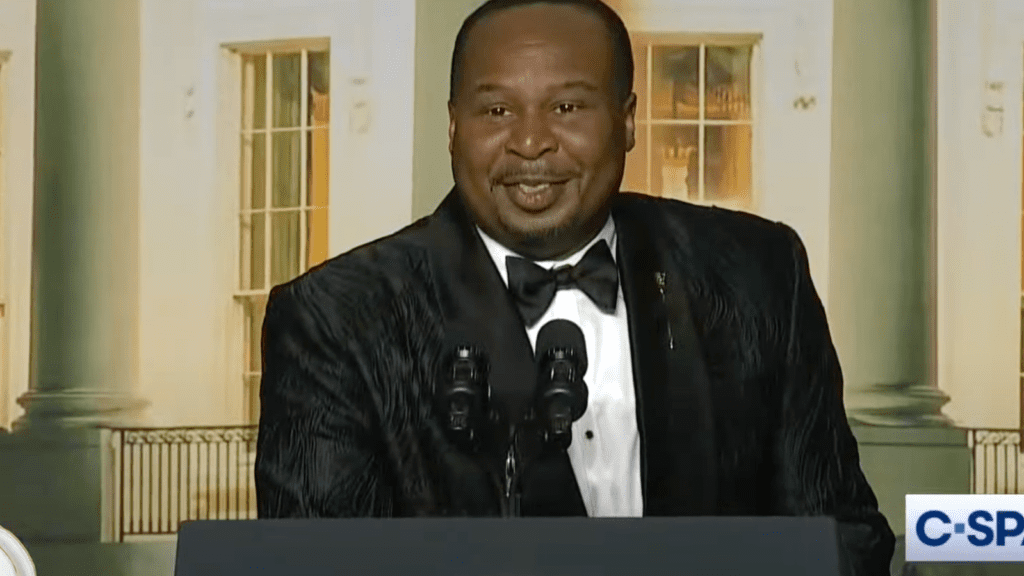 Roy Wood Jr. Torches Tucker Carlson and Don Lemon at the WHCD
Before comedian — and The Daily Show correspondent — Roy Wood Jr. took the stage to host the 2023 White House Correspondents' Dinner, a bizarre orgy of politicians, media personalities, and dressed-to-the-nines celebs summoned by media companies as their guests and selfie partners (this year included the likes of Julia Fox, Lisa Vanderpump, and the men from the reality series Farmer Wants a Wife) that would be wholly grotesque were it not for the scholarships doled out to aspiring journalists and the presence of invitees like Brittney Griner, the formerly detained WNBA star, and her wife Cherelle, actor and politician Arnold Schwarzenegger kicked things off with a cold open.
After over an hour of watching the 2,600 attendees crammed into the Hilton Ballroom in Washington, D.C., mingle and chow down, Schwarzenegger beamed in from Los Angeles for "a very special message," praising the freedom of the press as an "ally of the people" before feeding baby horses with his Twins co-star Danny DeVito. Then, White House Correspondents' Association President Tamara Keith of NPR gave a shout-out to Wall Street Journal correspondent Evan Gershkovich, who is currently imprisoned in Russia on trumped-up "espionage" charges, and Austin Tice, a freelance journalist who's been held captive in Syria for close to 11 years.
"We're working every day to secure his release," President Joe Biden said of Gershkovich during his speech, which veered from the sentimental to the comedic. "Journalism is not a crime. Evan and Austin should be released immediately, along with every other American held hostage or wrongfully detained abroad." (While Biden was serving as VP, the Obama administration investigated numerous journalists and repeatedly tried to compel former New York Times reporter James Risen to reveal his sources.)  
Biden cracked a few jokes, including that Rupert Murdoch is so old he makes him "look like Harry Styles," Fox News reporters are there because they "can't afford to say no to a free meal" following the $787 million Dominion settlement, and mocked Elon Musk's tweet that NPR should be "defunded," saying that "the best way to make NPR go away is for Elon Musk to buy it."
Roy Wood Jr., the son of a journalist, finally got on the mic a little after 10:30 p.m., and his amusing set took aim at the recent firing of Fox News' white-nationalist host Tucker Carlson, the ousting of CNN's Don Lemon in the wake of misogyny allegations, the GOP's war on critical race theory, and even Vice President Kamala Harris.
"Tonight, we are all unified under one thing, and that's scandal," said Wood Jr. "Scandals have been devouring careers this year. The untouchable Tucker Carlson is out of a job… but to Tucker's staff, I want you to know that I know what you're feeling. I work at The Daily Show, so I too have been blindsided by the sudden departure of the host of a fake-news-program. Tucker got caught up. Got caught up like that dude from Vanderpump Rules [Tom Sandoval]."
"Speaking of assholes, Don Lemon is out of a job," he remarked later on. "Don Lemon. My dog, Don Lemon. Don Lemon released a statement saying he got fired from CNN, then CNN released a statement saying that they offered Don a meeting. They had to part ways, because Don Lemon can't even accurately report a story about Don Lemon."
Wood Jr. took some shots at Florida Governor Ron DeSantis and the GOP's anti-critical race theory policies, which he said was merely "an attack on Black history, and an attempt to erase the contributions of Black people from the history books."
"That's what it is," the comic maintained. "You are trying to erase Black people, and a lot of Black people wouldn't mind some of that erasure — as long as that Black person is Clarence Thomas. A billionaire named Harlan Crow was flying Clarence Thomas on unreported trips like an Instagram model, taking Clarence to the Maldives… paid for Clarence Thomas's momma's house! I gotta give it up to billionaires. Y'all always come up with something new to buy. Just when you think of everything you could buy on Earth, a billionaire will come up with a new thing. Y'all bought space rockets. Y'all bought Twitter. This man bought a Supreme Court Justice… We can all see Clarence Thomas, but he belongs to billionaire Harlan Crow. And that's what an NFT is."
Some light digs at Joe Biden dozing off gave way to a jokey defense of Vice President Kamala Harris that turned into a dig at former VP Mike Pence.
"I think the most insulting scandal of the Biden administration was placed at the feet of our Madam Vice President. The scandal of: What does Kamala do?" he said. "Which is a disrespectful question. That's a disrespectful question, because nobody ever asked that question of the vice president until a woman got the job. I don't know what Mike Pence did. The only thing I know about Mike Pence is that he's really good at playing hide-and-seek at the Capitol. You gotta be crafty to catch Mike Pence at that Capitol, baby. He knows all the nooks and crannies."
UPDATE 11:58 PM: This story has been updated to clarify the Obama administration's treatment of reporter James Risen.