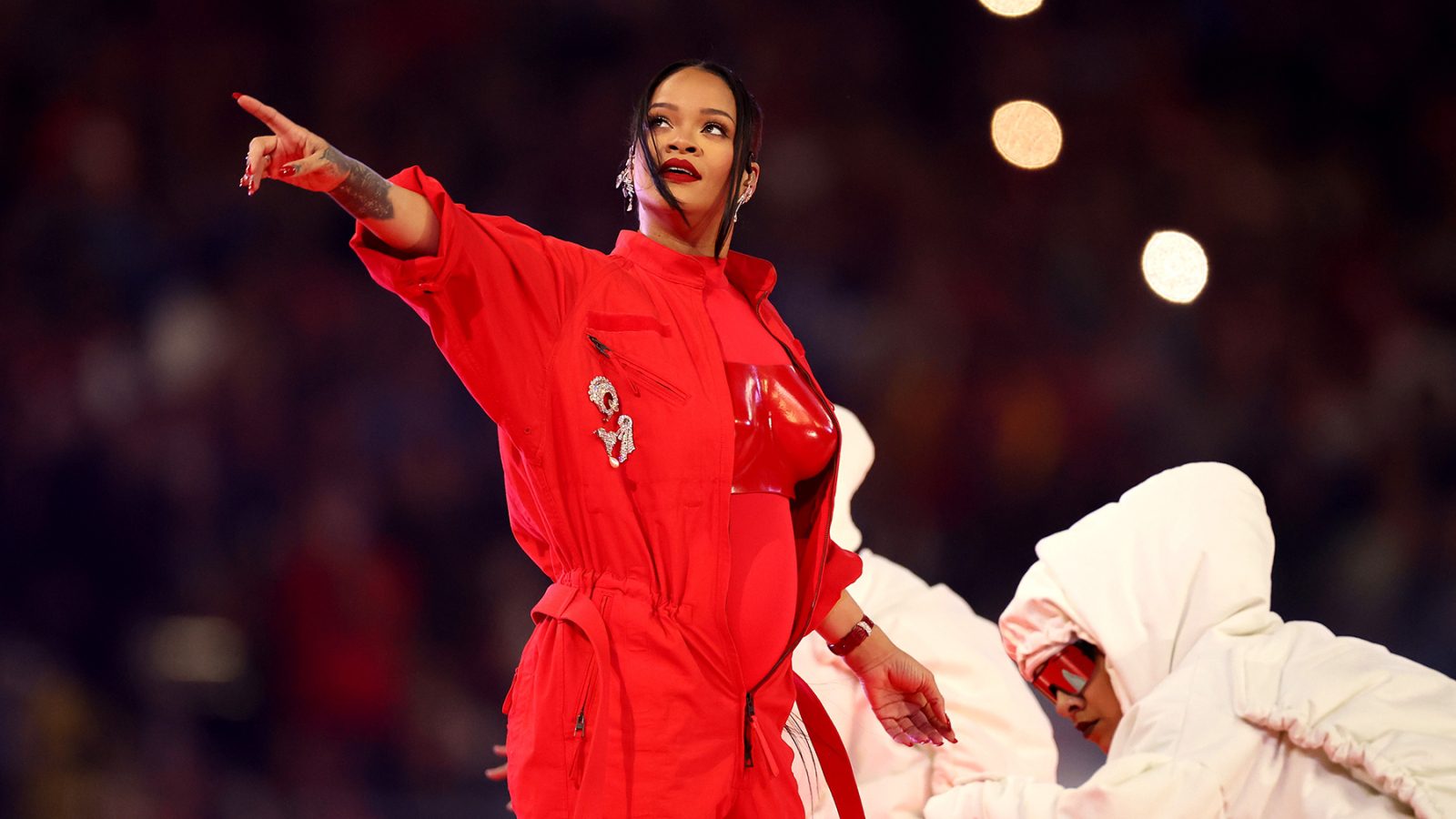 Rihanna's DGAF Energy Was Off the Charts at Her Super Bowl Halftime Show
No costume changes. No guests joining her onstage. No curveball surprises in her set list. Not even Tom Holland showing up for "Umbrella." Nothing except Rihanna being a boss and a half on her flying stage, reigning supreme at her Super Bowl halftime show and crushing every possible prediction about how she would handle her first public performance in more than five years. Just the way she began with "Bitch Better Have My Money" was a statement in itself. She's baaaack.
She also had a surprise announcement to make: She's pregnant, as her reps confirmed to Rolling Stone. She was absolutely amazing for a 13-minute tour de force, all the way in charge. The best moment was when Ri did a quick touch-up on her make-up — a quickie ad for her own with her Savage X Fenty line.
Expectations were sky-high for Rihanna because she's been so busy in recent years as a beauty/fashion mogul. Her last album was the 2016 classic Anti; since then, her only new music has been two songs for the Black Panther: Wakanda Forever soundtrack last year, "Lift Me Up" and "Born Again." So she turned the Super Bowl into her own big personal comeback party. "The Super Bowl is one of the big stages in the world," she told reporters last week. "So as scary as that was because I haven't been on stage in seven years, there's something exhilarating about the challenge of it all." 
Rihanna's superpower is always her off-the-charts levels of DGAF energy — that's why her quintessential Ri manifesto is the 2016 hit "Needed Me," where she makes fun of a jilted lover for "tryna fix your inner issues with a bad bitch." That could have been her message to the world tonight. Her ice-queen glare at the camera never faltered, no matter what song she was doing. Her attitude came through in her amazing version of "Rude Boy," with Rihanna snarling over her shoulder and slapping her own ass in a come-on that also seemed like a threat.
As everyone knows, Rihanna had a baby last year, her nine-month-old son. During her Super Bowl performance, social media went crazy with speculation over whether she might be pregnant again. My mom raised me never to ask that question until after the water breaks, but now that her reps have confirmed the pregnancy, you have to applaud Rihanna letting the world know this way. No social-media announcement, no weepy speech: She was too busy doing her job to let anything get in her way.
Her only guests were her legions of white-hooded dancers, who were giving the Unsullied crossed with the Stay-Puf Marshmellow Man. She plowed through her hits, mostly early ones. "Trying to cram 17 years of work into 13 minutes," she summed it up last week. "It's going to be a celebration of my catalog in the best way that we could have put it together." After "Bitch Better Have My Money," she went into  "Where Have You Been," "Only Girl in the World," "We Found Love," "Rude Boy," "Work," "Wild Thoughts," and "Pour It Up." 
Surprisingly, she did two consecutive Kanye songs, "All of the Lights" and "Run This Town," which seemed mighty strange. But she didn't go for the hat trick by adding "4-5 Seconds," which would've given a chance for a Paul McCartney cameo. She cued up the inevitable "Umbrella," and ended with the perfect finale "Diamonds," as the sky lit up with fireworks. 
She stayed away from the dark, edgy side of her catalog: no "Disturbia," no "S&M," no "Cockiness (Love It)" or "Sex With Me." Surprisingly, she didn't touch her last and best album Anti, not even "Needed Me" or the timely SZA duet "Consideration." And was I the only fan praying for "Love On The Brain" or "California King Bed"? 
Getting Rihanna at all was a win for the NFL, since she was the most high-profile star to refuse to appear after the blatantly racist blacklisting of Colin Kaepernick. After Kaepernick was exiled in 2017 for taking a knee at the national anthem, African-American musicians were reluctant to go anywhere near the Super Bowl. Rihanna turned down the Super Bowl halftime show flat in solidarity. "I couldn't dare do that," Rihanna told Vogue in 2019. "For what? Who gains from that? Not my people. I just couldn't be a sellout. I couldn't be an enabler. There's things within that organization that I do not agree with at all, and I was not about to go and be of service to them in any way."
Her performance comes a year after one of the best ever halftime shows, a hip-hop extravaganza with Dr. Dre, Snoop Dogg, Eminem, Mary J. Blige, and Kendrick Lamar. But Rihanna was miles away from that pass-the-mic team spirit. It was a celebration of pure solo bossness, a woman on her own, ruling her world as far as the eye can see. 
Music had a good Super Bowl this. Sheryl Lee Ralph sang "Lift Every Voice and Sing" while Babyface made a sensual slow jam out of "America the Beautiful." Country superstar Chris Stapleton kicked it off with "The Star-Spangled Banner." For people who love to bet on the length of the national anthem, the over/under for Chris was 1:59, but he easily passed that, dragging it out with his slow-motion tempo reaching near-Alicia levels. Chris became the the first performer in Super Bowl history to keep his shades on for the anthem, and also holds the all-time record for making both teams cry. America hasn't seen so many weepy white men since Ticketmaster screwed up the Springsteen tickets.
Great ads all night too — especially the Clueless ad with Alicia Silverstone. The winning move was bringing back her classmate Amber, especially since we know Amber's not a big fan of football games, since her plastic surgeon doesn't want her doing any activities where balls fly at her nose.
But the night belonged to Rihanna. And unlike the game, her halftime show had a satisfying climactic conclusion. At the end of "Diamonds," she gazed around the stadium with a look of satisfaction, a conqueror surveying all the fireworks exploding in the sky. But you can see Rihanna knew it: She was the fireworks. All hail our new Super Bowl queen.
Set List:
"Bitch Better Have My Money"
"Where Have You Been"
"Only Girl in the World"
"We Found Love"
"Rude Boy"
"Work"
"Wild Thoughts"
"Pour It Up"
"All Of The Lights"
"Run This Town"
"Umbrella"
"Diamonds"