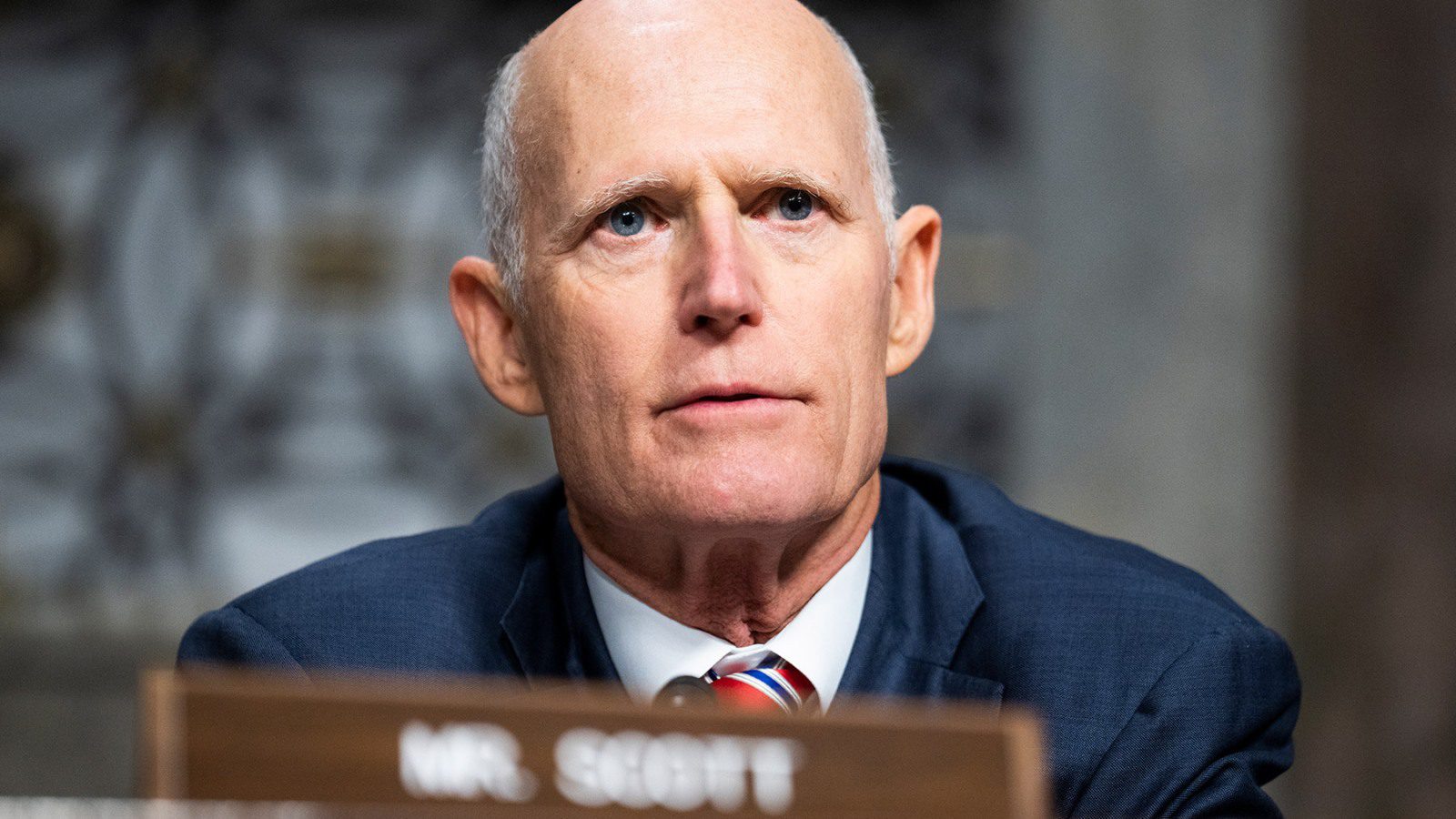 Rick Scott Squirms His Way Out of Cutting Medicare, Social Security
If the Florida senator "never supported" cutting the programs, then why did he have to carve out exceptions for them in his Rescue America plan?
Medicare and Social Security are no longer on the chopping block in Sen. Rick Scott's much-criticized Rescue America plan.
The Florida senator updated the proposal to specify that he want to sunset all federal legislation in five years except "Social Security, Medicare, national security, veterans benefits, and other essential services."
The move comes after President Joe Biden, during his State of the Union address earlier this month, drew attention to calls by some Republicans to make cuts to entitlement programs, in effect amplifying pre-existing criticisms of Scott's plan from Sen. Mitch McConnell (R-KY). Biden added more pressure on Scott on Thursday, writing in a tweet that the senator from Florida is "in hot water." Likewise, McConnell said of Scott in a radio interview last week, "I think it will be a challenge for him to deal with this in his own re-election in Florida, a state with more elderly people than any other state in America." Scott is up for re-election next year.
In an op-ed Friday in the Washington Examiner, Scott lashed out at his political opponents who have been criticizing his plan. "I have never supported cutting Social Security or Medicare, ever," he wrote. "To say otherwise is a disingenuous Democrat lie from a very confused president. And Sen. Mitch McConnell (R-KY) is also well aware of that. It's shallow gotcha politics, which is what Washington does."
The fact that Scott changed the policy this week begs the question: If he's telling the truth about never wanting to cut Medicare and Social Security, why did he release a plan that called for them to be sunset in five years, and why did he need to the change his plan this week?
This may not be the last time Scott has to make a major revision to his plan to save America. Last year, he dropped another provision of the proposal that required all Americans to "pay some income tax to have skin in the game." In 2021, just over half of Americans paid zero income tax.