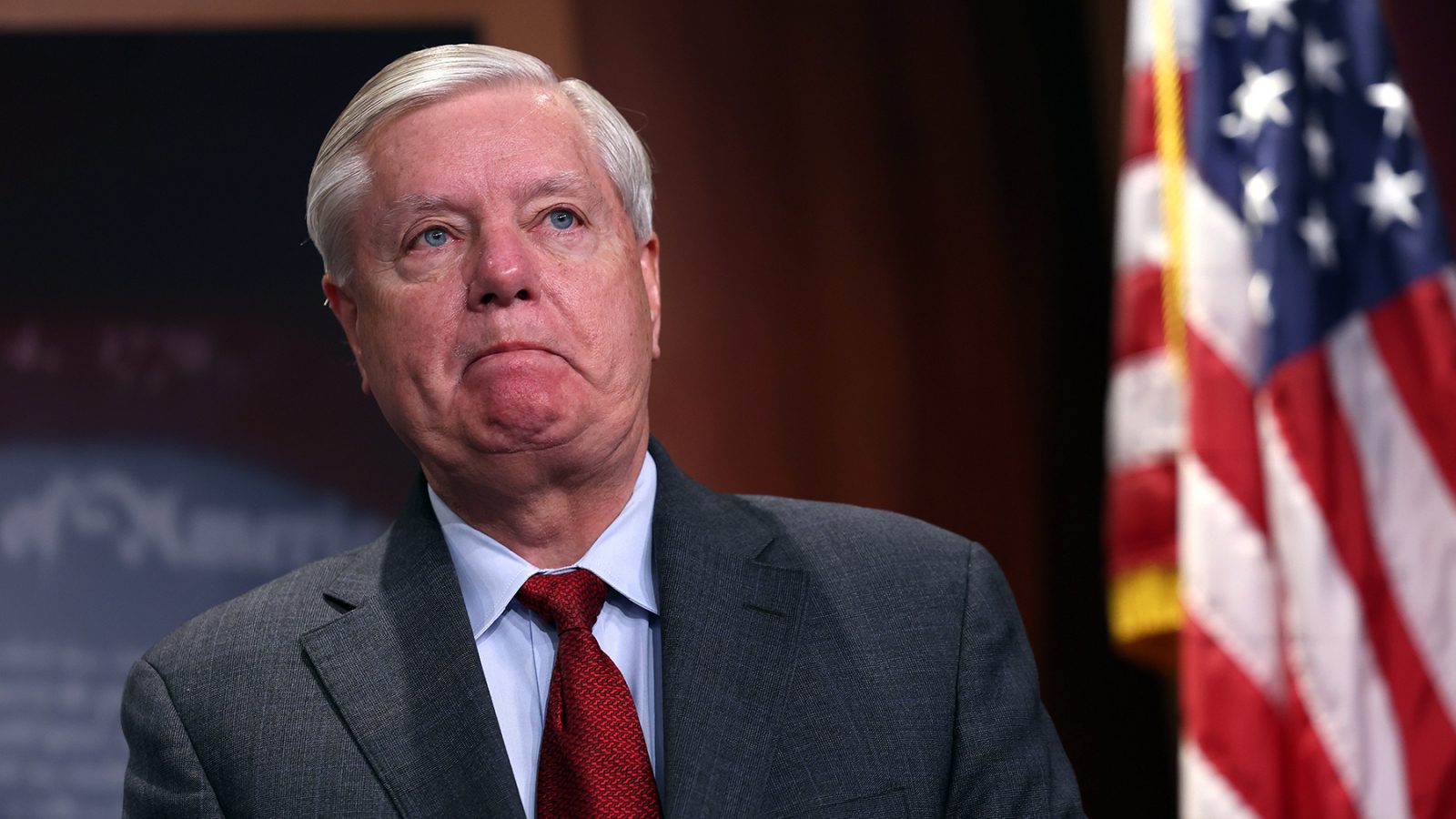 Republicans Are Big Mad Biden Is Sending Troops to The Border
On Monday, President Joe Biden's administration announced that it will temporarily deploy 1,500 U.S. troops to support operations at the U.S.-Mexico border. Republican lawmakers who have been clamoring for hardline action at the border for months are outraged.
Sen. Lindsey Graham (R-S.C.) declared the deployment "ridiculous theater" while speaking to reporters on Wednesday. When asked if he felt it was theater when Trump sent troops to the border, Graham demurred. "When Donald Trump did something, it worked," Graham said, claiming that Trump's immigration policy had taken the problems at the border "off the table."
Sen. Ted Cruz (R-Texas) was there too, and claimed the troops would "accomplish nothing" in the grand scheme of things. "As long as the Biden administration keeps in place catch and release, he could send 1,500 troops, he could send 10,000 troops, he could send 100,000 troops. It would do nothing to secure the border," he said.
"Joe Biden is the last mile of the human trafficking network," Cruz added, claiming the Biden administration would help transport the migrants to "whatever city in America they want to go to."
Some of the criticism stems from the stipulation that those deployed will not be rounding up and mass deporting undocumented migrants, but rather aiding in "ground-based detection and monitoring, data entry, and warehouse support." Those deployed "will not directly participate in law enforcement activities," Pentagon spokesman Brig. Gen. Pat Ryder said in a statement.
Sen. John Cornyn (R-Texas) argued the troops would be ineffective so long as Biden's overarching immigration policy remained in place. "When they can't enforce immigration law, all they can do is change diapers and push paper, in other words under the law they can only perform administrative functions," he said.
Texas Governor Greg Abbott wrote on Twitter that the deployment would do "nothing to stop illegal immigration," and then touted his own deployment of National Guard forces to "fill the gaps created by Biden's reckless open border policies." Abbott has been spending taxpayer money to bus migrants to Democrat-led cities like New York and Chicago.
Some lawmakers claimed the decision was a selfish move on Biden's part to protect his own political interests. "Anybody else remember when Democrats opposed sending troops to the border?" Wrote  former Vice President Mike Pence on Twitter. "If Democrats didn't have double standards they'd have no standards at all."
Rep. Marjorie Taylor Greene (R-Ga.) added that "Biden is finally sending 1,500 troops to our border because the crisis is so dangerously out of control that it has driven his poll numbers to impeachment levels."
"It's not about protecting our country, it's all about protecting himself," she added. "Joe Biden doesn't care about border security or you."
There was plenty of pushback from Republicans fundamentally opposed to any immigration policy that falls short of totally walling off the border, but the announcement also drew criticism from prominent Democrats, who have accused Biden of bending to bad-faith demands. New Jersey Democratic Sen. Bob Menendez called the decision "unacceptable."
"There is already a humanitarian crisis in the Western Hemisphere, and deploying military personnel only signals that migrants are a threat that require our nation's troops to contain. Nothing could be further from the truth," Menendez said in a statement released Tuesday.
"Trying to score political points or intimidate migrants by sending the military to the border caters to the Republican Party's xenophobic attacks on our asylum system," he added.