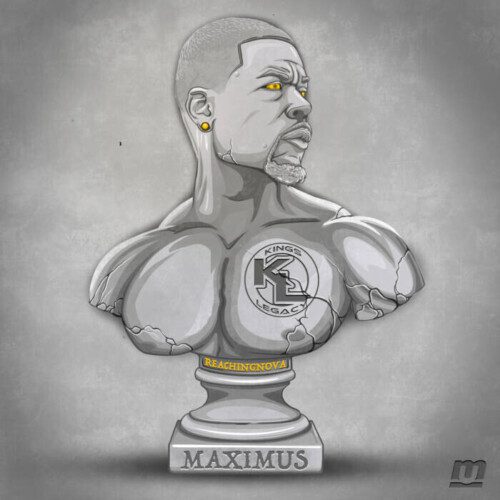 ReachingNOVA releases a new single titled "MAXIMUS" and it's an excellent representation of what HIP HOP feels/sounds like
Somewhere in between timeless hip-hop energy and fresh pop melodies.
February 2023 – ReachingNOVA has recently released a brand new single called "MAXIMUS." On this song, the rapper teamed up with fellow Romanian artist Diastrid, who brought a different creative twist to the mix, allowing the song to stand out. The Romanian singer has a melodic and tuneful voice. She brought her hook-laden sensibility to the song, and it is a really great fit with the energy that ReachingNOVA's music is known for.
In addition, this new song happens to be the very first single ReachingNOVA set out to release worldwide since the release of his third studio album, Becoming Timeless, which truly put ReachingNOVA on the map, exposing his sound and vision to a very broad audience. Following such a successful album, most artists would be tempted to really rest on their laurels and take their time with their follow-up.
However, ReachingNOVA isn't the kind of rapper who would easily fall into a comfort zone. He wants to keep making music special, and in order to do so, he continues to challenge himself and grow as a recording artist with every release. Every new song is an opportunity for the artist to try something new. In this case, ReachingNOVA creates something unique by staying true to his love of old-school hip-hop but also bringing some innovative sounds to the mix.
In particular, the collaboration with songstress Diastrid is a really cool addition to the sonic palette that makes ReachingNOVA's music so distinctive. The combination of hard-hitting male rap vocals and soothing melodic singing from a female vocalist is something that's tried and true in the music industry, but ReachingNOVA and Diastrid took it to a whole new level on this one, ramping up the melodies and making it more than just a hook to break up the rap verses.
Every element within the song sets the mood to absolute perfection, and there is something special about every release. Hailing from The Bronx, NY, ReachingNOVA is no stranger to shuffling the decks and exploring different ideas with his songs. Romanian singer Diastrid is well-known for her unique vocal range, and her style has a very soothing, almost introspective vibe that adds a very personal and relatable quality to her performance overall.
Long story short, this new song is a truly fantastic way to start the year, as it highlights the artist's willingness to keep setting the bar higher and come up with some unique and one-of-a-kind tones! This is a really fantastic song for hip-hop fans. However, it is also a great entry-level song for people who might be new to the genre.
The melodic vocals are really great, and it's easy to see how they can be appealing to people who might not be familiar with rap as well, allowing the song to reach a broader audience by appealing to both rap and pop fans alike. This release is a true home run and an absolute win-win. "MAXIMUS" is a fantastic way for both artists to kickstart 2023, and we're just at the beginning: this is undoubtedly going to be a truly unique time in terms of creative excellence and beyond. "MAXIMUS" is a really good example of making music at the highest levels of talent and artistic creativity.
The audience is responding to the new release beautifully, and if the success of ReachingNOVA's previous album is any indication, this one is going to shoot for the stars and reach even more impressive heights as well. The amazing talent of Diastrid, who really poured some magic on this song, is also contributing to the success of the track and to its incredibly enticing flow and appeal. The studio engineer who recorded the vocals, mixed the song, and mastered it as well is Geo The Architect, and he is an important piece to the success of "MAXIMUS" because without high quality audio the song can be overlooked and underappreciated. Together ReachingNOVA and Geo The Architect make an impressive team.
"MAXIMUS" by ReachingNOVA is a very thought-provoking piece of music, and it is definitely something for you to consider if you do enjoy the work of artists such as Drake, The Chainsmokers, Kendrick Lamar, Future, and J. Cole, only to mention a few. MAXIMUS has a beefy, energetic tone, and ReachingNOVA's musicianship offers a truly focused and one-of-a-kind sound.
The song begins with a spontaneous moment, with Diastrid laughing in the studio and portraying a sense of unpredictability and being "at the moment" that makes this song so special. Soon after, the verses come to fruition with ReachingNOVA spitting bars like a machine gun: relentless, powerful, and always on point, giving the audience a truly wonderful experience. Diastrid comes in with some amazing layers. Not only are her lead vocals epic, but her harmonies are incredible as well, reminiscent of artists such as Ariana Grande, Doja Cat, as well as Due Lipa, only to mention but a few. Still, Diastrid's personality is really one-of-a-kind, and she brings a lot of uniqueness to her flow.
As an artist, ReachingNOVA is able to let his personality shine through, and this piece of music feels like a powerful creative statement from a musician with a lot to say. One of the most unique features of this song is its overall uplifting attitude. The track really represents ReachingNOVA's effort to present hip-hop in a more positive light, treating the audience to a one-of-a-kind experience that puts content first instead of relying on the usual cliches. ReachingNOVA is here to remind the world that hip-hop is not only a style of music: it is a way of life that can be positive and inspirational for people from all walks of life. After all, Hip-Hop is all about self-empowerment and self-expression!
Find out more about ReachingNOVA and listen to "MAXIMUS." This release is currently available on all digital music streaming services out there.
https://www.instagram.com/reachingnova/
© 2023, Tedfuel. All rights reserved.