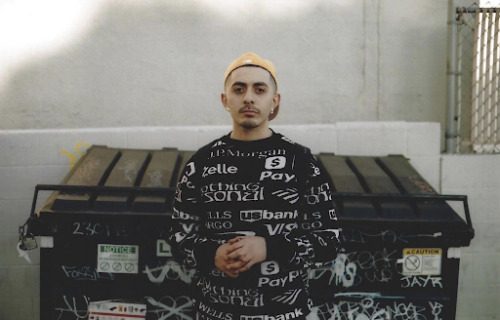 Raer One Tells The Real Story of East LA
Today we venture to the barrios of East Los Angeles in showcase of a talented young artist whose been on the rise this past year. Raemond Galicia, better known in the city of angels as Raer One, has taken a refreshingly honest and sobering approach to his exhibition as an artist.
Raer's sudden rise in LA rap's subculture is somewhat supernatural and unseemly considering that it goes against the grain of what pretty much everybody else is rapping about. He has gained notoriety for delivering a sobering glimpse of what real life is like in East LA, and the tragedies that lurk deep beneath the surface of the city's bright lights and sunny palm trees. Raer has even admitted that he, himself, has been taken by surprise with a lot of the critical acclaim he's received as of lately.
Aside from all of  the community support and traction he's gained; Raer still credits at least one angel for looking out for him. With the way things have been going for him, he might just be right.
Back in the summer of 2021, The Source Magazine featured his Eastside Baby LP and delved into the story of Raer's angel.. and the murder that inspired his Eastside Baby LP… Raer's late father Jesus Galicia. Raer was only 3 years old at the time of his father's murder. This tragedy became the center of Raer's being and the reason for his use of music as a median for spreading awareness on the real social effects caused by senseless violence within his community and its by-products, such as the broken home he grew up in without a father.
In his latest video "Way Back", Raer takes us back to the street he grew up on, much like his first video where he revisited the place his father was killed and his grave.
Raer's exhibition isn't your typical one, it is visceral and surreal not only for his audience but also himself, reliving some of these traumas and telling his story is a way of lifting the heavy weight off of his chest and finding closure.
Raer's story has caught the attention of so many different people throughout many generations of hip hop, like legendary hip hop producer and LA rap documentarian Tony Alvarez, better known as "Tony A. The Wizard" and founder of Roadium Radio who was one of the very first to interview Raer on his podcast after hearing his story.
Tony has produced for, and interviewed, some of the biggest names in hip hop, and ironically once even worked in the same exact historical studio in Torrance in the 80s and 90s where Raer recorded some of his most popular songs a few years ago. When Tony was producing in the historic Torrance studio that was also featured in the NWA biopic "Straight Outta Compton", he worked with the likes of Dr. Dre, Eazy E, Young MC and many other legendary figures and rap's founding fathers who shaped the music industry as we know it today.
Aside from Raer, other artists like Shoreline Mafia, 03 Greedo and Drakeo the Ruler recorded their major first studio albums in the same Torrance studio as well. A lot has changed since Tony's time there and today. Tony tells us that back in the day rappers would go and hustle their demos at the Roadium Flea Market, which has now grown obsolete in the music industry ever since the digital age and internet. However, their old studio in Torrance remains the same; a place concentrated with talent,  and many artists who respect it's place in the history of rap the way Tony and Raer do.
It is clear that LA's history and culture is important to Raer and he is a student of the game as much as he is picking up the pen and paper to write his own chapter in it.. picking up where many of the great legends he looks up to left off and being true to himself and who he really is. His pain is a part of him, but he has turned it into positive energy and subsequently bloomed from it like a rose in the crevasse of a broken concrete sidewalk. The Phoenix rises from the fire and ashes and we at HipHopSince1987 are so ready to finally hear Eastside Baby 2 and see if Raer can be the shepherd he's set out to be.. leading the people back into unity.
© 2023, Logan. All rights reserved.