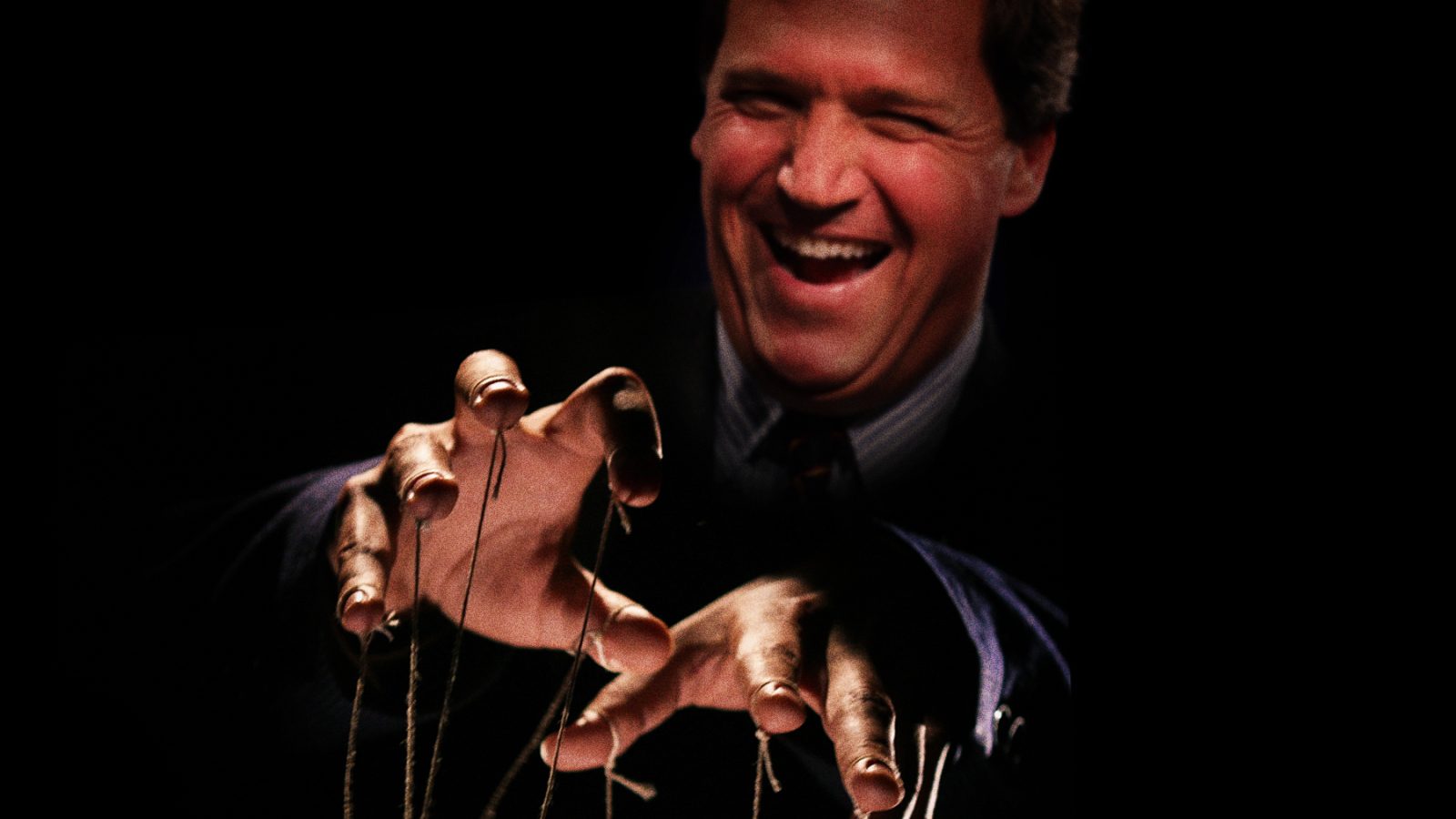 Producer Tells All: How Tucker Carlson Became the GOP's MAGA Puppeteer
A former producer on Tucker Carlson's show is revealing just how far the Fox host went to bully top Republicans to come on his show and bend the knee to the MAGA agenda.
Carlson terrified top Republicans with threats to "destroy" them if they failed to do his bidding and used his platform to push a personal agenda on the party's leadership, Abby Grossberg, who worked as a producer for Carlson's show starting in August 2022, tells Rolling Stone.
Grossberg says Carlson pressured Texas Republican Gov. Greg Abbott to militarize the southern border, tried to threaten Rep. Michael McCaul over military aid to Ukraine, and pushed Kevin McCarthy — then the aspiring House Speaker — to create the Republican-led committee on the "Weaponization of the Federal Government."
Grossberg, a former senior producer for Tucker Carlson Tonight, filed a lawsuit in March against the right-wing TV host and Fox News, alleging Carlson and Fox fostered a workplace climate of misogyny and toxicity during her tenure at the company. (In a statement, Fox News disputed what it called her "unmeritorious legal claims which are riddled with false allegations against the network and our employees.")
The producer says Abbott, a staunch Republican who has pursued aggressive policies against undocumented immigration, didn't go far enough for the virulently natalist Carlson, who wanted the governor to deploy the entirety of Texas' national guard to prevent border crossings.
Grossberg says she called Governor Abbott's communications director and warned her that Carlson planned on ambushing the governor once he agreed to come on. "Senior staff (on TCT) were saying, 'We'll demolish him.' I warned his team to have [Abbott's] ducks in a row and be ready."
"It was about the National Guard and how they were being deployed at the Texas border, and the fact he wasn't using them as much as he could be. And that's where that threat came in," Grossberg tells Rolling Stone.
Grossberg says she was often asked to communicate the threats, but that she would moderate them, owing to her professional connections to GOP staffs. "He was someone that I worked with in-person, and [Abbott] had given me a tour of the border in a helicopter. I was always very careful in dealing with those staffs, and let them know what was coming at them."
Abbott came on Carlson's show in December, when, after taking turns bashing Biden's border policy, the governor attempted to defend his national guard deployment strategy to Carlson. After being criticized by Carlson for not doing more, sooner, Abbott said he was deploying as many troops as he could, noting some had been called up to foreign wars. The host then pressed the governor to establish a separate, privately funded force to defend the border (Abbott countered that Texas was building a privately funded border wall). The interview ended with Carlson thanking the governor for coming on the show. Abbott responded "sure."
GOP officials who agreed to come on Carlson's show sometimes got challenged in interviews, but the worst of Tucker's fury was reserved for those who didn't show. Such was the case with Texas Rep. Michael McCaul, the chairman of the House Foreign Affairs Committee and an advocate of military aid to Ukraine. Carlson has long expressed his admiration for Russian dictator Vladimir Putin and his invasion of Ukraine, and he wanted to debate the aid with McCaul live on air.
"As far as threatening people, Michael McCaul was somebody they told me to call and threaten," Grossberg said, referencing Carlson's other producers. Text messages show a McCaul staffer declining an offer for the congressman to appear on the show in late November 2022, citing family obligations. Grossberg says fellow Tucker Carlson Tonight producer Alex McCaskill "let me know that if he didn't come, we would destroy him."
A rep for McCaul declined to comment.
"Whenever I did make those calls, I obviously would never threaten them so when I called [it was], 'Hey, this is what I'm being told, and we've worked together for three-and-a-half years, I have to tell you, but I'm also letting you know as friends,'" Grossberg says. "It was always friendly. I always made a call. It was purposefully not in writing because I was disobeying my bosses."
In McCaul's case, she says she "did call and speak with someone at McCaul's office and told them that Tucker would go after him."
Carlson made good on that threat, insulting McCaul on his show that same evening.
"'Get the Germans to pay for it; it's their continent.' That's what a normal person would say — someone who had self-respect," Carlson told his audience of millions. "Unfortunately, for the rest of us, Congressman Michael McCaul of Texas has no self-respect, so he folded immediately, and that matters because McCaul is the top Republican on the House Foreign Affairs Committee."
When not wielding his time slot against Republican politicians who defied his ideology, Carlson was trying to set himself up as a kingmaker amid Kevin McCarthy's drawn-out fight to win the speaker's gavel in the House, according to Grossberg. The former Fox producer outlined the contours of the attempt to broker the speakership in an appearance on CNN Tuesday night and in her lawsuit but offered new details about the incident to Rolling Stone.
As Republican dissidents withheld support for the California congressman, Grossberg says Carlson hoped to broker a deal and extract political concessions from the would-be speaker live on air in primetime.
"Earlier that [first] week [of Jan. 2023] Tucker made a demand live on-air for this Church Committee that he wanted McCarthy to establish to get that speakership, groveling for various votes on the show," Grossberg tells Rolling Stone. "After that, the day of the 5th, he wanted Kevin McCarthy to be booked on the show."
The squeeze play Grossberg says Carlson and his producers put together involved a plan to invite chief holdout Rep. Matt Gaetz onto the show to join McCarthy so he could make demands that would leave the future House Speaker in the hot seat on national television.
"They would speak about what McCarthy wanted and his bid to be Speaker," Grossberg says.  "From there they would bring Matt Gaetz into the conversation and Matt Gaetz would lay out his demands, and Tucker would also send his demands for McCarthy that he felt needed to be included and concessions he should make to be Speaker. And live on-air he would broker this deal between the opposition party — which were Gaetz and people like Lauren Boebert — and Kevin McCarthy to save the Republican Party, making [Carlson] a hero."
But Carlson had recently "battered" McCarthy on the show for his relationship with pollster Frank Luntz, whom Carlson thought was insufficiently conservative, leaving McCarthy's staff suspicious. Carlson failed to score an appearance from McCarthy but nonetheless extracted a victory.
After failing to get McCarthy to appear on the show, Grosssberg says Tucker texted his producers calling it "a win" nonetheless.
"He received a call from Thomas Massie and Kevin McCarthy, from Kevin McCarthy's office, that they were making concessions that Tucker had demanded, and Tucker was excited about that for this Church Committee," she says. "He was changing the Republican Party, and he loved having that kind of power."
"McCarthy is taking our recommendations and putting him in charge of the new Church Committee," Carlson wrote to producers in a text obtained by Rolling Stone. (McCarthy ultimately put Massie on the Weaponization Committee but as a member, rather than chairman.)
Text messages published in Grossberg's lawsuit show that Carlson had ridiculed McCarthy as  "a cowardly idiot not to" go on his show, "which he may be." But regardless, Grossberg believes the incident "established the relationship between him and Kevin McCarthy" and led to the newly elected speaker's decision to turn over previously unaired Jan. 6 security footage to the Fox News host.
Gaetz has publicly denied ever being asked to appear on the show and said he doubts the "fantastical story" about an attempt to broker the speakership. But text messages obtained by Rolling Stone show Carlson's producers proposing an invitation to Gaetz, corroborating Grossberg's account.